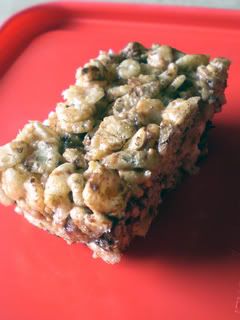 Ahh, Small Batches. I'm at it again. Who else has a 5 x 7 Pyrex baking dish?
Anyone?
It was a perfect size for these
Smores
(or is it S'mores? I'm never quite sure)
Rice Krispy Treats
. Pretty quick to assemble, and quite tasty.
Smores Rice Krispy Treats
1/6 stick of butter
1 1/3 C Marshmallows, plus a reserved 1/2 C of marshmallows
1/3 Tsp Cinnamon
2 Tablespoon Graham Cracker Crumbs
1/3 Tsp Vanilla
2 C Rice Krispies Cereal
1/4 C Semisweet Chocolate Chips
Melt better in a saucepan set on low heat. Add 1 1/3 C mallows and stir until totally melted. Remove from heat, and stir in cinnamon, graham crumbs and vanilla. Add cereal, and stir. Add chocolate chips and reserved half cup mallows and stir until everything is coated. Some of the chocolate chips with get a bit melty. Press into a greased 5x7 pan. Let cool and allow to set for an hour or so.