Cupcake Shipping has been all over the place lately. Theres the original "Cupcake-In-A-Jar":
Bangerang Bake Shop
, and a whole slew of other bakeries like
Mrs. Beasley's Cupcakes
,
Teacake Bakeshop
,
Babycakes NYC
,
Crumbs
, and
Chicago Cupcakes
that now offer shipment of their cupcakes nation-(and sometimes world)-wide. All of these travelling cupcakes inspired me to solve a problem:
I like sharing my baked goods with people I care about. Most people I know live in New York. I live in Florida.
While I have people here in Florida to force my baked goods upon, my sister, Dad, mother, friends, aunts, uncles, cousins, some shih tzus, etc., all live scattered across the Empire State, 1,000 miles away. How to solve this problem... Air-Mail Cupcakes, of course!! Now, to experiment with several shipping methods, High School Lab Report Style...
Cupcake Shipping Method Number 1
Observation
: A large portion of my potential cupcake samplers live too far to taste my goodies regularly.
Hypothesis
: Shipping cupcakes baked into glass jars might provide a safe vessel for transport.
Experiment
:
To bake a cupcake directly into a glass jar, let it cool, frost it, seal it, and send it on its way to Jennifer and Dee in NYC with UPS.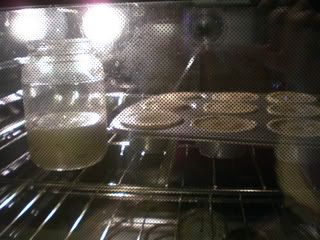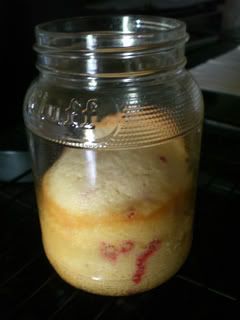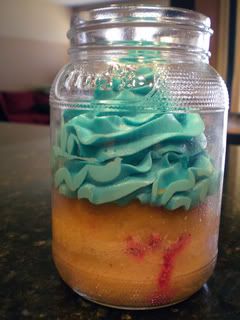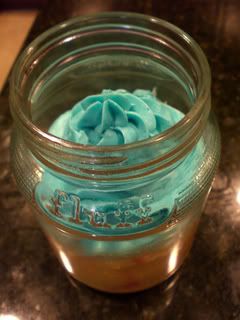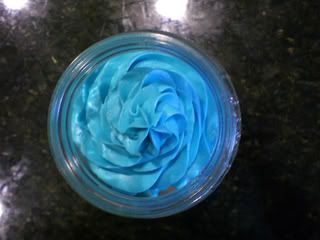 Analysis
: Partial rejection of hypothesis. Why? Well... This is what it looked like upon arrival at its destination: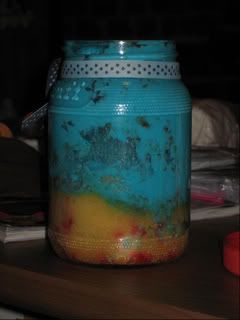 Fortunately, I had the chance of being on the phone with Jennifer as she opened her surprise package. It was so badly damaged by the rough transit & extreme heat, she didn't even know what it was. When I said, "Its a CUPCAKE! Does it look like a cupcake?", Jenn quite appropriately responded by describing it as such, "It looked like someone ate a cupcake and threw it back up into the jar". Quite right, I'd say.
New Hypothesis
: Not giving up on Jar shipping method yet. Next, try baking it into a much smaller jar, leaving less room for it to jiggle around,
like Bangerang bakeshop does
. Note: With all the unlicensed online bakeries floating around the internet, please be aware I have no intention of selling my cupcakes this way, I'd just like to be able to share them with my family and friends that live too far. :)
Fortunately, Jennifer and Dee reported that it was still delicious, despite its less than delicious-looking appearance.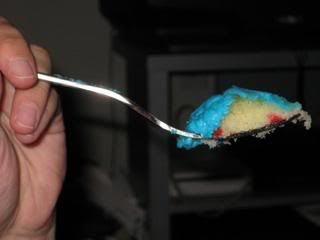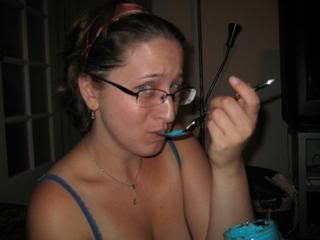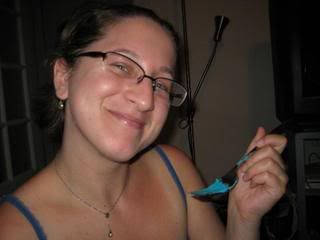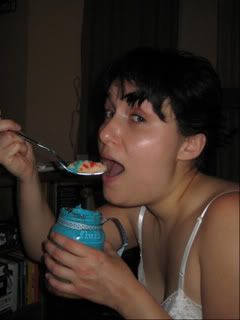 And um... even Simon had some.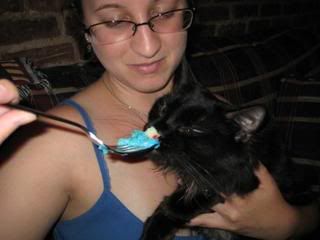 Though he needed to be cleaned off a little afterwards...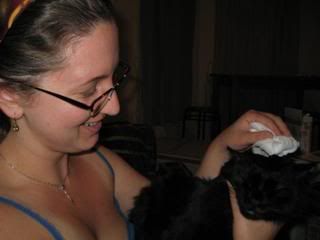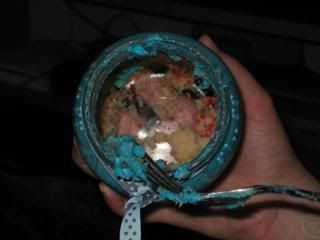 Well, I guess it tasted good enough! Half the beauty of the art of cupcake is their adorable little appearance. So, this experimentation with have to continue, until I reach a a positive conclusion.