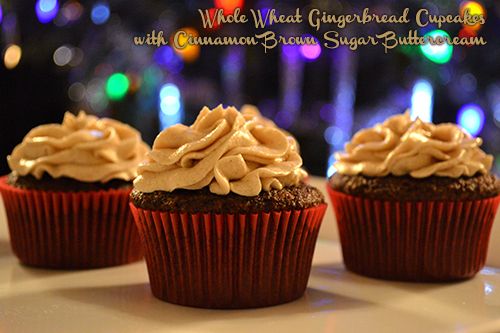 With the holidays right around the corner, this is a great recipe to have in your back pocket. Recently, I went to a little get-together and needed a quick and easy holiday treat. I had a box of Whole Wheat Gingerbread mix from Hodgson Mill sitting in the pantry. I'm generally kind of wary about any sort of baking mix, due to the chemicals and other weird things in the ingredients list. Much to my surprise, when I looked at the ingredients list on the box of this Gingerbread mix, I saw only ingredients that I could easily pronounce… Whole grain whole wheat flour, molasses, brown sugar, baking soda, ginger, cinnamon, salt and cloves. Knowing everything in this mix was a normal baking ingredient I typically stock in my own pantry, I found this recipe for Whole Wheat Gingerbread Cupcakes on Hodgson Mill's website and set to work with no hesitation. These have a wonderful texture, not something you'd expect from a whole wheat recipe. And the little bit of cocoa added to the batter, along with the cinnamon brown sugar buttercream really make these something special.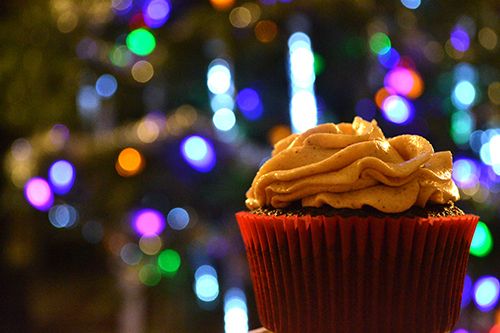 Whole Wheat Gingerbread Cupcakes with Cinnamon Brown Sugar Buttercream Frosting
For the cupcakes (makes 15 cupcakes)
1 15oz box Hodgson Mill Whole Wheat Gingerbread Mix
1/4 cup light brown sugar
1/2 cup butter, melted and cooled slightly
3 large eggs, room temperature
3/4 cup water, room temperature
In a medium bowl, whisk together the gingerbread mix, baking powder, cocoa powder and brown sugar, and set aside.
In a large bowl, whisk together the melted butter and eggs.
Using a large spoon, stir the dry ingredients into the wet in three additions alternating with the water, beginning and ending with the dry mixture and stirring until it's incorporated and the batter is smooth.
Fill a paper lined muffin tin ½ to 2/3 full with batter.
Bake cupcakes in a 350
˚
F oven for 20-25 minutes or until a toothpick comes out clean. Immediately remove the cupcakes from the pan and cool on a wire rack.
For the frosting
3/4 cup unsalted butter, room temperature (1 1/2 sticks)
1/3 cup light brown sugar
In a large mixing bowl, beat the butter until light and fluffy. Add brown sugar, salt, vanilla and cinnamon beating until well incorporated. Add the powdered sugar one cup at a time beating well after each addition. One tablespoon at a time, add the milk and beat on high speed. Add milk until the desired consistency is reached. Pipe onto cooled cupcakes.