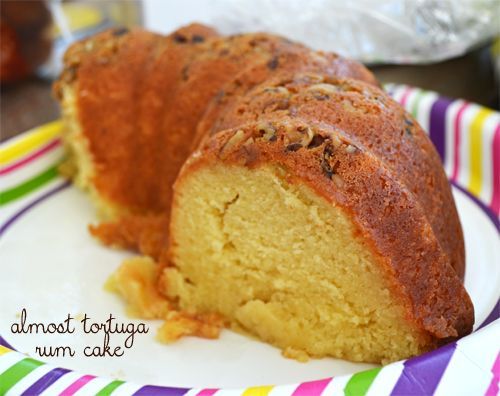 There is a famous story in my family about a little girl on vacation at Disney eating rum cake after dinner and getting a little bit funny afterwards. Hilarious according to my family. Said little girl had always been pretty small and skinny, so I suppose if a normal 7 year old has absolutely 0 tolerance for rum cake, then this 7 year old had even less. Said little girl will never, ever live this down. Sighhh. Well, for some reason it just dawned on this all grown up little girl to make her own rum cake. Now that I'm tasting it as an adult, I can kind of see how a young bean sprout would get a little silly after eating some.
This recipe is called Almost Tortuga Rum Cake, inspired by those oh so common rum cakes in a can you find at every store in the Caribbean. I've never had one of those so I can't verify if it is almost Tortuga-y or not, but I can say it was absolutely delicious. The rum flavor is pretty strong, so if you're not a fan this may not be the cake for you. However, you can always use less of the glaze the recipe calls for to avoid the strong rum flavor. The only downside to this is that it uses a vanilla instant pudding in the mix. Maybe one day I'll get around to trying a completely from scratch version.
Almost Tortuga Rum Cake, adapted from
Food.com
Ingredients:
2 cups cake flour
1 1/2 cups granulated sugar
4 teaspoons baking powder
1 teaspoon fine sea salt
1/2 cup butter, room temp and cut into small cubes
1/2 cup + 3 tablespoons vegetable oil
1/2 cup finely chopped walnuts
1 (3 1/2) ounce package of vanilla instant pudding mix
1/2 cup milk
4 eggs, room temp
1/2 cup rum*
1 teaspoon pure vanilla extract
For the Rum Soaking Glaze:
1/2 cup butter
1/4 cup water
1 cup granulated sugar
1/2 cup rum *
(*the recipe called for whaler vanilla Hawaiian style rum but I used Pyrat Rum)
To make the cake:
Preheat the oven to 325. Spray a 12 cup bundt an with nonstick cooking spray. Sprinkle the chopped walnuts on the bottom of the pan.
In a large bowl, combine cake flour, sugar, baking powder, salt, butter and 3 tablespoons of the vegetable oil. On low speed combine ingredients until the mix consistency resembles peas (or smaller) and all the pieces are the same size.
Then, add pudding, milk, eggs, rum, the rest of the oil and vanilla and combine on medium speed for 2 to 3 minutes. Scrape down the bowl halfway through. Batter should be very smooth.
Pour batter into the prepared pan. Bake for about 50 to 55 minutes or until fully golden, cake tester comes out clean and cake springs back when touched. Remove from oven and place on cooling rack, still in the pan, while you prepare the rum glaze.
To make the glaze:
Combine butter, water and sugar in a small saucepan. Bring to a boil carefully as mixture can boil over easily.
Reduce to a simmer and cook until sugar is dissolve and syrup thickens a bit. Remove from the heat and add the rum. Stir to combine.
While the cake is still cooling, pour some of the hot glaze on the cake, allowing it time to soak in (make take a few minutes). Continue to add syrup until most or all of the syrup is added*. Allow cake to cool completely in pan before turning out onto serving platter.
*Use the glaze to suit your tastes. I wound up using about 3/4 of the glaze that I prepared. It really made a lot and I didn't feel it really needed all of it. I used about 1/2 of the glaze when the cake was still in the pan, and use more on top after it has been turned out onto a serving platter.