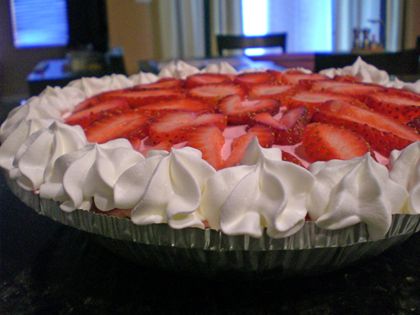 Oops! As several of you pointed out - I totally forgot to post about the pie! What a goober!!! This weekend for Dan's sister's birthday celebration, I got a request for this Cool N' Easy Jello Pie, which I kind of think of as like a jello cream pie. It is a super simple dessert to prepare, produces a very tasty finished product, and is totally diet-friendly! I loved making this as it's so different from the things I normally make. I would definitely recommend this recipe, the entire pie was gone within minutes! And what is so great about it is that there is a lot of room for creativity - experiment with different flavors, add different fruits, mix the fruit in, lay it on top, etc etc.
You can find the recipe
here
. Below is what I did to make a nice cutely decorated pie :) If you're going to be bringing this somewhere, I would suggest decorating the top with fruit, or else it's kind of boring and weird looking.
Cool N' Easy Jello Pie
Ingredients:
2/3 cup boiling water
1 pkg. (4 serving size) box of JELL-O (the original recipe says strawberry, that's what we did, but you can experiment with others like lemon, key lime, banana, etc... yum!)
Ice cubes
1/2 cup cold water
1 tub (8 oz.) Cool Whip, thawed
1 HONEY MAID Graham Pie Crust (6 oz.)
About 5 - 7 Fresh Strawberries
Additional Cool Whip for decorating
Bring 2/3 C of water to a boil. Stir the boiling water into the dry jello mix in a large bowl at least 2 min. until completely dissolved.
Add enough ice to the 1/2 C cold water to bring it up to 1 cup. Add to gelatin; stir until slightly thickened. Remove any unmelted ice.
Add whipped topping; stir with wire whisk until well blended. Refrigerate 15 to 20 min. or until mixture is thick enough to mound.
Spoon into crust, and smooth over with a rubber spatula.
REFRIGERATE at least 4 hours or until firm.
Wash and dry approximately 5 - 7 strawberries. Cut them into slice (with the help of a handy dandy egg slicer!)
Starting in the center of the pie, cover the surface of the pie with the strawberry slices.
Place some additional cool whip into a piping bag and decorate the top of the pie.
Before Decorating: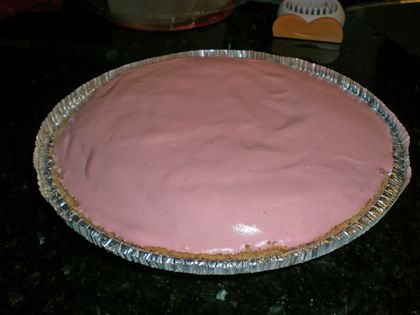 After: (much nicer)