It's finally my turn to host Sweet Melissa Sundays! Yey! Since it was my turn to choose a recipe, I went for something simple, and something that I think mostttt people would like. It was a tough choice.. there are so many delicious recipes in the
Sweet Melissa Baking Book
! Finally I decided on Chewy Peanut Butter Cookies. Me and pretty much everyone I know LOVES Peanut Butter but for some reason, I don't make Peanut Butter cookies that often. Maybe because the boy likes chewy cookies, and the few times I have made them, I don't ever remembering them coming out that chewy. Fortunately, this recipe whipped up some seriously good, seriously simple to make, seriously soft and chewy cookies. Mmmm, Sunday breakfast perfection.
I decided to make them a bunch of different ways. For my first batch, I made some the straight up Peanut Butter Cookie way, with the fork indentations and everything (though I didn't cross them, what can I say I'm a minimalist). With others, I rolled them in some turbinado sugar for a little extra crunch. And with others, I made little pockets - some were filled with grape jelly and others were filled with fluff: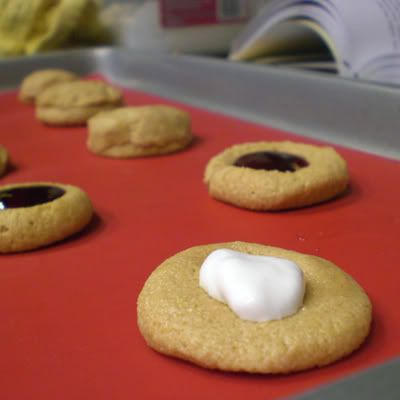 With this first batch of cookies, I decided to leave out the egg to make Peanut Butter Shortbread Cookies... Ok, FINE you caught me. I did that by accident. After my precious little goodies were cooking in the oven and I began cleaning up, I noticed that sneaky little egg on the counter. Bit of advice: when you're baking mise en place , make sure your placing all of your pre-measured ingredients ON THE SAME COUNTER. Or else you might forget the SNEAKY LITTLE EGG!!!!
But, as my good friend Cicero said, "We must not say every mistake is a foolish one." I think maybe he made peanut butter cookies and left out the egg one time, because this mistake was pretty delicious. They turned out like shortbread!! If you like shortbread and peanut butter, try the recipe this way some time!! :) Maybe I should re-design
my measurements APRON
to also include, in a nice large font, "DON'T FORGET TO PUT THE SNEAKY EGG IN!" :)
The only thing that didn't come out so well was....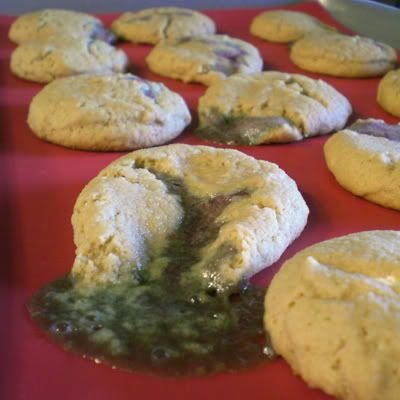 6 out of 9 of the Jelly filled ones came out looking like they puked on my baking sheet. Oh wells!! Maybe I'll try this idea again in the future when I put the egg in... I think they cracked open because the cookie was dry and crumbly. It would probably work if they were chewy like they were supposed to be.
Since it was my turn to host this week, I couldn't post a MISTAKE! So I whipped up another batch and this time I REMEMBERED TO PUT THE EGG IN. With these ones, I made some the traditional way, others I rolled in turbinado sugar, and others I threw a few chocolate chips in.
Result?? DELICIOUS. I know I will certainly be making Peanut Butter cookies more often from now on. They came out nice and soft and perfectly chewy, just like the recipe said! And they are Peanut Buttery, but not so overwhelmingly peanut buttery. I thought they were rather perfect. One reviewer said it tasted like a sugar cookie with a kick of peanut butter. Hope everyone enjoyed baking with me this week! I can't wait to visit your blogs and see what you came up with!!
Recipe, pg. 66 of the
Sweet Melissa Baking Book
!
"The cookies are best when they are chewy, so don't over-bake them!"
Makes 2 dozen cookies.
Ingredients
:
1/2 cup Smooth Peanut Butter
8 tablespoons (1 stick) unsalted butter
1/2 cup granulated sugar
1/2 cup firmly packed light brown sugar
1 large egg
which may or may not be optional
:)
1 1/4 cups all-purpose flour
1/2 teaspoon baking powder
3/4 teaspoon baking soda
1/4 teaspoon salt
Before you start
: Position a rack in the top and bottom thirds of your oven. Preheat the oven to 325 F. Line two cookie sheets with parchment paper or aluminum foil.
1. In the bowl of an electric mixer fitted with the paddle attachment, cream peanut butter, butter and sugars until light and fluffy, about 3 - 4 minutes. Beat in the egg.
2. In a separate bowl, whisk together the flour, baking powder, baking soda and salt.
3. Add the flour mixture to the peanut butter mixture and mix until combined. Be sure to scrape down the sides of the bowl so that everything is combined evenly.
4. Scoop dough by rounded tablespoons and roll into balls. Place the balls about 2 inches apart on the prepared cookie sheets, and press down slightly. Using a fork dipped in flour, press down on the cookies first one way and then the other to form an "X" pattern, creating the crosshatch effect. (The cookies should now measure approx. 2 inches in diameter.) Bake for 10 minutes or until the edges are lightly golden. Overbaking will cause these chewy cookies to become crunchy so try to avoid it.
The cookies will keep in an airtight container at room temperature for up to 3 days. For longer storage, they can be frozen wrapped in plastic wrap and aluminum foil for up to 1 month. Do not unwrap before defrosting.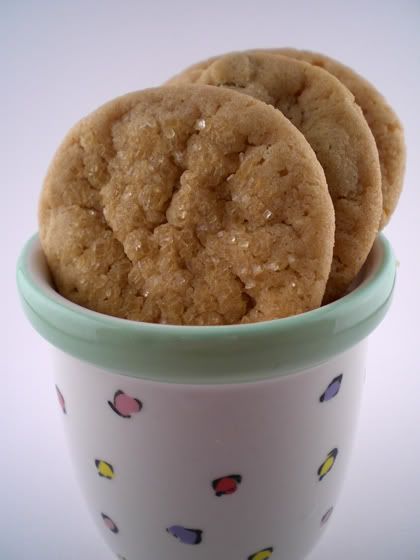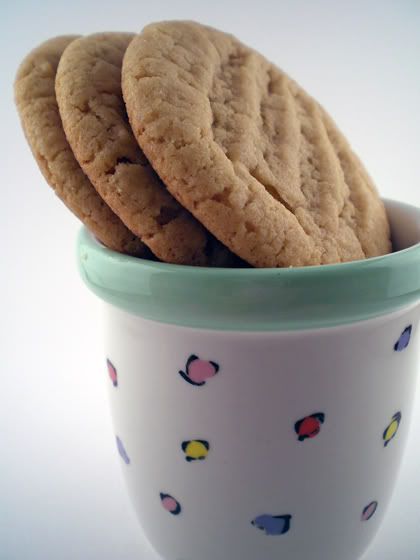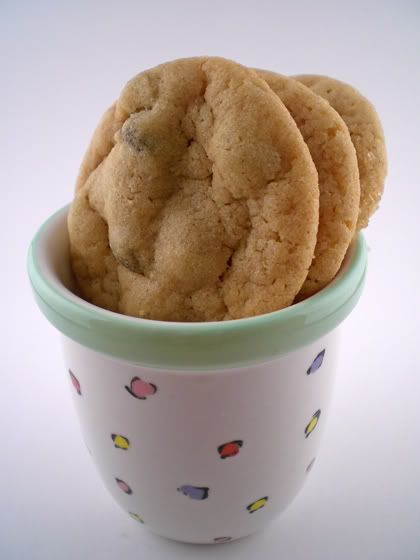 Please be sure to check out all the other fabulous
SMS Bakers' posts
!!