Mm..fall. More pumpkin recipes! I had half a can of Pure Pumpkin left from the Pumpkin Cupcakes, so I decided to use it! Turns out to have been a good decision, because these cookies are delicious.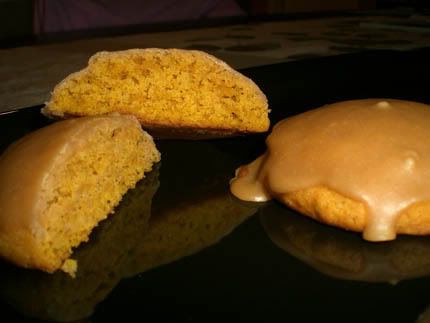 The recipe came from
FoodNetwork.com's Iced Pumpkin Cookies
but I chose not to do the accompanying icing, but rather a different one which I will post below. I scaled the recipe down to use half of the pumpkin puree I had left (I have glorious things planned for the remaining portion).
Pumpkin Cookies
adapted from
FoodNetwork.com
Ingredients
:
1 stick butter, soft
1/2 C granulated sugar
1/2 C Pure Pumpkin
1/2 an egg (I know, I'm so annoying)
1/2 tsp pure vanilla
1 C A.P. Flour
1/2 tsp baking powder
1/4 tsp baking soda
1/4 tsp salt
1/2 tsp cinnamon
1/4 tsp nutmeg
Preheat to 350. Cream the butter and sugar together until light and fluffy. Add the pumpkin, egg, and vanilla.
In a separate bowl, combine flour, baking powder, baking soda, salt, and spices. Stir this in to the butter mixture.
Drop by tablespoons on to a baking sheet lined with parchment.
Bake about 15 minutes or until lightly golden.
Icing for Pumpkin Cookies
Ingredients:
1 1/2 Tablespoons butter (does not have to be softened)
2 Tablespoons of milk
1/4 C packed light brown sugar
5/8 Tsp pure vanilla (one quarter + one eighth)
1/2 C of confectioner's sugar
In a small saucepan, melt the butter together with the brown sugar and milk on medium heat. Stir until it is thoroughly combined and dissolved. Remove from heat and let sit for about 5 minutes to let it cool. Add the confectioner's sugar and milk and stir until combined. Fill a small bowl with the icing, and take
cooled
Pumpkin Cookies, and dip them up side down into the icing. Set on to parchment and allow to set (though it is just as delicious while the icing is still wet!! :)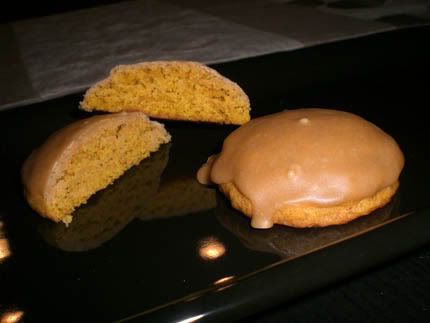 Happy delicious Pumpkinny Autumn, everyone!