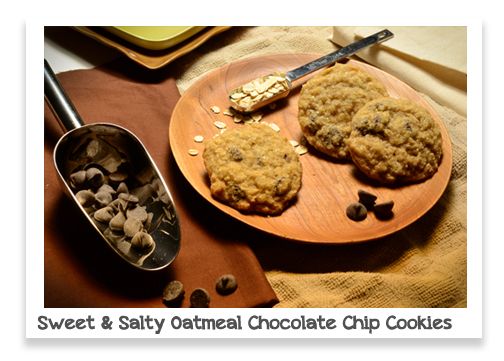 Are you into the Sweet and Salty trend? We so completely are. Every recipe I make includes fine sea salt in one way or another. This new recipe, however, take it to a whole other level. This is like a cross between a potato chip and a chocolate chip cookies... in a good way. It has the sweet and chewiness of a oatmeal chocolate chip cookie combined with the salty addictiveness of a potato chip - I definitely "could not stop at just one".
*The basic oatmeal chocolate chip cookie dough recipe is formed into balls which is then rolled in a combination of Sugar in the Raw and fine Sea Salt. The original recipe called for 1 1/2 Tablespoon of salt, but I found that to be just too much. So, in the recipe below I reduced it to 1/2 Tablespoon. If you find it to too salty / not salty enough, simply adjust the recipe to fit your tastes.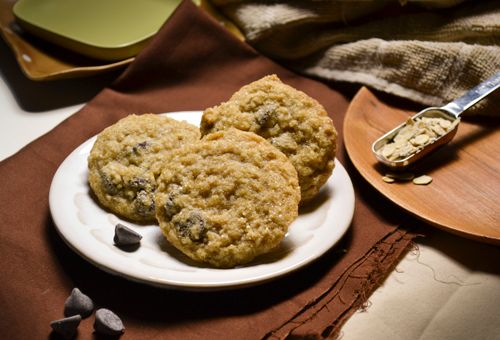 Sweet and Salty Oatmeal Chocolate Chip Cookies
adapted from
My Kitchen Addiction
Ingredients
:
1 cup (2 sticks) unsalted butter, softened
1/2 cup granulated sugar
1/2 cup light brown sugar, lightly packed
1 egg, room temperature
1/4 cup light corn syrup
1 teaspoon vanilla extract
3 cups old fashioned rolled oats
1 1/2 cups all purpose flour
1 teaspoon baking soda
1/2 teaspoon fine sea salt
1 cup chocolate chips
1/2 cup raw sugar (such as Sugar in the Raw)
1/2 Tablespoon fine sea salt* (see note about salt amount above)
In the bowl of an electric mixer, cream together the butter, granulated sugar, and brown sugar in a large mixing bowl. Add in egg and beat until smooth. Add the corn syrup and vanilla, and beat until fully incorporated.
In a separate bowl, whisk to combine oats, flour, baking soda and 1/2 tsp salt. Gradually add the dry ingredients to the creamed mixture, mixing on low until the batter comes together. Stir in the chocolate chips. Refrigerate at least 30 minutes.
Towards the end of chilling, preheat the oven to 375 and line several cookie sheets with
pre-cut parchment
. In a small dish, combine raw sugar and fine sea salt. Roll cookie dough balls to about 1 inch, and roll each in the sugar-salt mixture. Using your palm or a flat spatula, press down gently to slightly flatten. Bake 8 - 10 minutes or until edges are just barely golden - do not over bake! Cool on pan about 5 minutes and then transfer to wire rack to cool completely.