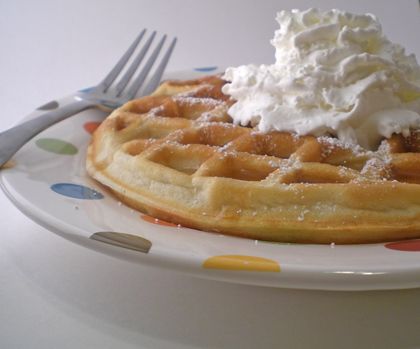 Busy Busy Busy lately! As usual. School is nearing final projects time, the holidays are near, our
aprons came out
in the magazine, wedding planning, working... But since waffles was this week's recipe for Sweet Melissa Sundays, I made time in the schedule for a nice breakfast. :) I chose to forgo the brown sugar bananas because the waffles sounded good enough by themselves! Perhaps in the future I'll make the banana topping.
I made the recipe as is - the only difference is that I added a bit of cinnamon to the battle to go along with the nutmeg. It was actually a cinch to throw the ingredients together. Everything besides baking soda and eggs was mixed together the night before, and in the morning it was quickly ready to go into the waffle maker. I was a bit scared because it called for yeast, but I think it went ok. Did anyone's batter rise? The recipe didn't say that during the 8 hour room-temperature sitting period it was supposed to increase in volume... so when mine didn't I wasn't really discouraged. Did any one else's?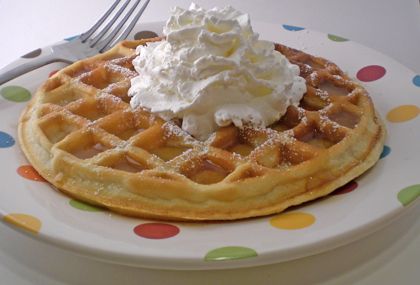 The waffles were
delicious
. I know Sweet Melissa said this recipe is not intended for a belgian waffle maker, but thats all I had... and they came out just fine. Perfectly fluffy and soft on the inside with a crispy outside. And when topped with powdered sugar, syrup and whipped cream - even better!!!! Daniel said of the waffle recipes we've made, this was "one of the best waffles so far".
Yum yum! Perfect Sunday morning breakfast. (We even have several left over for freezing, re-toasting, and topping with ice cream!) :) Check out
Lauren of Fried Pickles and Ice Cream
for the recipe or
buy the Sweet Melissa Baking Book
. And take a look at the
rest of the SMS bakers'
posts as well!!
And if you're bored, take a look at
www.Salt101.com
. It's fun!