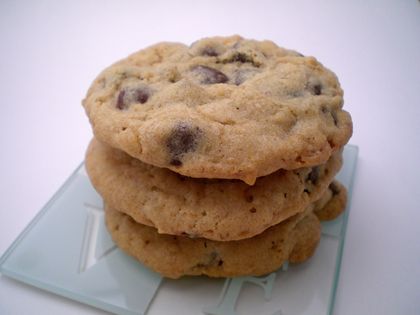 Recently while shopping we saw one of those enormous more-than-family-sized boxes of Rice Krispies cereal and decided that we should get it... with only two people and a shih tzu at home, we must have thought it was a good idea at the time to buy 700 LBS of the same kind of cereal for some reason. I think Daniel said this would force me to make
his favorite rice krispy treats
more often (the mexican vanilla ones... though if we made them often enough to get rid of the box, Daniel's love for the treats would quickly fade into totally-over-it-ness). So when I saw
this recipe
for cookies with rice krispies in it, I bookmarked it immediately knowing I'd be able to use up some of our supply of the cereal. The original recipe is from
Imperial Sugar
's website, and it was adapted on
Cookie Madness here
. I made some more changes to the recipe.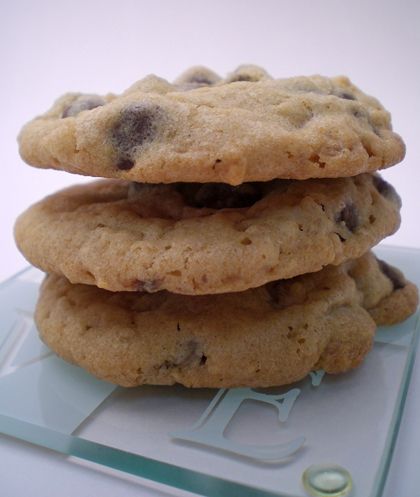 Rice Krispy Chocolate Chip Cookies
, adapted from
Imperial Sugar
and
Cookie Madness
makes about 24 cookies
Ingredients
:
1 stick unsalted butter, softened
1/2 cup light brown sugar, packed
1/2 cup granulated sugar
1 teaspoon vanilla
1 large egg, room temperature
1 1/4 cups all purpose flour
1/2 teaspoon baking powder
1/4 teaspoon baking soda
1/2 teaspoon sea salt
1 cup semi-sweet chocolate chips
1 heaping cup Rice Krispies cereal
Preheat to 350 degrees F. Line a baking sheet with parchment paper or a silicone mat.
Using an electric mixer, cream the butter and sugars together. Add the vanilla and egg, mixing just until incorporated.
In a separate bowl, whisk the flour, baking powder, baking soda and salt together to mix. Add flour mixture to sugar mixture and stir until almost blended. Add the chips and cereal and stir until mixed.
Drop by tablespoons, spacing 2 ½ inches apart, onto cookies sheets. Bake for 10-15 minutes or until slightly golden brown around edges.
The cookies came out great. The crunchy from the cereal mixes really well with the chocolate chips. And it really was a cinch to put together - very quick! Would definitely make these again! (Maybe a good Christmas cookie?)