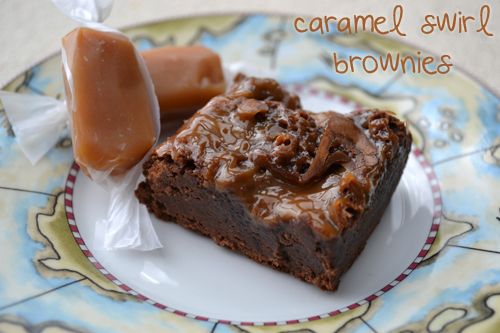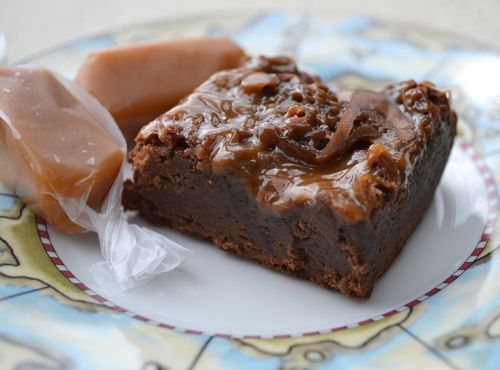 The other night I made homemade soft caramel candies for the first time. It was a first for me in that I've never made the candy form of caramel - I've done caramel sauce, frosting, and icings before but never candies - and they were very much a success! But I was far too lazy to wrap all of those little candies up in wax paper squares. So what to do with the rest of this delicious stuff? I cut half of the caramel block, wrapped it in wax paper and vacuum sealed it for storage in the freezer until I think of something genius to do with it. But with about 1/8 of the recipe, I decided to melt it back down with about 2 Tablespoons of heavy cream, and then swirl it on top of brownie batter before baking. Good decision. I'm already dreaming of what this would be like on top of blondies...
Caramel Swirl Brownies
Ingredients:

4 (1) oz squares of unsweetened chocolate

3 oz of semi-sweet chocolate chips

3 tablespoons natural unsweetened cocoa powder


1 1/2 cups all purpose flour
Grease one 9 x 13 pan. Line the bottom with parchment and lightly grease the parchment.
In a small saucepan over low heat, melt chocolate squares, chips, cocoa powder, and butter. Set aside after it has melted and combined.
Beat eggs, sugar and vanilla at high speed for 10 minutes. Put the guard on your stand mixer bowl - this gets splashy! Add the melted chocolate mixture, salt and flour and mix until just blended. Let the batter sit on the counter for 20 minutes before pouring into the greased pan (half way through this would be a good time to preheat the oven to 375). Let air bubbles escape by dropping the pan on to a counter a few times.
For Caramel Swirl:
Combine approximately 1/8th recipe of Soft Candy Caramels (from Baked Explorations, found here) or around 25 store-bought caramel candies unwrapped with 2 tablespoons heavy cream. Stir to combine over medium heavy until pourable consistency. Pour over pan of brownie batter and swirl with a knife.
Bake for 30 minutes and test with a toothpick. If it comes out clean with only a few crumbs, remove to a cooling rack. Let cool completely before cutting.