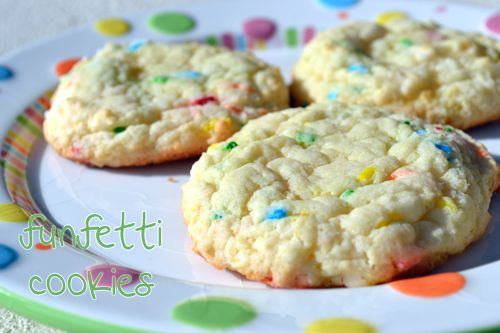 I am normally not one for cake mixes. With only a little bit of extra effort to make a cake from scratch, the results are ten times better. However, I do love cookies. And since I had the majority of a box of Funfetti cake mix left over after making Birthday Cake Rice Krispie Treats I thought I might as well use it, right? I found this ridiculously simple recipe for Funfetti Cookies from Pillsbury and within maybe 5 minutes, the dough was on the cookie sheets ready to go in the oven. If you have a soft, vanilla cookie craving and needs cookies fast, these are the best way to go. I have to admit, though we're not cake mix fans, these cookies disappeared from the cookie jar embarrassingly fast. I skipped adding the frosting on top of the cookies because I thought they'd be sweet enough without them. I'm glad I did because these were perfect.
Funfetti Cake Mix Cookies from Pillsbury.com
Ingredients:
1 (18.9 oz) box of Pillsbury Funfetti cake mix
1/3 cup canola oil
2 large eggs, room temperature
Directions:
Heat oven to 375°F. In large bowl, combine cake mix, oil and eggs; mix until thoroughly moistened. Scoop with a 1 1/2 Tablespoon cookie scoop onto parchment lined cookie sheets. Using the palm of your hand, slightly flatten the dough balls. Bake at 375°F. for 6 to 8 minutes or until edges are light golden brown. Cool 1 minute; remove from cookie sheets.