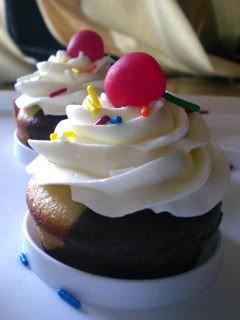 Black and White Cupcakes with Banana Filling aka Banana Split Cupcakes
Yup, thats what last week's Whacky cupcake flavor, but I couldn't post it until now because I was waiting for a box to get to NY. You see, its my sister
Jenn's
birthday soon (you can go to her blog and wish her a happy b-day on August 2nd if you wish), and it was the perfect opportunity to make another attempt at
Cupcake Shipping
. I was sending her a box of presents anyway, so I thought I'd do Cupcake Shipping Experiment Pt 2. More on
THAT
later when she sends me some photos. For now, here is the deal on these cupcakes: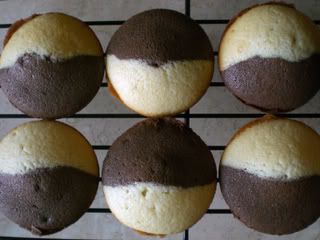 I saw
this
recipe on Martha Stewart's website for Cupcakes that are
split
right down the middle: chocolate cake on one side and vanilla on the other (thus the SPLIT part of banana SPLIT cupcakes...
split
between chocolate and vanilla...get it?). I scaled down the recipe very weirdly, down to 1/3 of the original. It was actually quite complicated doing so because of the recipe being divided in half anyway into a chocolate batter & a vanilla batter. Yes, some of the measurements are very odd and go to the 100th or even the 1000th decimal place, but just round it and do your best. Here is what I came up with...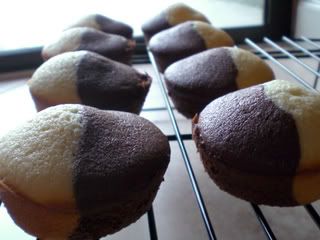 Black and White Cupcakes
makes about 8
Ingredients for Vanilla batter
:
2 2/3 Tablespoons Butter
.58 C Flour
2/3 tsp Baking powder
.167 Tsp salt
.25 C sugar
2/3 Egg (yes, 2/3 of an egg)
1/3 Tsp vanilla
.167 C milk
Ingredients for Chocolate batter
:
2 2/3 Tbl butter
.416 flour
.16 C Cocoa powder (this is 1/2 of 1/3 C)
2/3 Tsp Baking Powder
.167 tsp salt
.25 C Sugar
2/3 Egg
1/3 Tsp vanilla
.167 c Milk (this is half of 1/3 C)
*Note* -- If it makes it easier, these are the measurements for the ingredients TOTAL (vanilla + chocolate batter). So just use half of these measurements for each batter (besides the flour and cocoa, where the measurements are different for each):
5 1/3 Tablespoons butter
1 C Flour
1/3 of 1/2 C Cocoa Powder (I use a 1/2 C measuring cup and just eye about 1/3 of it)
1 1/3 Tsp baking powder
1/3 Tsp salt
1/2 C sugar
1 1/3 egg
2/3 tsp vanilla
1/3 C Milk
Directions
:
*Make one batter at a time to avoid confusion.
Preheat the oven to 350. Butter and flour (or use a non-stick spray with flour) a muffin pan, or use paper cupcake liners.
In a medium bowl, whisk the flour, baking powder & salt together to combine.
With an electric mixer, beat butter and sugar together until light and fluffy. Add 2/3 egg and beat well.
Add vanilla and mix until incorporated. On low, beat in 1/2 of the flour mixture, followed by milk, and then end with the remaining flour. Don't overmix – just mix until it is combined. Set aside. Make the chocolate batter – prepare the same way, except in the beginning, whisk together not only the flour, baking powder and salt, but the cocoa as well.
Using a tablespoon, measure out 3 tablespoons of each batter to put into the wells in the cupcake tin. Do your best to keep each batter to one side.
Bake 22-24 minutes or until a toothpick comes out clean after inserted. Cool in the pan for 5 minutes, and then transfer to wire rack to cool completely.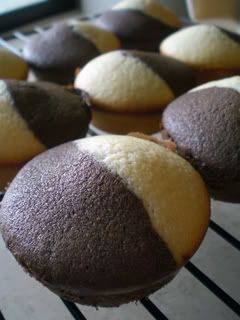 What is so
BANANA
about these Banana Split Cupcakes you ask? Well, I had the idea to put a Banana Custard filling in the center of them. I won't post the custard recipe for two reasons: One- I lost it. Two- It was unsuccessful. It was way too watery, so it kinda absorbed into the cupcake a little bit, and it was overly sweet. Luckily, I only put about a teaspoon of it into the cupcakes, so they were still quite tasty.
With their hats cut off: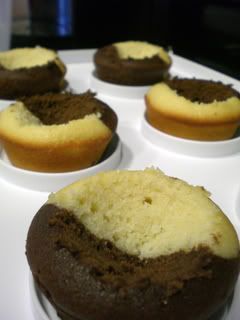 Filling in place: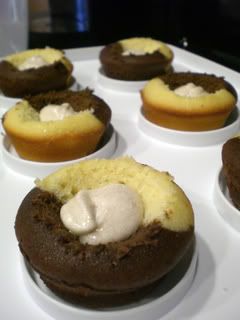 The tops trimmed and replaced:
For the frosting, I used
my favorite frosting recipe
, and garnished with a sour cherry candy and sprinkles to make it look like a real ice cream sundae.