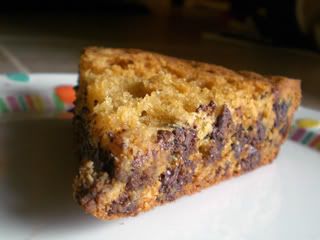 Rarely do I ever see something made on FoodNetwork and think to myself, "boy, I need to make that". But
this recipe for chocolate chip cookie pie
appeared on Paula Dean right about the same time all that Chocolate Chip Cookie frenzy was occuring due to the New York Times article. So I broke down. Daniel always appreciates a good chocolate chip cookie to eat for breakfast and put under his ice cream anyway. I made this recipe according to her directions, the only adjustment was halving the recipe (because I don't need 2 giant cookies the size of a pie), the omission of nuts and the whipped cream topping, and the added step of waiting 36 hours
just to see how it would turn out
.
Chocolate Chip Pie
from Paula Dean
1.375 Flour (I know it seems complicated, but its 1 C flour + halfway between 1/4 & 1/2 C flour)
3/4 Tsp Salt
1/2 Tsp baking soda
.625 Tsp Baking powder (halfway between 1/2 Tsp and 3/4 Tsp)
1 stick unsalted butter, soft
3/4 C Packed light brown sugar
1/4 c granulated sugar
1.5 eggs (yes, one
and a half
eggs)
1 1/2 tsp vanilla
1 1/2 C Semisweet chocolate chips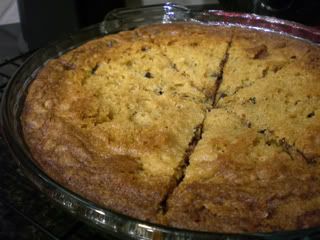 Spray a 9 inch pie plate with non-stick spray, set aside.
In a large bowl, whisk flour, salt, baking soda & powder to combine. In an electric mixer, cream the butter and sugars together. Add the eggs one at a time and beat until it is incorporated in. Beat in the vanilla. Add the flour mixture little by little, and mix until fully combined, but don't overmix. Fold in the chocolate chips. Press into the pie plate and smooth the top to make it even. Cover with plastic wrap and chill for 36 hours.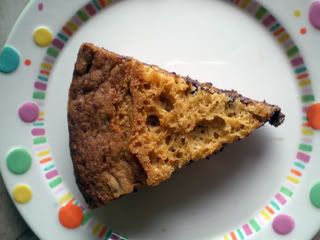 Preheat to 350 and bake for 40 minutes until the pies are golden brown, and feel slightly firm when touched, but still soft. If they start to get too dark around the edges, put tin foil over the top and continue baking -- I had to do this..but be careful not to let it touch the top of your pie or your top will be less pretty than it could have been :( Let cool on wire rack.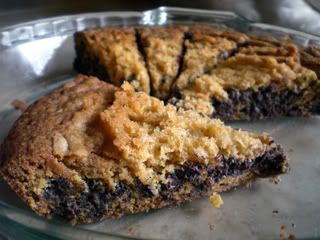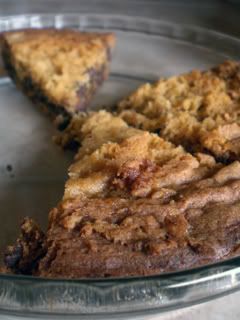 And now, for your moment of zen: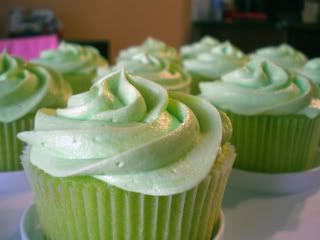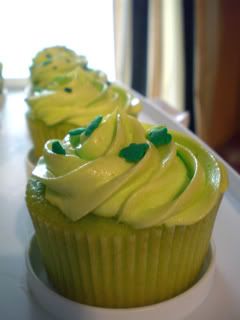 Green, with turtle sprinkles. Ahh, kids birthday parties.