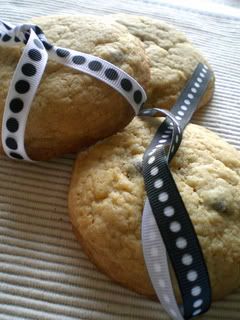 Our grocery stores don't readily carry cake flour (I don't know why, ask Florida), so I have to "make" my own cake flour. The recipe I use is:
1 Cup All Purpose Flour - 2 Tablespoons all purpose flour + 2 Tablespoons Cornstarch
. Since I usually scale down recipes to weird amounts that call for 3/4 C cake flour and the like, this usually involves a fair bit of math on my part. And of course, because I am naturally The Angry Baker, this just creates more aggravation and cursing in the kitchen. But the other day, I finally got the smart idea (I don't know why it took this long) to just make a large amount of cake flour at one time and store it in tupperware, ready at any moment for me to scoop out any weird amount I want. TADAAA!! So when Dan wanted soft, cakey chocolate chip cookies yesterday, I happily obliged, as it permitted me to use my prepared cake flour twice in 2 days, woo! These are, by far, the chubbiest chocolate chip cookies I have ever made. If you are looking for a Chubby, Tall, Thick, Cakey, Moist, not-too-sweet chocolate chip cookie recipe, make these monsters (monsters because of their abnormally large, amazing size):
Chubby Chocolate Chip Cookie-Monsters
1 Stick of butter
mostly>
softened
1/4 C + 2 Tblspn Granulated Sugar
1/4 C + 2 Tblspn packed light brown sugar
1 Large egg
1/2 Teaspoon Vanilla
1.75 C Cake Flour
Salt to taste (I used a little less than 1/2 teaspoon)
3/8 teaspoon baking powder (1/2 tsp + 1/8 tsp)
1/4 Tsp Baking soda
Semisweet chocolate chips to taste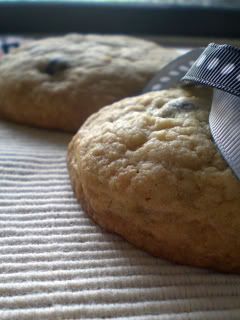 Beat butter and sugars until sugars are fully incorporated. Add egg and vanilla and beat until just incorporated.
In a medium sized bowl, sift flour, salt, baking powder & baking soda together.
Add flour mixture to butter mixture, and beat on low until incorporated, but don't overbeat it.
Add chocolate chips in.
Roll equal sized ballies of dough (I wanted monster size, so I made 6 balls! If you want more normal sized cookies, make more, just adjust baking time), plop on to silicone mat lined baking sheet and refrigerate for an hour or more.
Preheat to 350. Bake cookies for 20-22 minutes, until lightly browned.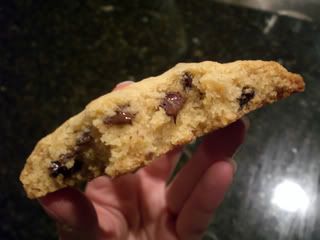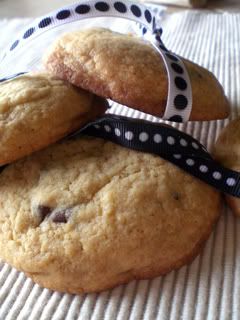 And now, for some gratuitous cupcake pictures. Its the
usual cake and frosting recipe
, but they came out so cute, I wanted to post the pictures. They were for a set of twins' birthday party, turning 2 years old. One boy, one girl: Thus, the color choices.
Look what a difference sprinkles make: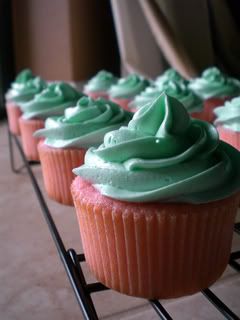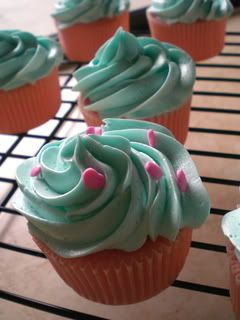 Voila! Suddenly, much more magical.