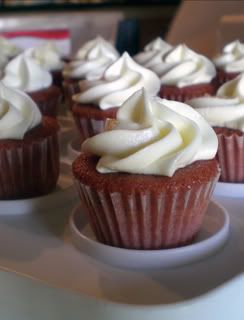 Saturday was our Italy Girls Reunion get together. Its amazing how much time went by since the trip. I can barely believe its been 2 and a half months since the trip began, and I've already been back for more than a month and a half. Incredible how time flies. I decided to bring cupcakes to our gathering because, well, I'm the cupcake girl. I talked about my cupcakes on the trip a lot, so I thought they would be curious to try them. One girl specifically requested I make her Red Velvet cupcakes once we got back, so thats what I went with. I used a recipe I've used in the past with great success, from Wilton Cupcake Fun. I halved it because I was making mini cupcakes:
Mini Red Velvet Cupcakes
makes 24 mini cupcakes + 5 regular sized cupcakes
Ingredients
:
1 1/4 C All Purpose Flour
1 Tablespoon Cocoa Powder
3/4 Tsp Baking Powder
1/2 Tsp Salt
1/2 Stick of butter, soft
3/4 C Granulated Sugar
1 egg
3/4 tsp red food coloring
1/2 Tsp Vanilla extract
1/2 C Buttermilk
1 Tbl Water
3/4 Tsp white vinegar (I used apple cider vinegar)
1/2 Tsp Baking Soda
Directions
:
Preheat to 350. Line a mini muffin tin with 24 liners, and a regular sized muffin tin with 5 liners.
In a medium bowl, combine the flour, cocoa powder, baking powder & salt. In a different bowl, cream the butter and sugar with an electric mixer until it is light and fluffy. Add egg, red food coloring, and vanilla, and then mix until the red is evenly distributed. Alternately add the flour mix and the buttermilk to the butter mixture. Add the water and mix. In a small bowl, combine vinegar and baking soda, and fold into the cupcake batter. Pour batter into a large ziplock bag and snip a small (~1/4 inch) opening in the corner. Carefully, squeeze the batter into the liners so that they are about 2/3 - 3/4 full. Bake 15 minutes for the mini muffins and 20 for the standard sized cupcakes, or until a toothpick comes out clean. Remove from oven and let cool in the pan for 5 minutes, then remove to wire rack to cool completely.
For the frosting, I wanted to use my vanilla buttercream because it is so yummy, and I wanted them to taste the real deal of my cupcakes. However, I also wanted to let them try the red velvet cupcakelets with their traditional frosting: Cream Cheese Frosting. The Vanilla Buttercream recipe can be found
here
.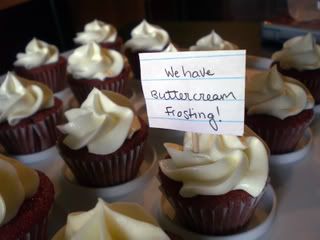 The cream cheese frosting recipe is one of my own invention (through accidentally using the wrong amount of cream cheese when I was trying to make cinnabun icing here). Usually, I'm not a huge fan of cream cheese icing, its usually too tangy for my liking. But this one is juuusstt right. It tastes more like cheesecake or cheese danish filling than cream cheese. And its perfect for piping!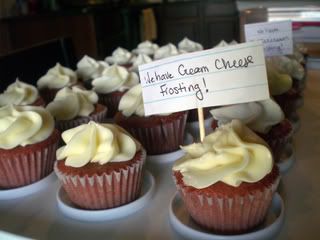 Best Cream Cheese Frosting Ever
8 oz cream cheese, soft
1/4 C unsalted butter, soft
1.5 cups confectioners sugar
1/2 tsp vanilla
Beat cream cheese, butter, sugar and vanilla. This recipe will make much more than you need for 24 mini cuppies and 5 regulars, but it freezes really well, so make it all and save the rest for when you need cream cheese frosting next!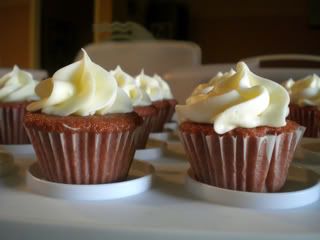 Can you tell which frosting is which?