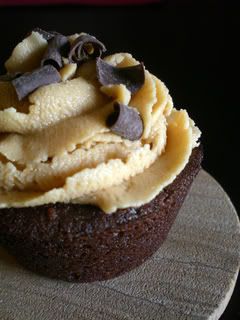 To shake things up a bit, Dan recommended this week's cupcake be
chocolate
cake. I rarely dabble in chocolate cake because Daniel isn't a huge fan of chocolate, but as these are not for him, I took his suggestion and decided to go with it. My Vanilla Cupcake recipe came from Billy Reece, so I stuck with him to see how
his Chocolate Cupcakes
are.
Now, what to pair with chocolate cupcakes... chocolate frosting? Too much chocolate. Vanilla? Boring. Strawberry? No, we know how strawberry jam frosting came out
last time
, and I don't have any fresh strawberries. So I went with the classic Chocolate Peanut Butter combination. To make the cupcakes more exciting, I baked a mini reese's cup right into the cupcake. Other than that, I kept the same basic recipe, just played around a bit with the measurements a little so I wouldn't wind up with 24 cupcakes. I scaled it down as such to make 9:
Chocolate Buttermilk Cupcakes with Reese's Peanut Butter Cup Center
based on Billy's Reece's Chocolate Cupcakes
2/3 C Cake Flour
1/3 Tsp Baking Soda
6.5 Tablespoons of butter
1/3 C Sugar
1/3 C Packed light brown sugar
1 egg
2 oz unsweetened chocolate, melted & let cool for 15 minutes
1/3 C Buttermilk
1/3 Tsp Vanilla
9 Mini Reese's Peanut Butter Cups, chilled in freezer for about 30 minutes.
Preheat to 350. Cream the butter & both types of sugars together. Add the egg and scrape down the sides of the bowl (if you don't have a super cool SideSweep like me:) ). Add the melted/cooled chocolate and mix until incorporated. Scrape down sides of bowl. In a small bowl, combine the cake flour & baking soda, and in a measuring cup, combine the buttermilk and vanilla extract. Alternately, add the flour mixture and the buttermilk mixture to the chocolate mixture, beginning and ending with the flour mixture.
Spray cupcake tins with non-stick spray, and fill cupcake wells 2/3 full. Remove peanut butter cups from the freezer, unwrap, and press into the batter in the cupcake tins so that the top of the peanut butter cup just peeks out of the batter.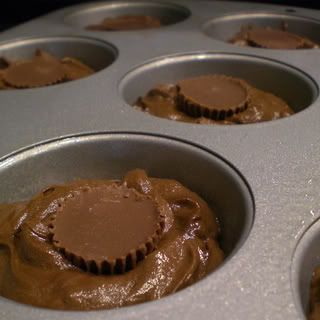 Bake 20 minutes, or when it springs back lightly when touched and a tooth pick comes out clean. Turn out from cupcake tin onto cooling rack.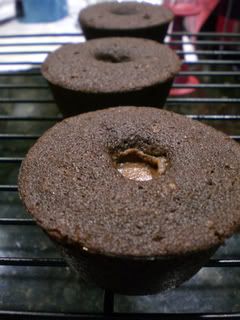 No, those aren't chocolate belly buttons on my cupcakes!
For the frosting, I found a
Fluffy Peanut Butter Frosting Recipe
at Allrecipes.com. The reviews were good, and looked promising for a sturdy, pipe-able peanuty frosting. I halved it, and added a few steps since I only had crunchy peanut butter on hand:
Peanut Butter Frosting
1/2 Stick of butter, soft
1/2 C Crunchy Peanut Butter
1 1/2 Tbl milk
1 C confectioner's sugar
Put peanut butter in a food processor and pulse until most of the big peanut chunks are broken up. Add the butter, and pulse until full incorporated and peanut chunks are further broken up. Scoop into bowl of an electric mixer. Gradually mix in the sugar. As it gets thicker and thicker, add milk as needed to get the correct consistency.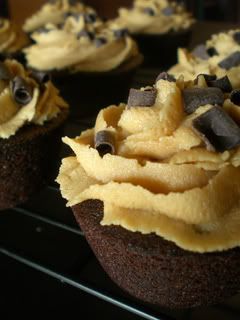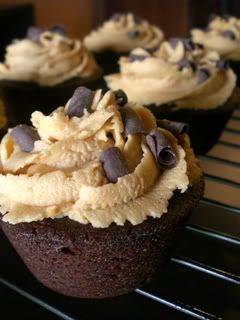 The chocolate cake gets moister the second day, and are
quite
dry the first day they are baked, just as I've found is true for Billy's Vanilla Cupcake recipe. The frosting piped rather well, and was very very peanut buttery. You couldn't really taste the reese's cup amidst all the other chocolate and peanut butter flavor, but I suppose its cool to just
know
that they're in there. Think they'll be a hit?