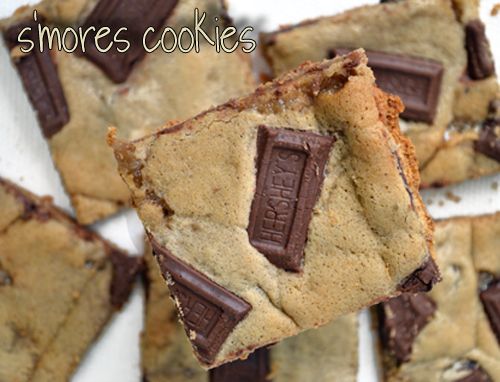 S'mores are one of the best things about summer. They're delicious with their melty chocolate and ooey gooey marshmallowy goodness. But they're also tons of fun to make. Who doesn't love toasting a marshmallow and sandwiching it with chocolate between two graham crackers? Not very many people, I'd guess. But for those days when lighting a fire and making a sticky mess just isn't convenient, these bar cookies come in a close second.
S'mores Cookies, adapted from Always with Butter
Ingredients:
11 Tablespoons unsalted butter, softened
1 cup brown sugar, packed
½ cup granulated sugar
2 large eggs, room temp
1 tsp vanilla
1 tsp baking soda
½ tsp sea salt
1 tsp cinnamon
2 ½ cups flour
chocolate chips*
1 cup mini marshmallows
2 – 3 regular sized hershey's bars, broken into pieces*
1 package graham crackers, broken into squares
In a medium bowl, whisk together the flour, baking soda, salt and cinnamon to combine. Set aside.
In the bowl of an electric mixer, cream butter with both sugars until light and fluffy. Add egg and vanilla.
Add flour mixture to the butter mixer and combine on low speed.
Fold in chips and marshmallows. Chill dough in refrigerator for 1 hour to overnight.
Preheat oven to 375 F.
Line baking pans with parchment paper** Lay out graham crackers side by side on the pans as close as possible (they should be touching).
Place tablespoons of chilled dough on graham crackers about 1 – 1 ½ inches apart. Press down slightly with fingertips.
Bake for 5 minutes then remove from oven to press Hershey's bar pieces on to the top.
Bake for 5 – 7 more minutes or until dough is beginning to turn golden brown at the edges. Remove to a wire rack to cool.
*Use chocolate chips to taste. I only used about 1/3 cup in the dough because Hershey bar pieces were going to be placed on top and I didn't want it to be too chocolatey. If you're a choc-a-holic, feel free to add more. For hershey's bars, I used about 2 ½ regular sized bars. Again, if you're a chocolate lover, use more.
**If you want thicker cookies, use less graham cracker-lined pans and put your cookie dough closer together. For thinner cookies, spread out graham crackers and cookie dough across more baking pans. I used 1 medium (10x15 inch) cookie pan, and 1 large (11x17 inch).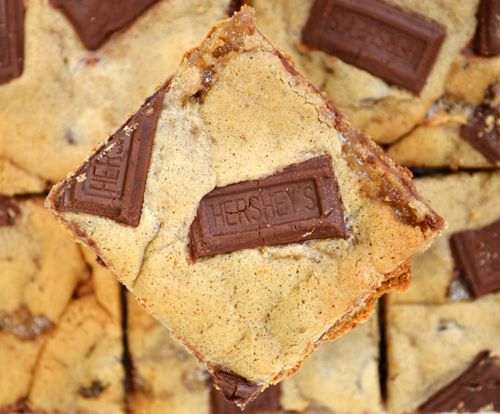 Recipe Card (click to enlarge):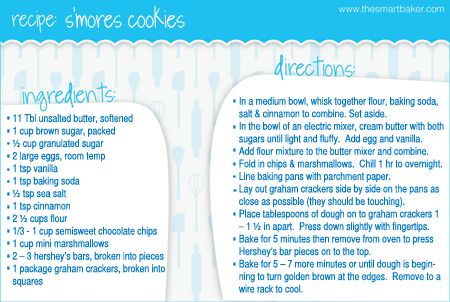 PSST! There's still time left to enter our
Giveaway
for a FREE Cupcake and Dessert Tower (valued at $54.89)!