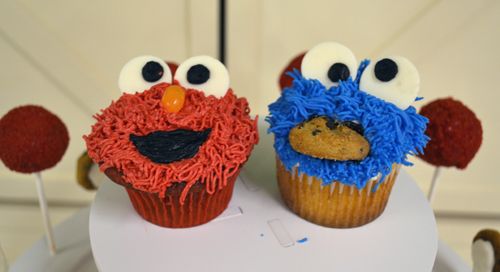 This weekend, our niece Ella turned two years old! In honor of her second birthday and her Sesame Street theme celebration, we made her a Sesame Street Cupcake and Dessert Tower. Nothing but the best for our niece's birthday party! We used our Round Cupcake and Dessert Tower, and on it there were vanilla cookie monster cupcakes, red velvet elmo cupcakes, cake pops, and cookie pops with her name on them. All the preparation was worth it when she stood next to her dessert tower (which was almost as big as she was) and made that adorable two-year old smile. :)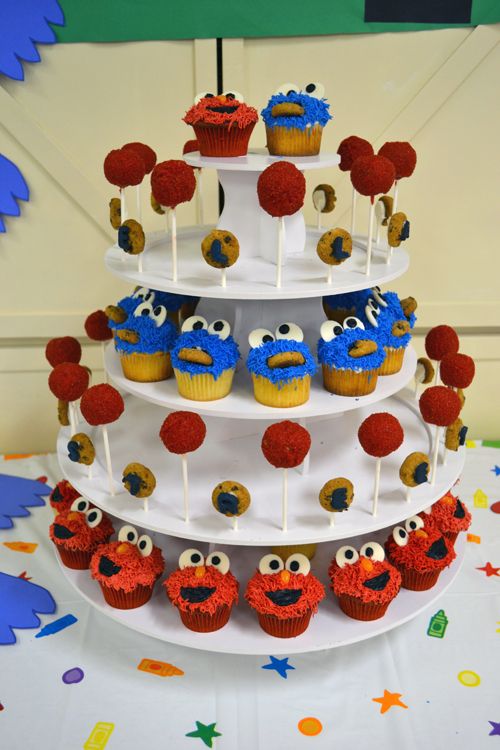 I always have a problem with a lack of doming on my cupcakes. How is it that people get those nice rounded tops?? I found ONE solution to the non-domed top. Bake at a higher temperature! There was a considerable difference between the cupcakes baked at 325 and the cupcakes baked at 350 (made with the same recipe)!!!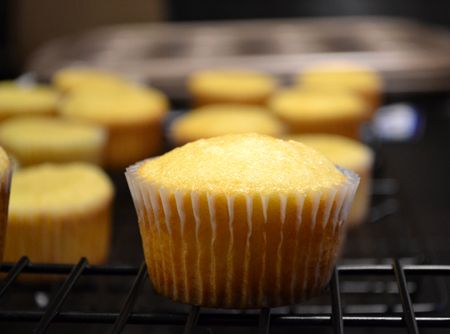 Ok, that's a start! But it wasn't enough. I needed the cupcakes for my Cookie Monsters to be really rounded and tall to have enough room to shove a cookie into his mouth. And I found an answer...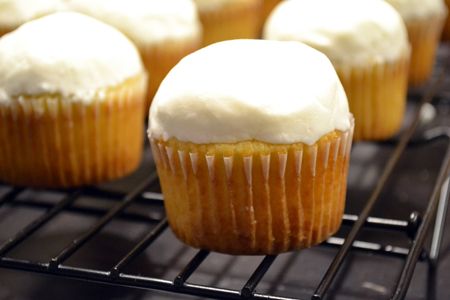 Make up for it with frosting! I prepared a really thick, stiff frosting and molded it to the top of the cupcakes to make a round round top with a lot of height (recipe below). Perfect!
On top of that frosting base, you can use a thinner, much less stiff buttercream in a piping bag fitted with a multi-opening piping tip (Wilton tip #233, usually used for grass). I used Royal blue for Cookie Monsters and Red for Elmos.

For the cookie monsters, I used Mini Chips Ahoy for the cookie coming out of his mouth. To make sure I had a place to put it, I cut one cookie in half and pressed it into the white buttercream base around where I wanted his mouth to go. This little indentation was enough to show me where I should pipe around when piping his blue fur. Make sure you leave a little hole in the blue frosting for his cookie! Like this:
Both Elmo Cupcakes and Cookie Monster Cupcakes have white Candy Melts for eyes, with black frosting for the pupils. Of course, Cookie Monster eyes are googly while Elmos aren't. :)
I also used this black frosting to make a ring around Cookie Monster's mouth. Right inside his fur, on the outside of the white mouth opening, I piped a thin line of black. This acted like the glue that the cookie would stick to. Note: Don't do his mouth or cookie too far in advance or the cookie will get soggy!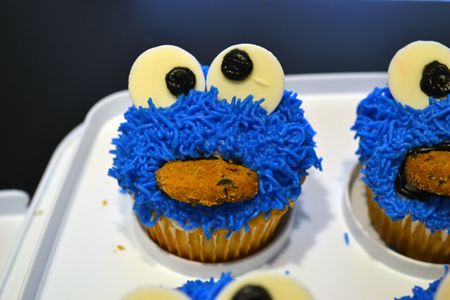 For Elmo's mouth, I took another half of a cookie and used it like a stamp to indent Elmo's red fur where I wanted to put his mouth. Once the mouth area has been flattened a little bit, you can use the black frosting to pipe a cute little smiley mouth. Add an orange Jelly Belly for his nose!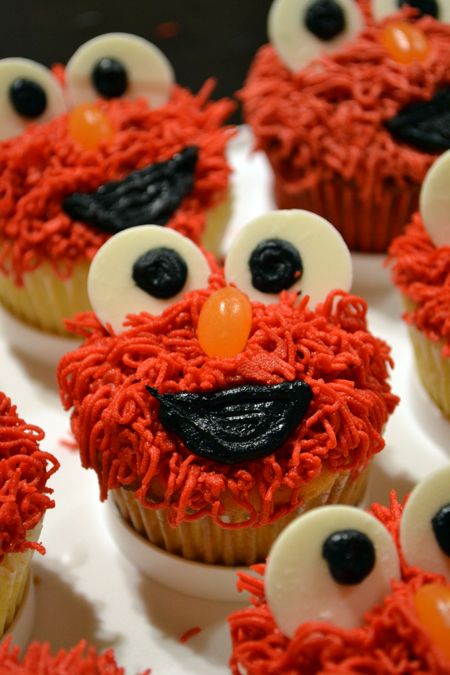 The other decorations on our Sesame Street Cupcake and Dessert Tower are vanilla cake pops (vanilla cake, blue frosting, dipped in red candy melts, rolled in Red sparkling sugar while still wet). We also used the rest of the Mini Chips Ahoy cookies and turned them in to cookie pops. We used some candy melts to "glue" the stick to the cookie.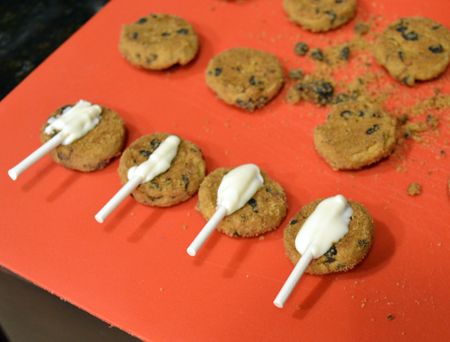 Most of these we left blank, but on some of them, we put the letters "ELLA STREET". We used a super simple shortbread cookie dough recipe (recipe below) dyed blue. We used candy melts to "glue" the letter cookies to the chips ahoy.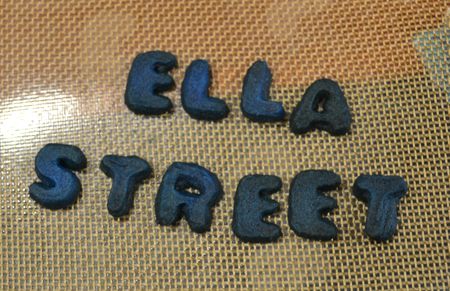 We were really happy with the way the tower came out. Daniel is such a good #233 tip piper!!! Notice the tier of Cake Pops and Cookie Pops??? This is the new product I was so excited to show you.

Coming soon

on The Smart Baker store is an add-on for your The Smart Baker Cupcake and Dessert Tower - a ring you can place on your Tower's tiers that holds your Cake Pops and Cookie Pops firmly in place. This is by far the best looking, most professional, most secure, and most hassle-free way to display cake pops I've seen so far! No more wrapping styrofoam blocks in tissue paper! :) I'm so excited about this - I'm going to use this all the time!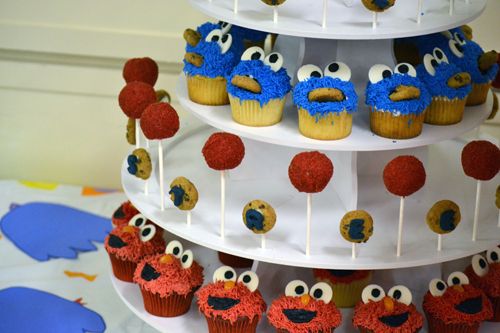 Thick Buttercream (for sculpting domed tops)
Ingredients:
1/2 cup unsalted butter, room temperature
1/2 cup all vegetable shortening
4 cups confectioners sugar
1 3/4 tsp vanilla extract
Directions:
Put butter and shortening in the bowl of an electric mixer and turn on to combine. When combined, add in the sugar and turn mixer on low. Make sure to put the shield on! When it is all mixer in and mixture is very thick, add in the vanilla and mix to combine. To sculpt cupcake tops, use a cookie scoop to put a scoop of frosting on each cupcake. Used the palm of your hand, turning the cupcake frequently, shape the frosting into a nice round top.
Simple Shortbread Cookie Dough:
Ingredients:
1/2 cup unsalted butter, room temp
3/8 cup confectioners sugar
1 1/2 tsp vanilla extract
Directions:
Combine butter and sugar in the bowl of an electric mixer. Beat on medium high until light and fluffy. Add in vanilla and food coloring and stir to combine. Slowly, add in the flour with the mixer on low. Mix only until just incorporated, don't overmix. Put dough into a zippy bag and flatten using a rolling pin. Put dough in freezer for about 15 - 20 minutes or until firm.
Preheat to 350 F. Quickly, use a cookie cutter to cut out shapes. You may need to return this to the freezer for a few minutes during this process as the dough gets soft very quickly. Bake on a parchment lined cookie sheet for about 6 - 8 minutes or until it starts to brown around the edges.
I think it was a hit...