Muddy Buddies, Puppy Chow, Monkey Munch, whatever you want to call it, is a quick to throw together sweet snack thats been around seemingly forever. I remember first trying it when friends' parents would bring it to class parties at school. For years and years, I never had puppy chow again until I got
a bag of it
this past Christmas. It reignited my love for the chocolatey, peanut buttery, sweet crunchy snack and not long after I whipped up a batch of it. I made a half batch (see the following recipe) but it could easily be doubled.
Muddy Buddies
Ingredients:
4 1/2 cups Rice or Corn Chex
1/2 cup semisweet chocolate chips
1/4 cup peanut butter
2 Tablespoons butter
1/2 teaspoon vanilla extract
3/4 cup confection
ers sugar
Measure the cereal, put in a large bowl and set aside.
In a double boiler, melt the chocolate chips, peanut butter and butter, stir until smooth. Stir in vanilla. Pour mixture over cereal, gently stirring until evenly coated. Pour into 2-gallon resealable zippy plastic bag.
Add powdered sugar. Seal bag; shake until well coated. Spread on parchment paper to cool. Store in airtight container.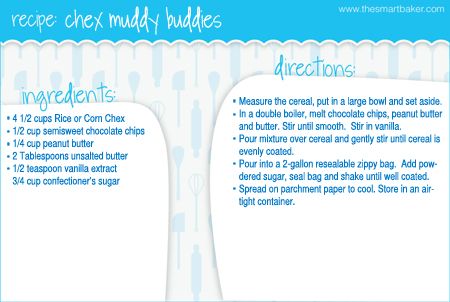 I also wanted to share with you one of our newest products. We have a few new Smart Baker items coming out, one of which I am SO excited about, but I'll save that secret until I have better pictures of it :) This one is pretty amazing, too.
We've now made a Bar-b-que counterpart to our popular Baking apron! Instead of a convenient measurement chart printed upside down for bakers to read while baking, we've made a Bar-b-que Temperatures and Grilling Time chart - still printed upside down for easy reading! There are two different designs, both come in either black, green or blue. It's a great gift for father's day, or for all those summer BBQs you'll be going to. Great for all the lovable BBQ masters in your life! :) For more info on our BBQ Apron, visit The Smart Baker's shop. Also, if you're not a fan of The Smart Baker on Facebook yet - you should be! We'll be posting Facebook fan only coupons, giveaways, and more. (Stay tuned for a very exciting new product I'm sure all you bakers will love!)