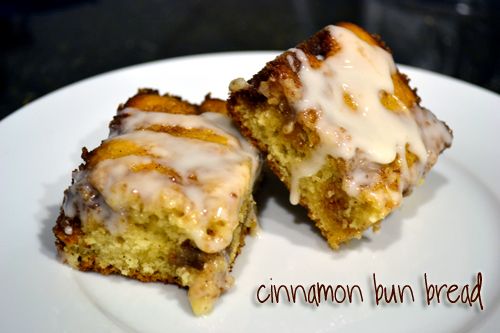 No matter how many new things I learn to conquer in baking, I simply cannot make yeast rise. I don't know what it is! I always buy it brand new before I use it so I know it's not old, and I always use a thermometer to make sure it is at the exact right temperature that is called for in the recipe. I'm really not sure what the problem is. But even if you're a yeast killer like me, this recipe will make a perfectly good (actually better than perfect good, they're perfectly amazingly warm ooey gooey delicious good) cinnamon bun-ish treat. And it's quick! These are so simple and QUICK to throw together. And these are just as good, if not better, than traditional cinnamon buns. If you're in the mood for cinnamon buns but not in the mood to play with temperamental yeast, wait until it rises, flatten the dough and then roll it up into a log, etc etc - then this is the right recipe for you.
If you want to make this recipe even easier, if that is at all possible, use our new 8x8 inch square parchment with our
unique lift tabs,
then check out this video:
Ingredients:
1 1/2 cups all-purpose flour
1/3 cup sugar
1/4 teaspoon sea salt
2 envelopes
Fleischmann's Active Dry Yeast

2/3 cup very warm milk (120° - 130°F)
2 tablespoons butter, melted and cooled
2 tablespoons vegetable oil
1/2 teaspoon vanilla extract
Cinnamon Sugar Topping:
3 tablespoons butter, softened
3/4 cup light brown sugar
1 1/2 teaspoons ground cinnamon
Icing:
Directions:
Lightly spray an 8×8-inch square baking pan with non-stick spray and line with a pre-cut 8x8 inch square piece of parchment paper with lift tabs.
In the bowl of an electric mixer, combine flour, sugar and sea salt.
Dissolve the yeast in a measuring cup filled with the warmed milk.
Stir milk mixture, vegetable oil, melted butter, and vanilla extract and egg into the flour mixture. Mix until smooth. Pour into the prepared pan and let batter rest for 15 minutes.
While the dough rests, mix together butter, brown sugar, cinnamon in a small bowl using a fork until all the butter has been incorporated into the sugar and mixture is crumbly. Sprinkle evenly on top of rested dough and swirl it in with a spatula.
Place pan into a cold oven, then set the oven temperature to 350F.
Bake for about 25-30 minutes, until bread is lightly browned at the edges and the center of the bread springs back when lightly pressed.
Cool for at least 30 minutes before preparing the icing and drizzling it onto the bread.
Serve warm. Leftovers can be re-warmed in the microwave.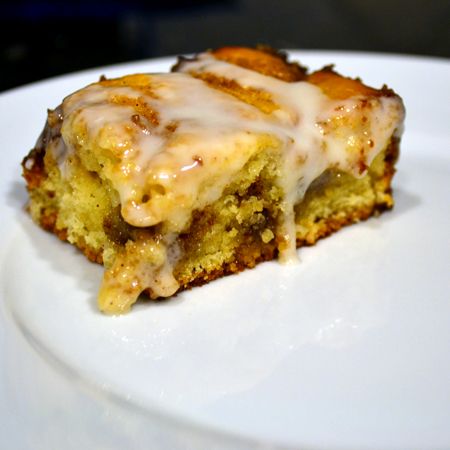 Recipe Card (click for full size):