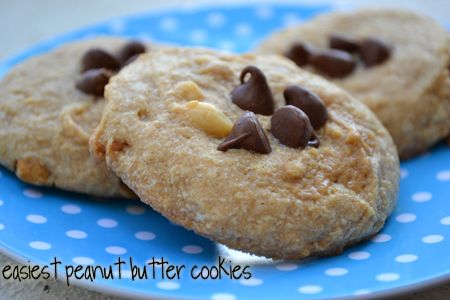 Working full time has given me a new appreciation for super quick and easy recipes. Most of my baking is done on the weekends now, but every now and then I want something baked fresh on a weeknight. On those occasions, the fewer the ingredients, the better. If it involves just a few short steps, even better. This recipe fits the bill. It bakes up a small batch of soft, delicious peanut buttery cookies in just a few minutes and involves only 3 or 4 ingredients.
Easiest Peanut Butter Cookies, small batch - around 8 cookies, adapted from I ate Brisbane
Ingredients:
1/2 Cup Jif Natural Crunchy Peanut Butter (non-refrigerated kind)
1/4 C + 2 Tbl granulated sugar
~ 1/2 large egg, room temp
A few chocolate chips
Preheat oven to 325 F. Line a cookie sheet with parchment paper. Put all ingredients in the bowl of an electric mixer and mix until combined. Make scant Tablespoon dough balls (use a Tablespoon cookie scoop and don't quite fill it all the way). Press a few chocolate chips into the top of each cookie. Bake 13 - 17 minutes.