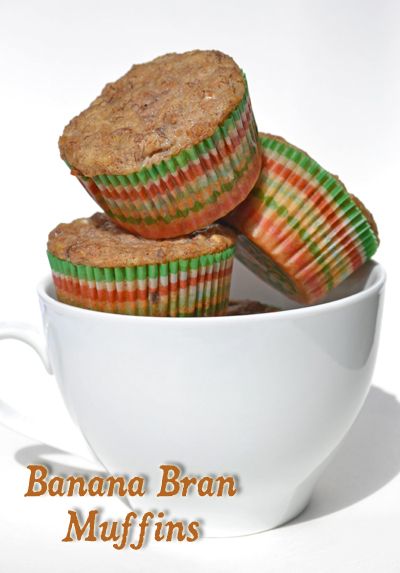 Banana Bran muffins?? A healthy recipe?! Has this blog been taken over by a health nut? Nope. But now that I'm leaving early for work, I wanted to make something I could quickly grab on my way out the door to hold me over until lunch. Store bought breakfast bars were getting old. These came out quite good, but their shelf life is rather short. I made these Thursday night and by Tuesday morning when I opened the airtight container, out came a spoiled smell. So if you plan on making them and you don't feel like eating 12 muffins in a few short days, bring them to work and share with your co-workers! I made them in a standard cupcake/muffin pan, but if they had been prepared in a jumbo muffin pan, the recipe probably would have only yielded around 6. A much easier number of muffins to eat in a few days! :)
Banana Bran Muffins,
adapted
from Food 4 Thought
Ingredients:
1 1/4 cup all purpose flour
2 teaspoons baking powder
1/2 teaspoon cinnamon
1 cup bran flakes
1 cup low-fat milk
2 medium ripe bananas, mashed
1 egg, lightly beaten
2.5 Tablespoons butter, softened
3 Tablespoons packed light brown sugar
Preheat to 350 and line a 12 cup muffin pan with paper liners.
In a medium bowl, combine flour, cinnamon, baking powder and salt. Whisk to combine and set aside.
In a separate bowl, combine the bran flakes, milk and mashed bananas. Stir well and let rest 5 minutes.
In a measuring cup, combine the egg, butter and brown sugar. Add the banana mixture and mix just until mixture is smooth. Add this to the flour mixture and stir to combine.
Divide between 12 wells in the cupcake pan.
Bake for 18-20 minutes or until golden brown. Allow to cool 5 minutes before removing from the muffin pan to a wire rack to cool.