Pillsbury is accepting entries for their March 2012 Bake-off NOW! Are you entering your favorite recipe? The prizes are incredible, so you probably should! How does 1st place - $1 million + $10,000 in GE Kitchen appliances sound? And several $5,000 + $3,000 in GE appliances prizes? Read more HERE. 100 finalists will go to Orlando to face off! I know I'm devoting some of my spring break time to baking up and testing recipes!
But for now I have another delicious recipe to share with you. This one is not mine, it comes from one of my new fave blogs Bakergirl. I've seen several Snickerdoodle Blondie recipes floating around the food blogger world for quite some time and have had many of them bookmarked for what seems like forever. But some strange reason I've never made them. It really is strange because we LOVE blondies and we LOVE all things cinnamon sugar here. Just like the matcha shortbread cookies I kept pushing off and finally got around to baking, these Snickerdoodle Blondies were finally at the top of my To-Do list. And thank goodness for that because these are absolutely perfect. Soft and chewy on the inside, cinnamon-sugary crunch on top. The most amazing combination of a snickerdoodle cookie and a vanilla blondie one could possibly imagine. I'm saying all this and I haven't even tried one warm with vanilla ice cream on top yet! These babies are a winner. Don't forget to see our printable recipe card below! Click the recipe card to open a larger printable version.
Snickerdoodle Blondies
adapted slightly from
Bakergirl
Ingredients:
2 2/3 cups all purpose flour
2 teaspoons baking powder
1 teaspoon fine sea salt
1 1/8 teaspoon ground cinnamon
1/4 teaspoon ground nutmeg
2 cups packed light brown sugar
(approximately 430 grams)
2 sticks unsalted butter, softened
2 large eggs, room temp
1 Tablespoon vanilla extract
For the topping:
2 Tablespoon granulated sugar
1 1/2 teaspoon ground cinnamon
Directions:
Preheat to 350 F. Grease a 9 x 13 inch baking pan and line with parchment paper. Lightly grease the parchment.
In a medium bowl, whisk together the flour, baking powder, sea salt, cinnamon and nutmeg.
In a small bowl, combine the topping ingredients and set aside.
Put butter in the bowl of an electric mixer and turn on. When butter has been beaten a bit, add in the brown sugar and mix until very light and fluffy, about 5 minutes.
Add the eggs in one at a time, making sure to beat well after each addition, wiping down sides of bowl with a rubber spatula if necessary. Add in the vanilla and beat.
Slowly add the flour mixture with the mixer on low speed. Beat just until combined, do not overbeat.
Transfer batter to the prepared pan. Use offset spatula to smooth it.
Sprinkle the cinnamon sugar topping evenly over the surface.
Bake for 25 - 30 minutes or until surface of blondies spring back when touched.
Allow to cool on a wire rack and enjoy!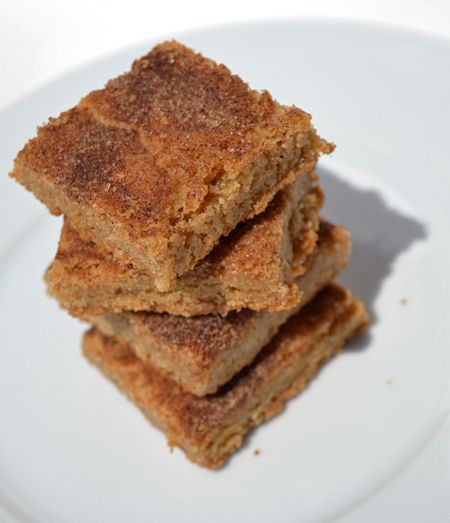 Printable recipe card!