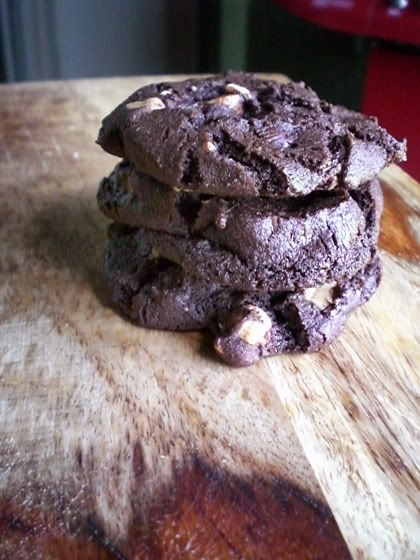 This Sunday, Megan of
My Baking Adventures
chose our recipe for the
Sweet Melissa Sundays baking group
. Her choice was Double Chocolate Cherry Cookies.. ooooh. It sounded delicious to me, but I knew the BF wouldn't love the Cherry component, and I knew he probably would love them all that much anyway because he isn't so into the super chocolately stuff. So, I halved the recipe and omitted the Dried Cherries. To eliminate some of the Double-Chocolatiness, I used Peanut Butter Chips in place of half of the chocolate chips the recipe called for.
The dough came together very quickly and painlessly. I was a little scared about my chocolate substitution like many other SMS Bakers since I couldn't seem to find Dutch processed cocoa like the original recipe calls for, but my regular ol' cocoa did just fine.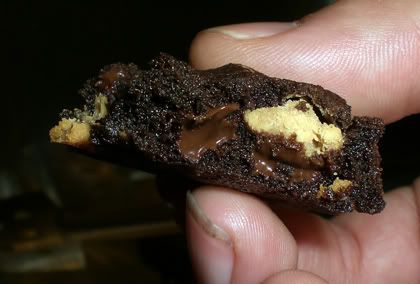 Please excuse Dan's fingernails, he's very self-conscious about it. Right before this photograph was taken, he was repotting some plants out front, but I forced him to eat a cookie right away.
The final result? Amazing. I followed the SMS bakers'
advice
to watch the cookies carefully before the 15 minute mark the book suggests to avoid overbaking. I checked at 13 and they were just about done. The cookies are chocolately, but not too chocolatey. Since I avoided overbaking, they are moist and not too dense, very Brownie-like. And the Peanut Butter chips were an excellent addition.
Be sure to visit the
SMS Blog roll
to check out the other SMS Baker's Posts!!!