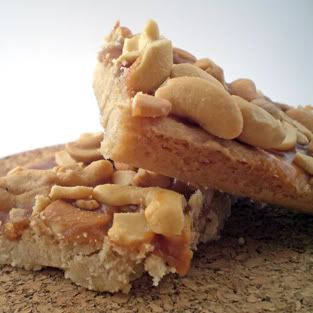 The lovely Pamela of
Cookies with Boys
chose this week's
Sweet Melissa Sundays
recipe,
Butterscotch Cashew Bars
. It has a lovely buttery shortbready-ish crust which is smothered with gooey butterscotch, and topped with yummy cashews. Sounds like a winner to me!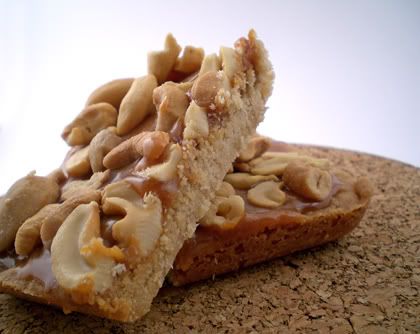 Well... it all sounds great but the Butterscotch part. I've never been a big fan. So, besides quartering the recipe to make a smaller two-person-home sized portion, I changed the butterscotch part to caramel. And I used Sea Salted cashews. Mmm boy. The cookie-ish crust came together perfectly and easily, and baked up very nicely. For my gooey topping, I simply melted some
caramel bits
with a little smidge of water, and spread it on top of my baked and cooled crust. I sprinkled some Sea Salted Cashews on top, popped it back in the oven for a few minutes to melt it all together, and we were done. Very simple recipe, with delicious results. The crumbly buttery shortbread crust paired perfectly with the gooey caramel, and the sweetness from the caramel and crust was cut with the sea salt and crunch from the Cashews. This recipe was a serious winner in my book. Be sure to check out how
the other SMS bakers
did!