It has been quite a long time since the last post! July was the last time I posted anything, thats pretty depressing. In fact, I don't think we have baked much since then, besides a batch of failed key lime cookies. It is a tried and true recipe but... it doens't come out right when you forget to add the key lime zest. You'd think the cramped fingers and bloody knuckles from 45 minutes of zesting those little suckers would have been enough of a reminder to add that part in, butttt I didn't. When I realized it had been left out, I took the cookie sheets out of the oven, dumped the dough into a bowl & mixed the zest in. We threw them back in the oven, thinking that the one minute of bake time prior to us massacre-ing the dough wouldn't affect the outcome THATmuch. The result was a hideously deformed cookie...that tasted quite good, at least! But I was too embarassed to put those pictures on here. Come to think of it, I talk a lot on here about me forgetting to add in vital ingredients. Oh well.
Half of the reason for not being able to bake is all the school work. Over the summer, my drawing class kept me pretty busy, and now, the regular semester has started back up, and is proving to be the MOST work I've ever had in my college career. Kinda makes me wish I hadn't switched schools and changed majors a hundred times, but c'est la vie. The other reason I haven't had time to bake is because I haven't stopped travelling since June. After our spectacular European cruise, for the rest of the summer, I flew to and from NY every other 2 - 2.5 weeks. It wasn't planned, it just happened like that. A lot of last minute trips to go see friends, the family, & a wedding. Then I went on a second cruise in early September with my family. So, needless to say, I've been busy. But I did notice something recently: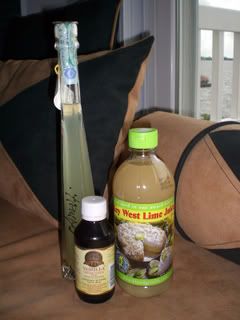 It seems when I travel, what I bring back for myself is baking related.
When we were in Italy, I bought some Limoncello in Amalfi. Since I don't drink, I thought it would make a nice addition to a dessert. Then, on the second cruise, I have specific items in mind from the different destinations I went to. Our first stop was in Key West, where I was hell-bent on bringing back some key limes, which I planned on using in a successful version of the above monstorcities. I was really excited to be able to pick some up, so you can imagine how sad I was when I learned you are not allowed to bring any fruits or vegetables back on the boat. Luckily though, while enjoying a slice of HEAVENLY key lime pie at the Blond Giraffe, I picked up some of their key lime juice. Mexico was our next stop, and I was NOT leaving until I had some pure vanilla extract. Me and Charlie haggled a lady down to $2 and I was set.
The extract was the first of the items to be used. I'd still like to use it in a recipe with less spices so I can taste the vanilla, but this proved successful in this recipe from
King Arthur Flour's Website
:
Cinnabun Clones
:
Dough:
1 cup lukewarm milk
2 large eggs, room temp
1/3 cup unsalted butter, cut up
4 1/2 cups King Arthur Unbleached All-Purpose Flour
1 3/4 teaspoons salt
1/2 cup sugar
2 1/2 teaspoons instant yeast
Filling
1/3 cup unsalted butter, softened
1 cup brown sugar, packed
3 tablespoons ground cinnamon
Icing
one 3-ounces cream cheese, softened
1/4 cup unsalted butter, softened
1 1/2 cups confectioners' sugar
1/2 teaspoon vanilla extract
Combine all of the dough ingredients in a large
mixing bowl, stirring till the mixture becomes cohesive.
Lightly grease the bowl of your electric mixer.
Knead it in the electric mixer using the dough hook for
4 to 7 minutes at medium speed. Place the dough in a
lightly oiled bowl, turn to grease all sides, cover the bowl with a
proof cover or plastic wrap, and let it rise for 60 minutes, till it's
nearly doubled in bulk. (when we made it, it didn't rise at all in 60 min...
but that may be because after we already added it, we realized the
package said "best used before January 2007")
Assembly: Transfer the dough to a lightly greased work surface, and
roll it into a 16 x 21-inch rectangle. Spread the dough with the 1/3
cup butter. Mix the brown sugar and cinnamon, and sift it over the
dough covering it evenly.
Starting with a long end, roll the dough into a log, and cut it into
12 slices using thread. Place the buns in a lightly greased 9 x 13-inch pan. Cover
the pan with a proof cover or plastic wrap, and let the buns rise
until they're nearly doubled, about 30 minutes. (we skipped this 30 min wait)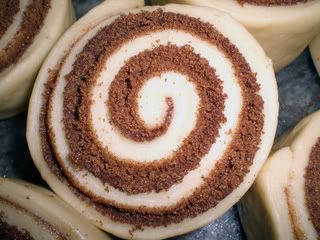 Extreme Sugary Close-up!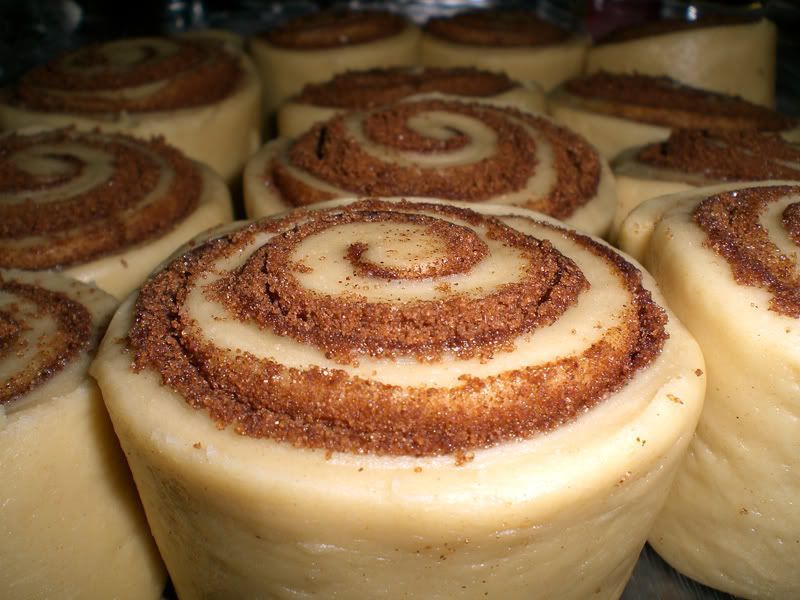 Ready to go in the oven
Bake the buns in a preheated 400°F oven until they're golden brown,
about 20 minutes. While the buns are baking, make the icing.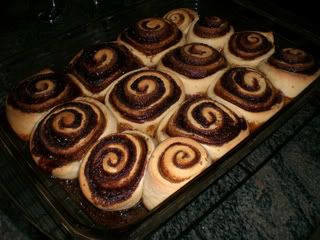 Icing: In a small bowl, beat together the cream cheese, butter, sugar,
and vanilla. Spread the icing on the buns while they're warm.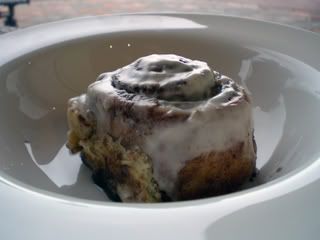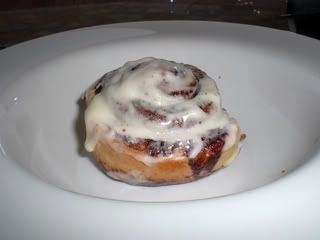 Yield:12 big beautiful buns.