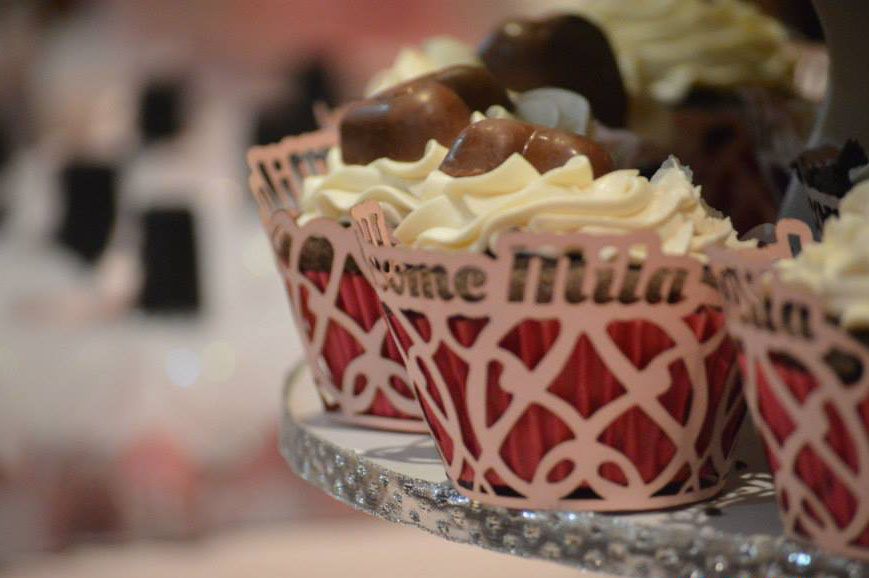 Recently, we welcomed another niece into the family. For the then mom-to-be's baby shower, we made cupcakes we knew the mommy would love: Nutella Cupcakes!
In this recipe, Nutella is mixed right into the batter. The cake itself baked up wonderfully - light, fluffy and airy. But I wanted to make sure that the nutella flavor was unmistakable and over the top, so I hollowed out the center of each cupcake and filled it with straight up nutella. The chocolate-nutella cupcakes with the nutella center contrasted nicely with the vanilla buttercream frosting. For a bit of decoration and added chocolate decadence, each cupcake was topped with a chocolate peanut butter heart.
I will add more pictures soon so you can see the cupcakes in more detail. For now, here is a sneak peek at how the cupcakes were all dolled up for this ultra girly, adorably pink baby shower. What do you think of the personalized cupcake wrappers? We made these to say "Welcome Mila" - our new niece's name. These were our prototypes; these are not currently available for sale yet. The baby shower guests loved them! They wore them as tiaras when they were done with their cupcakes. :)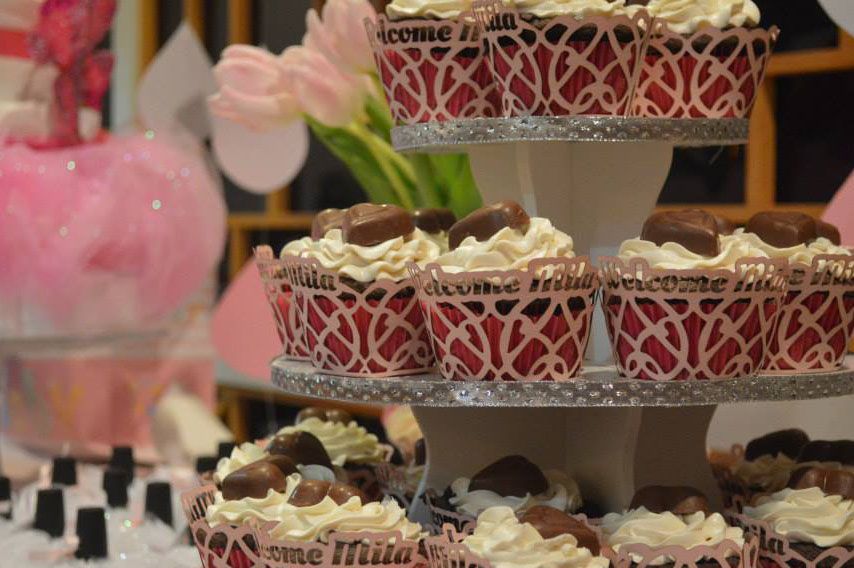 The simple addition of ribbon to the edges of a cupcake tower make for such an elegant display!
Ingredients:
1 stick unsalted butter, room temperature
1 1/2 cups granulated sugar
1 1/2 cups all purpose flour
1/2 cup hershey's special dark cocoa powder
Additional nutella for filling (optional)
Preheat to 375 and line a muffin tin with cupcake liners (around 24). In the bowl of an electric mixer, cream together the butter and sugar until light and fluffy. Add the nutella. Add the eggs one at a time, beating well after each addition. Add vanilla.
In a medium bowl, whisk together the flour, cocoa, baking soda and salt. In a separate bowl, whisk buttermilk and coffee to combine. Add the dry ingredients to the creamed butter mixture, alternating with buttermilk mixture. Mix just until combined.
Fill cupcake liners about 2/3 full with batter. Bake for 15 - 20 minutes or until a cake tester comes out clean. Cool in the pan 5 minutes before transferring to a wire rack to cool the rest of the way.
Once cupcakes are entirely cooled, using a sharp paring knife to cut a circle in the top of the cupcake. (I do this by inserting the knife straight up and down in the cupcake center, and rotating the cupcake with my other hand. The core will pop right out with a spoon… these are also a perfectly popable snack! :). Scoop about 1/2 cup of nutella into a piping bag and fill the cupcakes with the nutella.
My favorite vanilla buttercream frosting recipe
Ingredients:
2 sticks unsalted butter, room temp
4 cups confectioner's sugar
2 tsp vanilla extract
pinch of fine sea salt
1/4 cup milk or heavy cream (optional)
Place butter in the bowl of an electric mixer and turn the mixer on low. Slowly add the confectioner's sugar. When all the sugar is in, add the other ingredients: vanilla, salt, and if desired, the milk/heavy cream (this makes it a little creamier, but also slightly less stiff for piping. It tastes great both ways).
Let mix on medium/high for 5 minutes. Pipe onto completely cooled cupcakes with a piping bag.