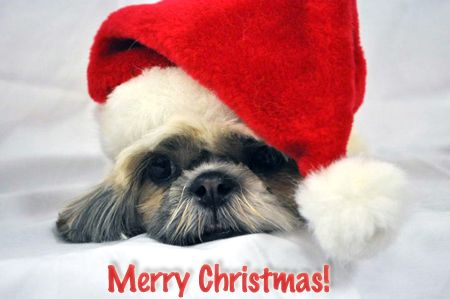 Merry Christmas Eve! As you can see, even Sadie, our dog, is in the Christmas spirit today. I hope everyone has exciting plans for spending the holidays with friends and family!
We did lots of cookie baking this Christmas. I made Brownie Covered Oreos

,

Butter cookies,

and

Hot Cocoa cookies to give out this year. The Brownie covered Oreos were OK - not as delicious as they sound! And certainly not too great if even slightly overbaked. I'd recommend using more brownie batter on each oreo and cutting down the baking time. The Butter Cookies were a hit - one of the best cookie press recipes I've made. And the Hot Cocoa cookies were sticky and delicious.. and tasted just like Hot Cocoa!
Brownie Covered Oreos

, insired by Picky Palate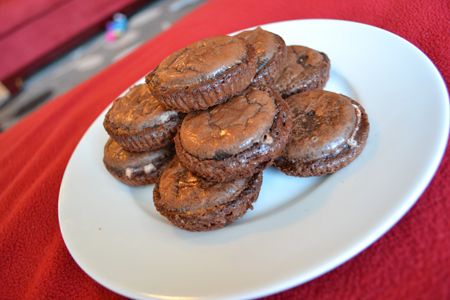 Prepare your favorite brownie recipe (or batter from a box mix) and leave the batter in the bowl.
Prepare a cupcake pan - either use cupcake liners or thoroughly grease the pan.
Dip oreo entirely in the brownie batter. Shake off excess batter and put in the prepared pan.
Bake at 350 for about 8 - 12 minutes. Don't overbake! There isn't much batter that needs to bake, so these will go quick! If they are too well done, they will be far too hard and pretty much inedible! (I know, b/c I did this the first time!)
Hot Cocoa Cookies

, inspired by How Sweet It Is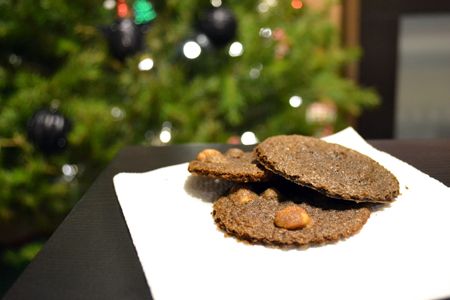 Ingredients:
2 sticks butter, room temp
1 1/2 cups sugar
2 eggs, room temp
1 tsp pure vanilla
2 cup flour
1/2 cup unsweetened cocoa powder
1 tsp baking soda
1/4 tsp sea salt
1/4 cup fluff
3/4 cup semisweet chocolate chips
3/4 cup mini marshmallows
Cream the butter, sugar, eggs and vanilla until fluffy.
In a separate bowl, whisk together the flour, cocoa powder, baking soda and salt.
Add the flour mixture to the butter mixture and mix until combined. Stir in fluff.
Fold in the chocolate chips and marshmallows. Cover and refrigerate for 1 hour.
Preheat to 350. Roll 1 inch balls from the chilled dough and bake on a parchment lined cookie sheet for 10-12 minutes. Let cool on the cookie sheet for 5 - 10 minutes, then lift the parchment from the cookie sheet and place on a cooling rack to cool completely.
Butter Cookies

, inspired by Martha Stewart's Cookie Press Cookies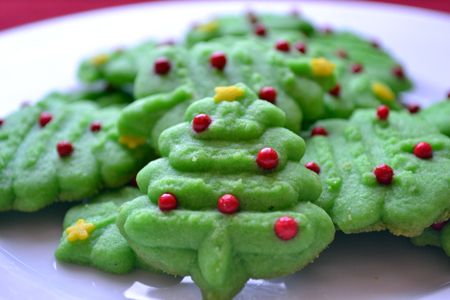 Ingredients:
3 sticks butter, unsalted, room temp
1 cup sugar
2 large egg yolks, room temp
3 3/4 cup flour
1/4 tsp sea salt
1 tsp pure vanilla
colored sugars and sprinkles for decorating
In the bowl of an electric mixer with the paddle attachment, cream butter, sugar and egg yolk until light and fluffy. In a separate bowl, whisk together the flour and salt. Add to the butter mixture. Mix until combined, then add vanilla and mix. If desired, all food coloring.
Fit your cookie press with your preferred shape disk and fill with dough. Press out onto an un-lined cookie sheet. Sprinkle with sugars and sprinkles and desired. Chill in the refrigerator for 30 minutes.
When chilled, bake in a pre-heated oven at 350 for 7 - 10 minutes. Let cool on the sheet for 5 - 10 minutes then transfer to a wire rack to cool completely.