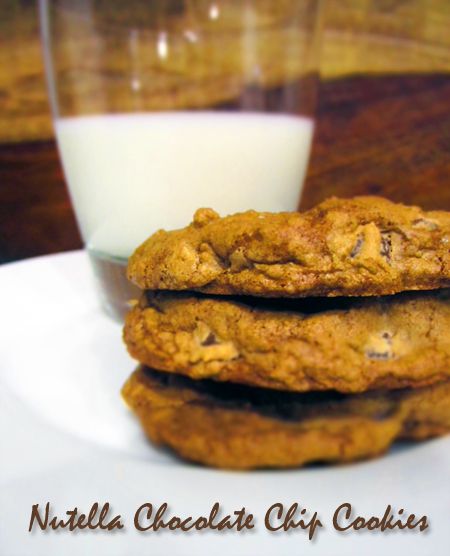 Today, we went to a lovely local outdoor market with our Smart Baker goods - the aprons, towels and cupcake and dessert towers. It wound up pretty cold and rainy and after a few hours it was postponed until tomorrow. So we'll give it another go then! But for now, we are home drinking hot chocolate and eating these Nutella Chocolate Chip Cookies to warm up while we fill some custom apron orders for the holidays.
These cookies are delicious with just a hint of nuttiness from the Nutella. The nutella is very subtle and doesn't make the cookies too chocolately. Daniel, the not-such-a-chocolate-lover, loved them and didn't know there was nutella in it until I told him.
Nutella Chocolate Chip Cookies, adapted from Kirbie's Cravings
Ingredients:
2 C all purpose flour
1 tsp baking soda
1/4 tsp sea salt
1/2 C unsalted butter
1/2 C sugar
heaping 1/2 C light brown sugar
2 large eggs, room temp
1 tsp vanilla
1/4 C nutella
1/2 C chocolate chips
Preheat to 350 and line cookie sheets with parchment paper.
In a large bowl, whisk together flour, baking soda and salt. Set aside.
In the bowl of an electric mixer, cream butter together with the sugars. Add eggs and vanilla and mix until just combined.
Gradually add in the flour mixture and mix until just combined.
Add in the nutella and mix until just incorporated. Add in the chocolate chips.
Using a 1 Tablespoon cookie scoops, place heaping scoops onto the prepared cookie sheet about 2 inches apart.
Bake about 7 - 12 minutes. Let cool on the cookie sheet for 5 minutes and then remove to a cooling rack to cool completely.