My master's degree is now complete! I had my last day of student teaching on Friday and now I begin my job search. I'm both very excited and kind of nervous to begin this next step!
This past weekend I had no lesson plans to create, no artwork examples to make, and no papers to write. It was a strange feeling! So I found myself with time to get back in the kitchen and start baking again. And now, it is Monday morning at 6:50am and even though my student teaching is over, thanks to my internal alarm clock which has been set to a teacher's schedule
for the last 14 weeks
, I am wide awake. Perfect time to update my blog (which had been a bit neglected towards the end of my graduate career)!
Like most people in the universe, I just can't get sick of brownies. This time I tried a new one, Martha Stewart's Double Chocolate Brownies. Because I didn't have all the required ingredients, I made slight changes to the recipe. I was scared at first because the brownie batter was MUCH thicker than other brownie batters I've made. It seems my fears were unfounded because these were terrific. Moist and fudgey, nice and sturdy, and a delicious slightly crackly crisp top.
Martha's Double Chocolate Brownies, adapted
ingredients:
5 tablespoons unsalted butter, softened
6 ounces coarsely chopped quality dark chocolate (I used Callebaut)
1 ounce unsweetened chocolate, chopped
3/4 cup all-purpose flour
1/4 teaspoon baking powder
1/4 teaspoon sea salt
1 cup sugar
2 large eggs, room temp
2 teaspoons pure vanilla extract
Preheat to 350 and line a greased 8 or 9 inch square baking dish with parchment.
Combine butter and chocolates in the top of a double boiler set over simmering water. Stir until butter and chocolate are melted and mixture is smooth. Remove from heat and allow to cool slightly.
In a separate small bowl, whisk flour, baking powder and salt together and set aside.
In the bowl of an electric mixer, beat together the sugar, eggs and vanilla on medium speed until the mixture is pale (~4 minutes). Add the chocolate mixture and beat until just combined. Add the flour mixture and beat until just combined.
Pour batter into prepared pan and smooth with an offset spatula. Bake about 30 minutes or until a cake tester comes out clean. Let cool in pan 15 minutes then remove to cool completely on a wire rack before cutting.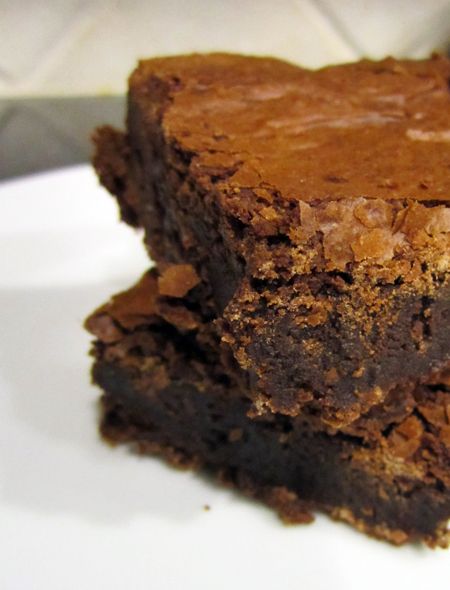 *TIP: Did anyone know you can quickly soften butter in a water bath?
I'm pretty bad at remembering to take butter out of the refrigerator before baking so I've tried a few different shortcuts. I've attempted softening it in the microwave set to a low power... but there are always some melty spots while other spots are still frozen. I've tried that pounding method where you beat the butter to death with a rolling pin, but that is better for getting out frustration than it is for softening. I just learned you can put your wrapped butter in a zip lock bag and let it sit in a sink full of room temperature water to let it soften quickly. Within 5 - 10 minutes, your butter should be fully softened. I've used this technique to thaw meat - I wonder why it took my so long to realize I could do it with butter. Now, I fill up my sink with water and throw in my butter while I measure out my ingredients and prepare my baking pan. By the time I'm done, the butter is usually softened.
PS - I just received samples of POM Wonderful from the nice people at POM in Los Angeles. You can look forward to some Pomegranate dessert recipes in the near future! I plan on making some to bring to a Holiday Sweets Swap.