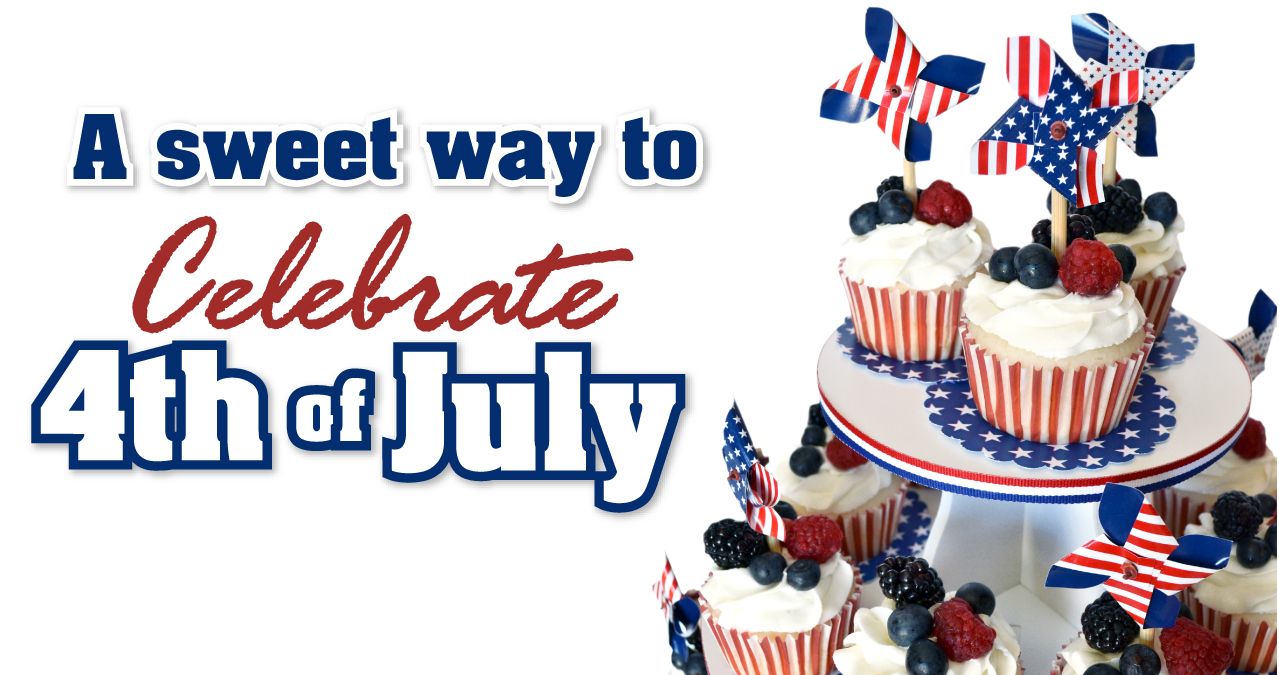 Sometimes (ok, the majority of the time) you want to make a big statement with your dessert display, without spending hours and hours in the kitchen. When you're having a party, you just don't have the time to painstakingly make teeny tiny fondant shapes to go on 60 cupcakes. You've got other things to do like clean the house, put up decorations, make the food, set up chairs, etc. This Easy Fourth of July cupcake tower looks impressive without taking a long time or putting in lots of careful effort to make it look that way.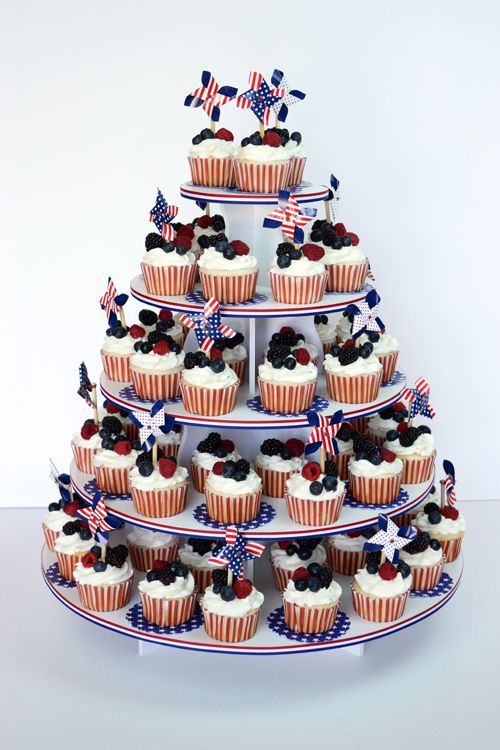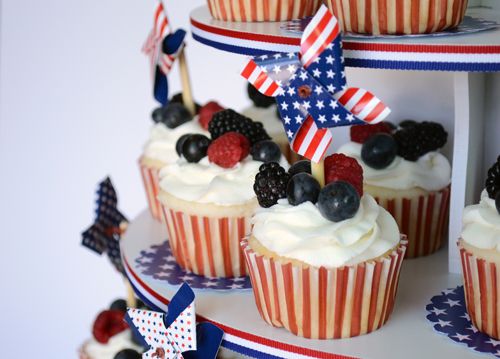 Things you will need:
(I left out amounts of everything so you can adapt to your own party's size)
Your favorite cupcake batter

Your favorite frosting

Red & white striped liners

Card stock that can go in the printer

Red, White, and Blue striped ribbon

Glue dots (or other method for attaching ribbon to the cupcake tower)

fresh blackberries, blueberries and red raspberries, rinsed and dried (for about 65 - 70 cupcakes, I used 1 quart of each type of berry)

small fourth of july themed pinwheels
First, we baked up simple vanilla cupcakes in red and white striped liners that we picked up at the craft store. We made about 64 cupcakes.

While those were baking, we printed out blue star pattern circles on card stock and punched them out into cute little doily shapes with a paper punch (similar to this one) though you could easily just cut them into squares or circles with regular scissors. If you want to decorate your tower like we did, you'll need half as many doilies as you have cupcakes. We alternated: 1 cupcake with a blue star doily, 1 cupcake with a pinwheel, etc.

Use glue dots to attach the red, white and blue striped ribbon to the edge of each tier of the tower.
Steps 1 - 3 can all be done in advance! Doing these 1 - 2 days before your event is fine!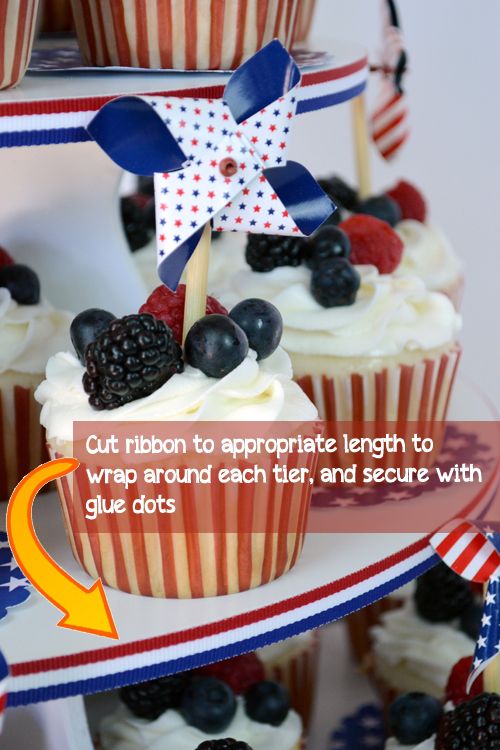 Frost the cooled cupcakes
Decorate the cupcakes with the berries. I used 3 blueberries, 1 blackberry, 1 red raspberry on each cupcake. Gently press into the frosting.
Place all cupcakes on your The Smart Baker Cupcake Tower.
Alternate decoration types on the cupcakes: 1 cupcake gets a pinwheel, the next one gets a blue star doily, next one gets a pinwheel, the following gets a doily, etc.
Voila! You're done! That's it! This was quick and easy to do. If you use a box cake mix, or buy plain, frosted cupcakes from the grocery this would be even quicker. Everyone will think you spent hours making your impressive Fourth of July dessert display!