I often make cakes, pies and tarts which require slicing before serving. If someone wants a piece they need to very deliberately pick up a knife, grab a plate, slice and serve. However, I really enjoy making things people can casually snack on, too. These things don't require knives for slicing, spoons for scooping, or even plates for serving. These things can just be picked up and popped in one's mouth. I think these types of things are usually the biggest hit (or at least the type with the least left over).
This is one of my top favorite "snacking" recipes. It is pretty easy to prepare, and results in a bite-sized, sweet-n-salty, highly addictive snack. I found this this recipe on Mama Say What!? and I'm very glad I did, because this was thoroughly enjoyed by all who snacked on it. My favorite way to enjoy it is straight out of the freezer!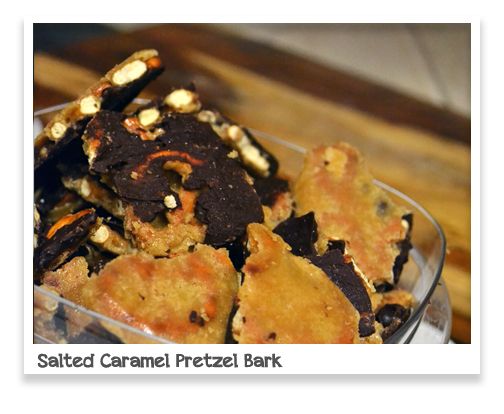 Salted Caramel Pretzel Bark
Ingredients:
1/2 of a 1 lb bag of mini pretzels
2 sticks unsalted butter, room temperature
1 cup lightly packed light brown sugar
2 cups chocolate chips of your choice (I used semisweet)
Preheat your oven to 350 F.
Line a large jelly roll pan (or two 9x13 pans) with precut parchment paper. Carefully, line the trays with the mini pretzels making neat rows, placing the pretzels right up against each other.
In a medium saucepan on medium heat, melt the butter. Add the brown sugar and stir. Allow the sugar to dissolve and let it bowl gently just until it starts to stick to the bottom and it forms a nice smooth caramel. Let it bubble and little and get nice and thick.
Remove from heat, and pour evenly over the rows of pretzels. Put in the preheated over for 5 minutes (this will help the caramel spread out even more evenly). Remove from the oven and sprinkle the chocolate chips over the top. Place back in the oven for just 1 minute, and then spread the chocolate chips around with a offset spatula until mostly melted.
Sprinkle generously with sea salt, and allow to cool at room temperature for a few minutes. Then place in the freezer for 2 to 3 hours, until completely frozen. When frozen, break it up into pieces and serve. (I like to keep it in the freezer until I serve it).