Today, I found myself awake at 7:45 AM with no tests to study for and no real plans except work later on in the day. It was delightful. I woke up with a mission, and I think I accomplished it. I began by actually enjoying my coffee. Yes, thats right. Not sipping it in between copying notes or flipping flashcards, I savored my freshly ground vanilla caramel coffee with a biscotto [singular of biscotti :)] my professor had made and sent home with me following our Study Abroad Girls meeting on Saturday night. I checked my email, watched the Today show, & did some little things online I had been putting off for a few weeks (including checking my total student loan debt on Sallie Mae's website...eek). And then... I did everything. Well, almost.
Washed some laundry, folded it, vacuumed and cleaned the shelves in the refrigerator. I used the left over ground beef from last night's dinner to make little itty bitty meat balls for use in two dinners over the next few days. This is all by about 11:30. Then, I began to bake.
I wanted to make something different that might really catch people's eye, and
sell
. So I found my inspiration in Elvis. I decided on
Hound-Dog Heaven Cupcakes
. Cute, right? Banana Cupcakes with a Peanut Butter Filling, Topped with Chocolate Buttercream, White Chocolate Shavings and Mini-Marshmallows... true King style.
For my cupcakes, I based mine off of
this recipe
, but I only had 1 ripe frozen banana, so halved it using my favorite online conversion tool I always talk about. I only used this recipe for the cake, I didn't use this frosting. My halved recipe went something like this...
Banana Cupcakes
1 cup + 2 tablespoons cake flour (not Self Rising)
1/2 teaspoon bakingsoda
1/4 teaspoon baking powder
1/4 teaspoon salt
1 whole banana
2 tablespoons buttermilk
1/2 teaspoon vanilla
1/4 cup butter
1/2 cup + 2 tablespoons + 1 1/4 teaspoons sugar
1 lg egg
Preheat to 350. Grease cupcake tins with non-stick flour spray.
Combine flour, baking powder & baking soda, and salt in a medium bowl. Whisk or sift.
In a different bowl, mix banana, vanilla and buttermilk, or do this in a food processor like I did to make it go a lot faster, and come out a lot smoother.
In an electric mixer, beat sugar and butter together until blended.
Add egg, and blend.
Add dry mixture to this alternately with the wet mixture in 3 additions, beginning and ending with dry ingredients.
Divide among 9 cupcake tins.
Bake approximately 17 minutes, or until a toothpick comes out with only a few crumbs on it.
Cool in the pan on a rack for 10 minutes, then remove cakes from pans and place on racks to cool completely.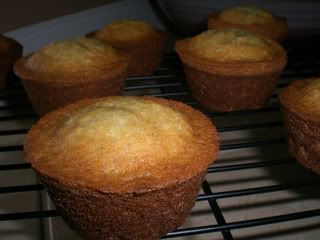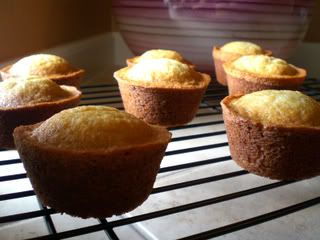 Then, as I did a few recipes ago, I cut a cone out of the top of the cupcakes, once it cooled: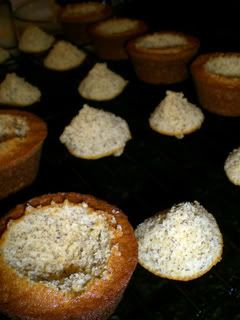 Reserve the cone.
For my peanut butter filling, I used
this recipe
(but only the filling recipe obviously, not the cupcake or frosting recipe on this site). Once again, I scaled down this recipe, as I was only making 9 cupcakes and I could not even fit a lot of filling into each cupcake. I scaled it down to 1/3, like this...
Peanut Butter Filling for Cupcakes
1/3 C Peanut Butter (the recipe calls for creamy, but I used crunchy to snazz it up a little)
1 Tablespoon butter, soft
~ 3.5 tablespoons of confectioners sugar
Beat peanut butter and butter together until creamy (I cheated... and microwaved the peanut butter on 30% power for 30 seconds first to make it a little easier)
Sift confectioners sugar into the bowl and beat until light and fluffy, about 2 minutes.
Spoon the frosting into the hole created in the top of the cupcake: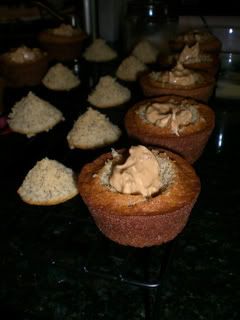 Then, trim the bottom pointy portion of the cone a bit, to make it easier to fit back on top. Place the trimmed cone back on top and press down:
Voila! They're like Franken-cupcakes with little stitches. This gets covered up with frosting...
For my frosting, I went to my trusty
Magnolia Bakery Cookbook
. Since Daniel isn't a fan of chocolate, I had never made a chocolate frosting (besides a chocolate cream cheese frosting, but I didn't want a refrigeration-needed frosting for these). I scaled this down as well, because the book said it made enough for 24 cupcakes. Mine went as follows...
Chocolate Buttercream Frosting
1 stick butter, soft
1 Tsp Milk
3 ounces semisweet chocolate (except I only had unsweetened, so I did 3 oz unsweet + 3 tablespoon sugar)
1/2 tsp vanilla
5/8 c sifted confectioner's sugar
In top of double boiler, melt the chocolate and sugar together until no clumps remain, and its totally smooth. Remove from heat and allow to cool while you prepare the rest (approx 5 – 10 min).
In medium sized bowl, beat butter for 3 minutes, until very very creamy.
Add the milk and beat until smooth.
Add the cooled melted chocolate and beat well. Add vanilla and beat for 3 more minutes.
Gradually add the sugar and beat until it's a desired consistency. I beat it on super high with a hand mixer for a while to get it nice and fluffy.
This made enough for 9 nicely decorated cupcakes.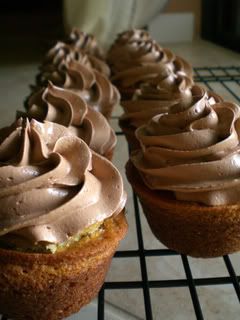 I garnshied with a few white chocolate shavings & mini marshmallows...