Having just taken my Theory & Criticism of the Visual Arts final, my brain being immersed in deconstruction, psychology, philosophy, psychoanalysis, etc for days, I thought this was an appropriate philospohical dessert quote to begin my post. Two finals down, one to go. Whew! I baked these babies a few days ago, but have been studying hard-core since then and have not found time to blog. Finally, I get a small lull until my next exam on Thursday.
Friday was Daniel's birthday, and he requested his favorite cinnamon buns. So, I obliged.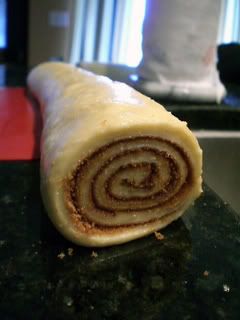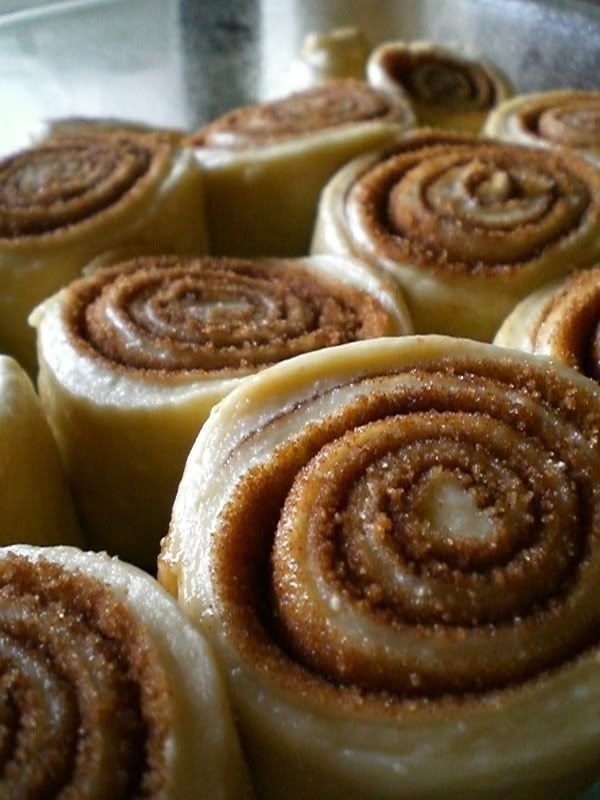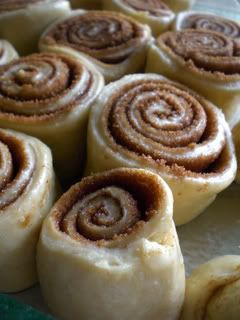 Unfortunately, I assembled the buns and was going to bake them when I realized I had no cream cheese for the frosting. Since the frosting needs to go on when the buns are still warm, I waited to bake them. Over the next 3 hours, they actually puffed! The first time yeast worked in my cinnamon buns!! But since I waited
SO
long, they puffed up
a lot
...like this...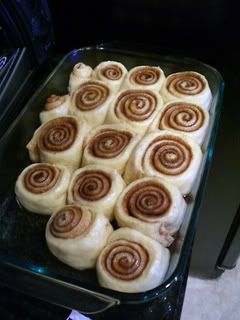 When I finally got the cream cheese, I stuck the buns in the over while I prepared the frosting. Since the buns puffed up more than usual, there was a significant decrease in baking time, which put me in quite a frenzy to get the frosting done... and in the process, I made it wrong. Rather than use a 3 ounce package of cream cheese that the recipe calls for, I used a full 8 oz package. Oops! The icing was still good, but much more cream-cheese-danishy than usual. So our buns had quite a different texture because of the super-puffage (much lighter and flakier), tasted kinda like a danish with the icing, and were slightly toastier than usual. They were good, but not our usual Amazing.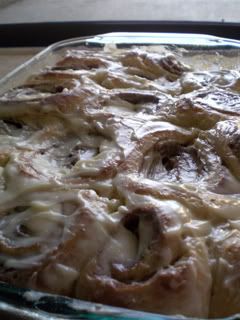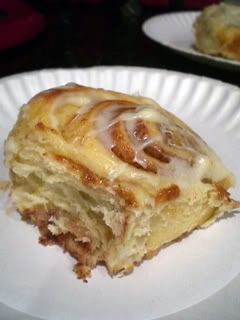 Dough
:
1 C lukewarm milk
2 lg eggs, room temp
1/3 c unsalted butter, cut up
4 1/2 all purpose flour
1 3/4 tsp salt
1/2 C sugar
2 1/2 tsp insant yeast
Filling
:
1/3 C unsalted butter, soft
1 C brown sugar, packed
3 Tblspn ground cinnamon
So, if you're looking for a really good cheese-danish filling, do this:
8 oz package cream cheese, soft
1/4 c unsalted butter, soft
1.5 C confections sugar
1/2 teaspoon vanilla.
Otherwise, for cinnamon buns, stick with 3 ounces of cream cheese. :)
Combine all dough ingredients in lg bowl, stirring until it becomes cohesive. Transfer dough to a lightly oiled work surface & knead for ~8 minutes (or do it for 4 - 7 min on medium speed in a food mixer with the dough hook if you have one). Place dough in lightly oiled bowl & turn to grease all sides. Cover the bowl with plastic wrap and let rise 60 minutes.
Then, transfer dough to lightly grease surface and roll into a roughly 16 x 20 inch rectangle. Spread the butter on the dough. Mix brown sugar and cinnamon, and sprinkle it evenly over the dough. Roll it up into a log, and slice it by tying a piece of thread around it - pulling tight to make a cut all the way through. You should end up with at least 12 slices. Place buns in lightly greased 9x13, cover, & let rise 30 minutes [NOT 3 HOURS :)]
Bake at 400 for 20 minutes.
For icing beat cream cheese, butter, sugar and vanilla, and spread on the buns while still warm.
Also on Daniel's birthday, an order for pink and green cupcakes were due for another birthday. I used my favorite
vanilla cupcake & frosting recipes
.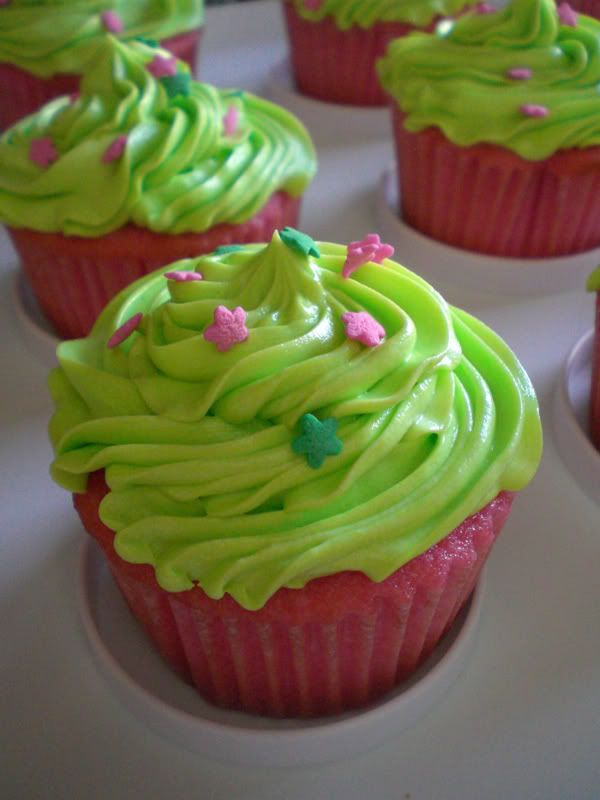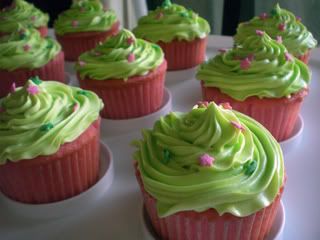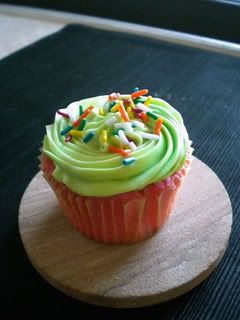 I made 12 for the birthday girl, and had 2 left over. With the left-overs, I decided to do something special for Dan's birthday (not that 16 cinnamon buns for one person isn't enough). Forgive the millions of pictures in this post, but the lighting was really good when I was taking them. :)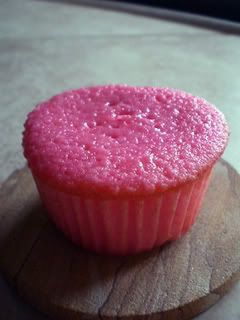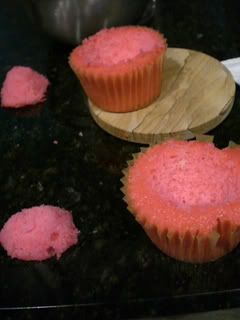 First, I cut a cone shape out of the top of the cupcake, and retained the cone.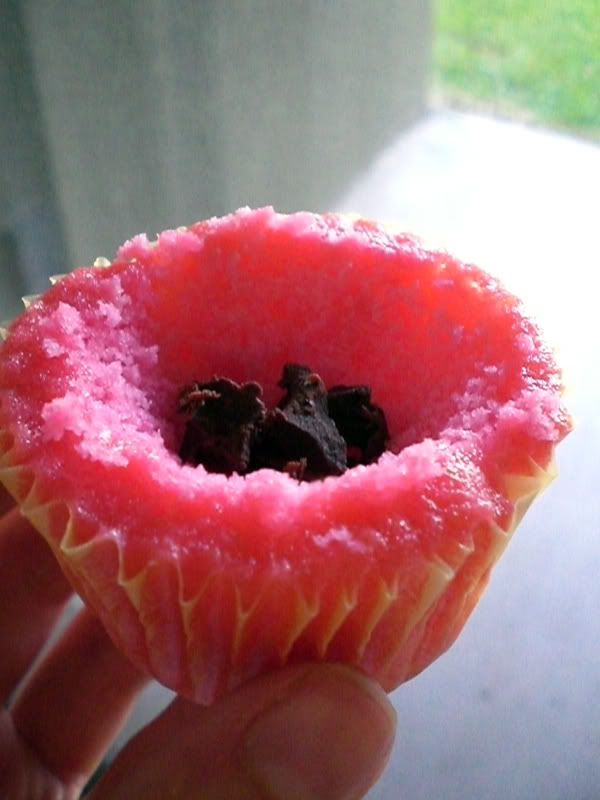 I had a little bit of dark chocolate ganache left over, so I took some chunks and plopped it in the hole I made.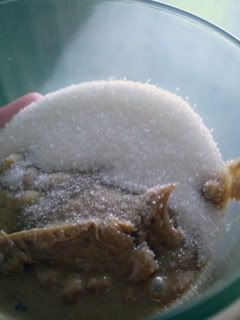 Next, I took about 1 tablespoon of crunchy peanut butter, and microwaved it for a second so it was soft and melty. Then I mixed in about a tablespoon of sugar and a little bit of heavy cream, and stirred it all up.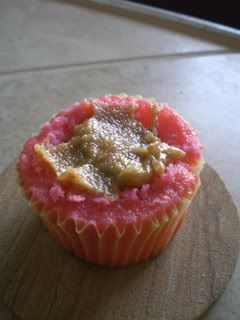 I plopped this warmish mixture on top of my cold ganache, filling up the rest of the cavity.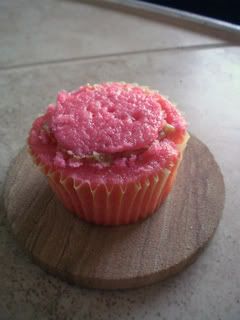 Cut off a little bit of the pointy bottom part of the cone, and replace. Frost as usual.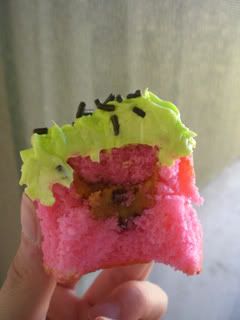 Delicious little reese's crunchy peanut butter-chocolate ganache filling!
And then.... there is this....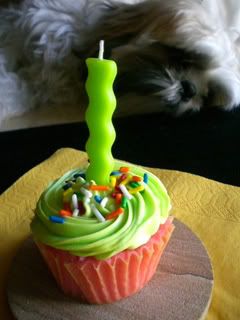 This picture brings me to my next point. So many birthdays, so little time! Recently was Sadie our baby shih-tzu's first birthday!! No, the cupcake was not for her...thus the sad look on her face. But she was not completely left out!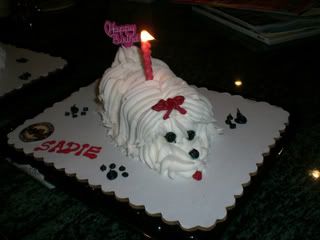 Sadie's grandparents got her a cake! Its a little cake shih-tzu!!!!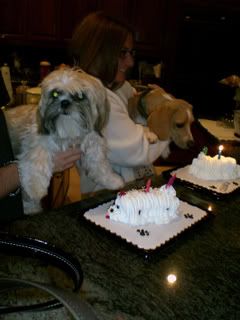 We tried, but she just wouldn't blow out the candle. Sadie shared her birthday celebration with her cousin Chance who had his 1st birthday recently, too.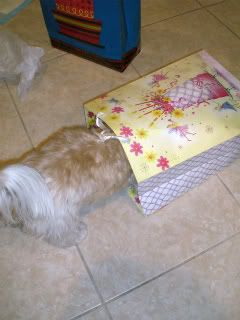 She did a good job of opening her gifts.
Good times, good times. So that is all for now, but with finals over soon, I'm sure there will be more baking soon to come.