It has been a busy, busy week. I've driven 147 miles (each way) for a one day training class for work, and I've had 3 special projects with the graduate classes I'm taking on top of the regularly assigned work. I saved my SMS baking for Sunday, and set out this morning to get the ingredients. My mind was on a million and one things: make sure you get everything you need, what else do we need at the house, oh WAIT did I submit that assignment online? By the time I got home, we were in the middle of a tremendous thunderstorm. I went online to make sure I submitted my assignment (yes, I had already done so by the way) and I unpacked my groceries... only to find... I forgot the peaches. ISN'T IS ALWAYS THAT WAY? You forget the MOST IMPORTANT PART?! So, my SMS friends, I am sorry to report another SMS Fail. It was so rainy and yucky, I decided to not venture back out in the rain. But I'll do better next time, I promise! I've only missed a few so far :(
But I DID get a chance to make this recipe in the middle of the week. I had lots of work, the weather has been terrible for a long time here in Florida, so when I saw this recipe for
Classic Pound Cake
, I knew I had to have a go at it.
I scaled it down as such:
Scott Peacock's Classic Pound Cake
Ingredients
:
3 eggs
1/2 cup cold unsalted butter, cut in ½-inch pieces
1/2 package (4-ounces) cold cream cheese, cut in 1-inch pieces
1.375 cups sugar (*this measurement is half of "2 & 3/4 C". It comes out to be 1 3/8 C... I'm so annoying)
1/2 teaspoon coarse sea salt
2 teaspoons pure vanilla
1 1/2 cups sifted cake flour
Grease a loaf pan with shortening and lightly dust with flour. Let eggs stand at room temperature about 30 minutes. Using the bowl of your stand mixer with paddle attachment in place, beat the cold butter about 2 minutes on low speed, occasionally raising to moderately high speed for 5 seconds to dislodge butter.
Add the cream cheese. Beat on low speed 3 minutes, stopping to remove the cream cheese from the blade with a spatula when necessary. Beat butter and cream-cheese mixture until well-blended. Still mixing on low, add the sugar in a slow, continuous stream. (This should take 1 ½ to 2 minutes). Add salt. Continue creaming butter and cream-cheese mixture for 5 minutes, scraping sides and bottom of bowl once halfway through. Increase speed to medium; continue mixing 2 minutes more, scraping once.
Add eggs, one at a time, beating 20 to 30 seconds after each addition or just until each egg is fully incorporated before adding the next egg. Scrape sides and bottom of bowl after first three eggs. Beat in vanilla with the last egg.
Gradually add all but 1/4 C of the flour on low speed, mixing until just blended (This should take about 1 to 11/2 minutes). Turn off mixer. Fold in remaining flour by hand with a rubber spatula, just until combined.
Turn batter into prepared pan. Shake pan or pans gently to distribute batter. Drop filled pan or pans from a height of about 6 inches onto kitchen counter to dislodge any large air pockets.
Place on center rack of cold oven. Turn oven setting to 300 degrees. Bake for 1 hour 15 minutes to 1 1/2 hours without opening oven door for the first 1 hour and 15 minutes. (Bake 1 hour 45 minutes for tube pan.) Test for doneness by carefully inserting a cake tester in center of cake — it is done when it comes out clean.
Transfer to cooling rack. Cool for 10 minutes before removing from pans. Cool completely before serving.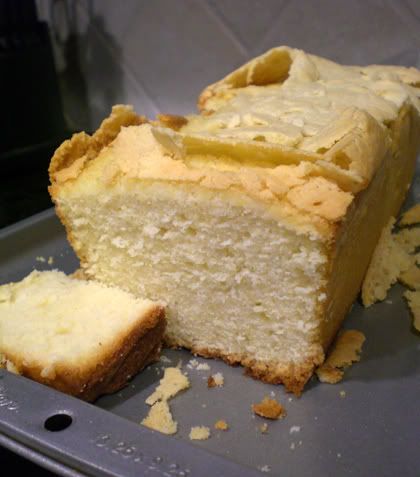 Now, I don't know what happened to the TOP of my loaf. No idea. It just cooled that way. Upon seeing this, I was very discouraged, but upon TASTING IT... I knew everything went right. This is definitely my new favorite pound cake (actually this is my FIRST time making pound cake :) It is especially delish when served with whipped cream and sliced strawberries. :) If you find you're having ONE OF THOSE WEEKS and you are in the need for old fashioned, delicious comfort food, this is a great option for dessert (or a snack... or breakfast.. or lunch, or between breakfast and lunch, or all of the above!
Be sure to check out the
Sweet Melissa Sunday bakers
- ya know, the ones that remembered to BUY PEACHES FOR THEIR PEACH COBBLER... sighh.