This recipe was chosen by Jaime of
Good Eats and Sweet Treats
. "OOOOOOH" I said OUTLOUD when I saw this week's recipe. A doughnut - bun hybrid filled with pastry cream? Insane. But Oooooh boy. Me and yeast have never really gotten along. I've only used it in cinnamon buns and the occasional pizza dough, but I think only a handful of time has it risen properly for me. This time around? Same ol', same ol'! Why does yeast hate me so much! What am I doing wrong?! The dough did not rise even a smidgeon. I decided to give them a go anyway because I had already prepared the dough, and in the past, my cinnamon buns have always come out excellent, flakey and perfect despite the fact that they usually don't rise a bit. These thoughhhhh?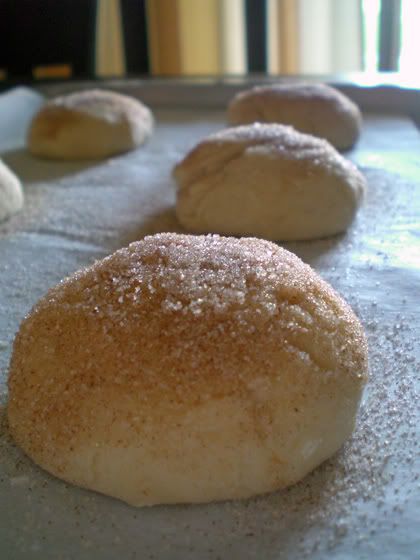 (I decided to roll my sticky dough balls in cinnamon sugar instead of making the honey caramel)
Despite their little oven-sauna session, still, no rising. Oh well, I'll bake em anyway!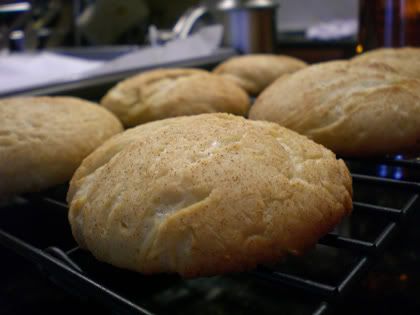 I prepared the (delicious) filling with little difficulty (besides the fact that I had to add extra cornstarch because it was not thickening up). When my buns had cooled, I decided they would NOT be able to be filled. They were not light and airy enough to have room inside for filling! I said I would just cut them in half like a bagel, and slather on some of the pastry cream like you would butter. BUT Daniel seemed to think it could work the original way...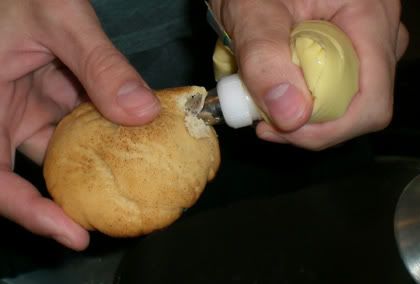 Uhhhh no. It was too dense to fill, and too fragile and crumbly the handle the stress. FAIL!
So we did this...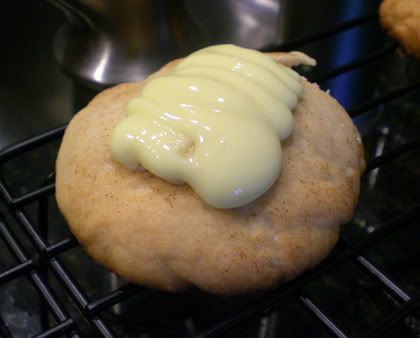 Overall - Not my cuppa tea. Though i am POSITIVE that we didn't enjoy them because they did not rise. They were like dense little biscuits. If I were not so cursed with yeast, these probably would have been very good - the pastry filling was EXCELLENT. Once I master the use of yeast, WHICH I AM DETERMINED TO DO, I will certainly come back to this recipe.
I hope everyone else's came out better than mine! Be sure to check
the other bloggers'
versions of Sweet Melissa's Bee Stings!