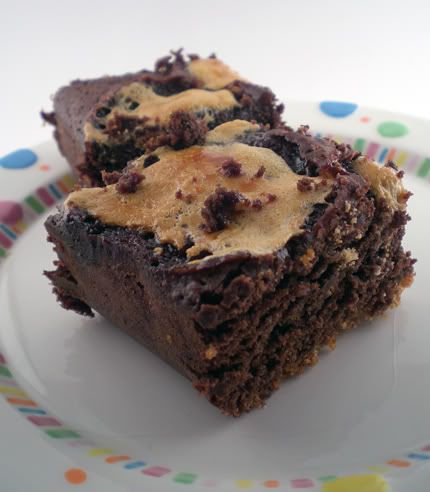 S'mores? Smores? I never know which way to spell it. Hm. Anyway, I made these last week, but am just getting around to posting it now. Life has been hectic! Daniel got his wisdom teeth out on Thursday morning, and well... he's... still alive. Thursday and Friday weren't so bad but by Saturday he developed a migraine and a bunch of other no-fun symptoms to boot.
Boo
to wisdom teeth! If almost everyone needs to have them extracted,
WHY
have we not evolved them out of our bodies by now? Maybe in another few thousand more years, future generations will be lucky enough to be born without them. And before he went in for surgery, Daniel was nice enough to pass on a nasty cold to me.
Sweeeeet!
So that is why there is no Sweet Melissa Sundays today. :( For now, I shall share with you these Smownies, or S'mownies..... or S'more Brownies..... or Smore Brownies. Whatever you'd like to call them.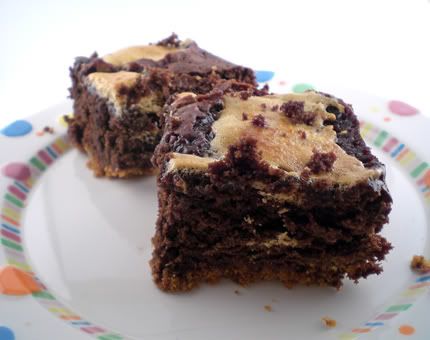 I took inspiration from two fabulous, fabulous bloggers:
Joy The Baker
&
Cookie Madness
. (To see their versions of S'mores Brownies, click the links I provided) I slightly adapted Joy's brownie recipe (which she got from Bon Appetit, October 1991) and used Anna of Cookie Madness's idea for a graham cracker crust. The results were quite delicious, they were a big hit. The brownies were moist, but less fudgy than other brownies recipes I've prepared. The graham crust was subtle but there, and added a really nice flavor. The marshmallows were perfectly sticky and sweet.
Graham Cracker Crust
:
3/4 cup graham cracker crumbs
1 tablespoon sugar
4 tablespoons butter, melted
Preheat the oven to 350 degrees F. Grease & flour an 8 inch square glass pan**
Mix the graham cracker crumbs with the sugar and melted butter. Press firmly into bottom of lined pan and bake for 8 minutes. Set on a cooling rack while you prepare the rest of the recipe. Leave the oven on.
S'mownies Recipe
:
1 1/2 cups all purpose flour
2 teaspoons baking powder
1 teaspoon salt
2 sticks unsalted butter
6 ounces unsweetened chocolate, chopped
5 large eggs
1 1/4 cups light brown sugar
1 cup granulated sugar
2 teaspoons vanilla
Some extra not-too-crushed graham cracker crumbs (I used about 1/4 C)
Whisk the flour with the baking powder and salt to combine. In the top of a double boiler, melt the butter and chopped chocolate. Stir until chocolate it totally melted and mixture is smooth.
Beat the eggs, sugar and vanilla in a large bowl. Add the warm chocolate mixture and stir. Then add the dry ingredients and stir just to combine - don't overmix! Fold in graham crumbs. Pour batter on top of prepared crust. Dot with large marshmallows. Bake until toothpick inserted into center comes out with clean with only moist crumbs attached, about 30- 40 minutes.
**I have found the best results when I grease a pan with shortening [[
mmm, yummy I know, blegh... just using it to grease the pan!
]] then lay a sheet of parchment (which sticks because of the shortening), then grease the parchment with shortening, and then dust the whole thing with flour. Then after it is done baking, you simply lift up the parchment sheet, which releases easily because you have greased between the pan and the paper! There is no stickage anywhere! I'd rather be on the over-greased, safe side than have a cake or other delish recipe destroyed because it would not come out of the pan!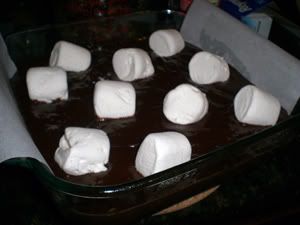 terrible picture, I know, but I included it so you can see the parchment sling & also how lightly I pushed in the mallows.