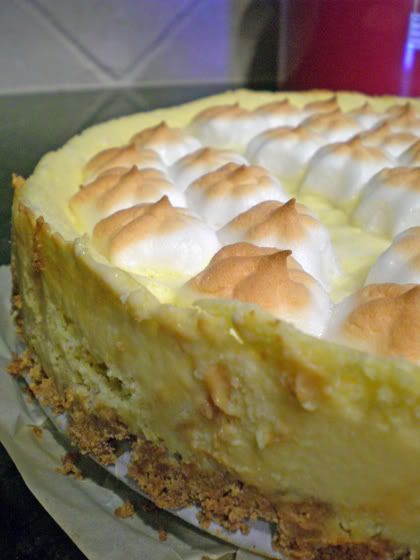 http://jenjw4.wordpress.com/
Lemon Icebox Cake with Fresh Strawberry Sauce
This week's recipe for the Sweet Melissa Sundays baking group was chosen by Jennifer of
Keep Passing the Open Windows
. I really enjoy lemony desserts and definitely do not make them enough, so I was really excited to give this recipe for
Lemon Icebox Cake with Fresh Strawberry Sauce
(p. 208-210) a try. It seems similar to a lemon meringue except it is served frozen.
It came together rather easily and quickly. I made it exactly according to the directions in the book (that's a first for me!). And unfortunately, I can't report on the taste yet - I'm bringing it for Mother's Day dessert tonight at the fam's house - so the pretty picture of a cut slice, and a review on the taste will have to wait... though we both tasted the custardy filling (prior to baking) and it seems rather promisinggggg.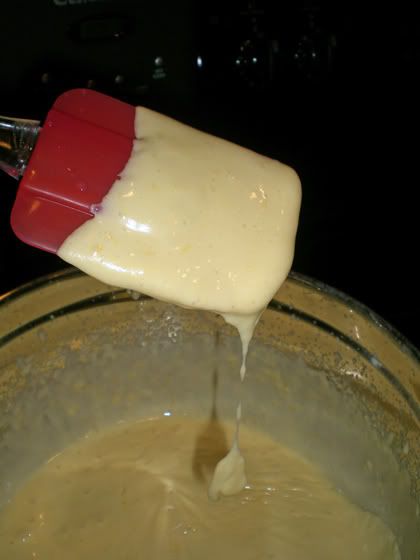 Yummmm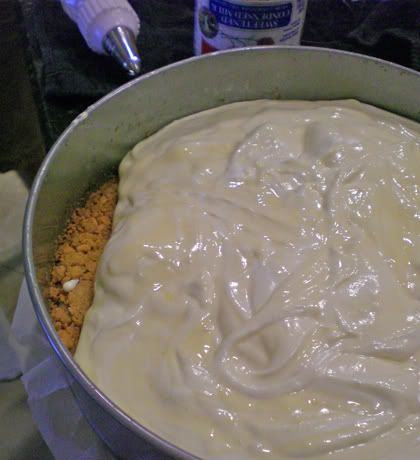 Gorgeous nilla wafer crust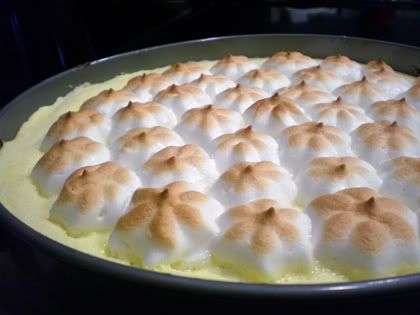 Piped on meringue topping, cute!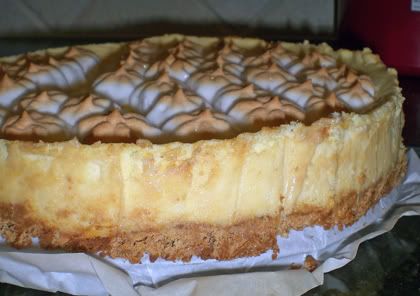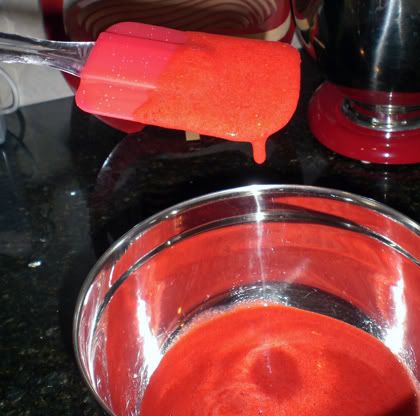 Another drippy picture :)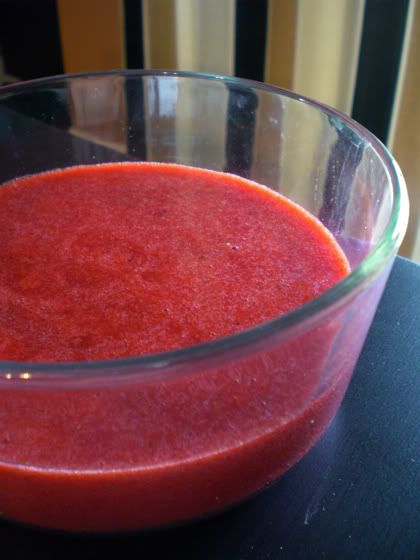 Can't wait to give the finished product with the fresh strawberry sauce a try! Hope everyone likes it!
Update: Mmmm, very VERY good. Everyone agreed this recipe is a keeper.
Puff Pastry Sticky Buns
This morning, me & Daniel also threw together some Puff Pastry sticky buns. I had some puff pastry left over from the SMS Turnovers, and since Daniel can eat again (and I'm trying to put some weight back on him) we made these for breakfast.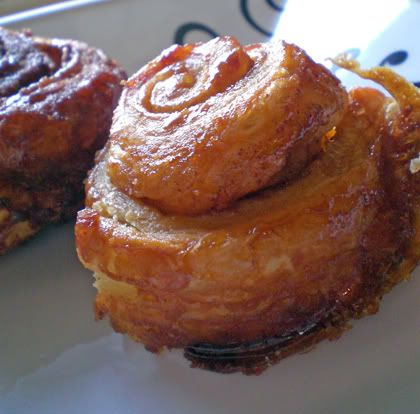 My inspiration came from
blogger Erin Cooks
who adapted it from the original recipe by Ina Garten published in
Barefoot Contessa Back to Basics: Fabulous Flavor from Simple Ingredients
. They came out very, very yummy... though very different from a traditional yeasty cinnamon bun. This one is crispier & flaky, and does not feature that delish cream cheese frosting. I would definitely make these again as they were simple to put together and created a perfectly yummy tasting Sunday breakfast treat. I scaled it down as follows:
5 tablespoons unsalted butter, softened
1.5 ounces light brown sugar, packed
1 12x12 inch sheet frozen puff pastry, defrosted
For the filling:
1 tablespoon unsalted butter, melted and cooled
1/3 cup light brown sugar, packed
1.5 teaspoons ground cinnamon
Preheat oven to 400 degrees F. Place a standard cupcake tin on a cookie sheet lined with parchment. Lightly spray 6 - 7 of the wells with non-stick spray.
With a hand-mixer, combine the 5 tablespoons butter and 1.5 ounces brown sugar. Place 1 rounded tablespoon of this mixture in each of the 12 muffin cups.
Lightly flour a cutting board or stone surface (I did it directly on my cleaned granite countertop). Unfold puff pastry & brush the whole sheet with the melted butter. Leaving a 1-inch border around the edges of the sheet, sprinkle with the 1/3 cup of brown sugar & the cinnamon. Starting with the end nearest you, roll the pastry up snugly like a jelly roll around the filling, finishing the roll with the seam side down. If needed, trim the edges to make it a nice flat end. Slice the roll in 6 (or 7 if you did not need to trim, like me) equal pieces, each about 1 1/2 inches wide. Place each piece, spiral side up, in the cupcake wells, on top of the buttery mixture.
Bake for 25 minutes, until the sticky buns are golden to dark brown on top. Allow to cool for 5 minutes only, scoop the buns out with a spoon and invert onto the parchment paper. Best enjoyed while still warm!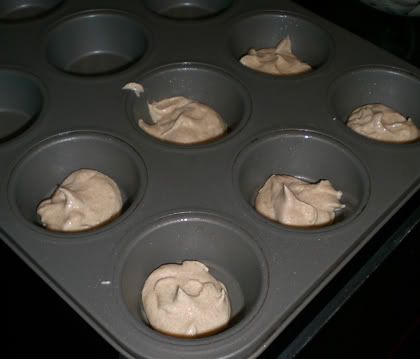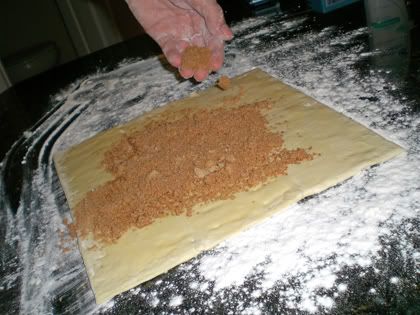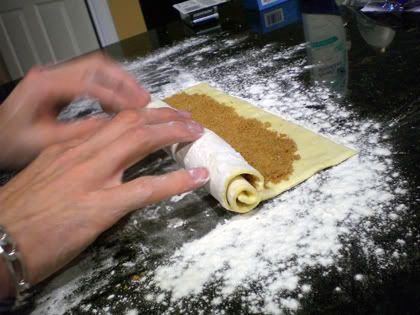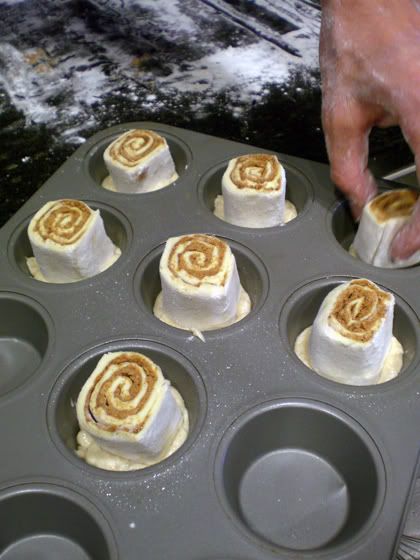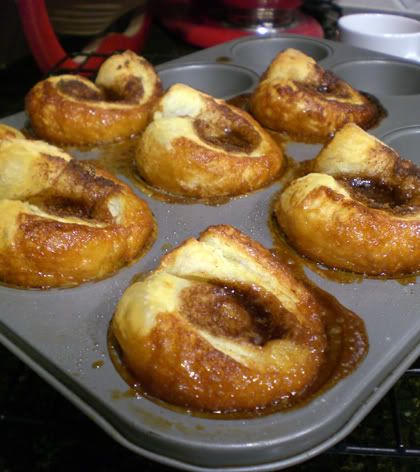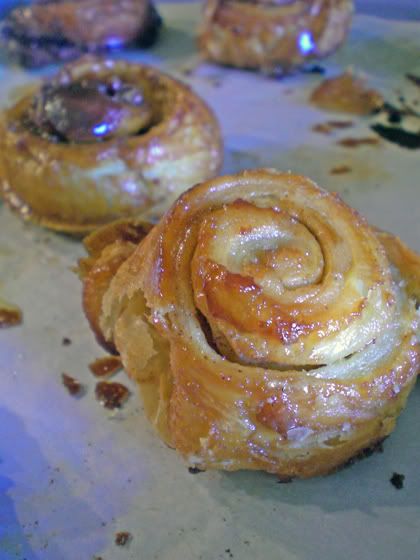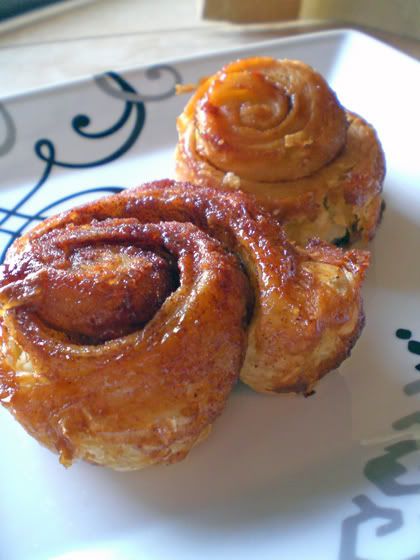 Be sure to check out how to Lemon Ice Box Cake & Strawberry Sauce came out for all of the
other bakers
!