It's Sunday! And it's time for a delicious edition of Sweet Melissa Sundays. Leslie of Lethally Delicious is our gracious host this week and she chose Sweet Melissa's Chocolate Pudding as our recipe. I've never made chocolate pudding from scratch before so I was excited to try this one!
I prepared the recipe just as it was written in the Sweet Melissa Baking Book, but added a little frosty twist to half of the pudding. I used Wilbur's Semisweet Chocolate. This chocolate is absolutely delicious and conveniently - it comes in a 2.25 ounce bar - which is exactly the amount we needed for this recipe (even though I was kind of hoping there would be some extra for me to nibble on while preparing the recipe...)
With half of my pudding, I followed the directly exactly and produced some delicious, super rich chocolate pudding. With some extra heavy cream I whipped up some homemade whipped cream and we had a perfect dessert
With the other half of my pudding, I decided to change it up a little bit. Instead of refrigerating after cooling in the waterbath, I whisked the pudding until smooth, put it in a ziplock bag, snipped off a corner and piped the liquidy pudding into a Popsicle Mold.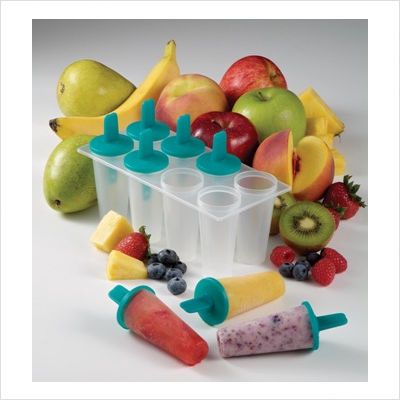 I used this Frozen Treat tray I got from CSN Stores. What a handy dandy little tray!
I froze them overnight and ran a little warm water over the tray to loosen them up and voila...
The creamiest chocolate pudding pops you can imagine... yum.
Thanks for hosting and picking this great recipe Leslie! I loved experimenting. Click to visit Leslie's blog and find the full recipe for Sweet Melissa's chocolate pudding. And don't forget to visit the SMS site and see how it went for the other SMS-ers who participated this week.