Sneak peek at one of our new products. I'm SO excited about this one!
More info to come soon, but for now, a video:
5 sizes of Pre-Cut Parchment Sheets now in stock at The Smart Baker. See it here!!
By the way, the cookies I made in the above video were absolutely delicious. I don't think I've made such a soft chocolate chip cookie in a long time! The recipe is kind of weird since it involves half of a package of instant vanilla pudding (I had half a package on hand from the last time I made Chocolate Chip Cookies with Pudding Mix). I imagine this could be easily doubled to use a whole box of pudding mix. After you taste one of these, you probably will want to double the recipe. These Chocolate Chip Cookies with Vanilla Pudding Mix came out amazing. NOT thin and flat at all like last time. These have a nice height. And the texture? Perfect. So soft and chewy it's dangerous.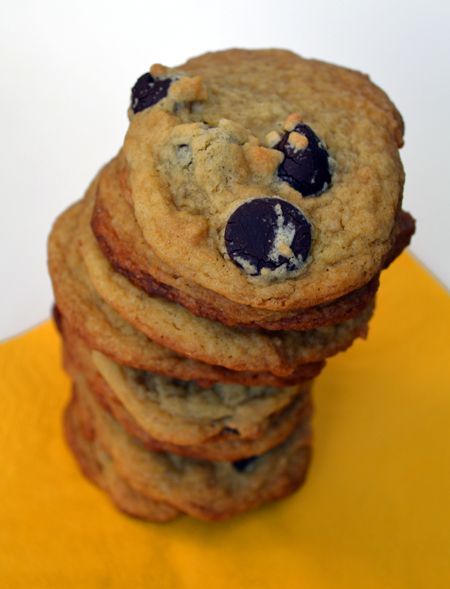 Soft Chocolate Chip Cookies with Pudding Mix, adapted from Pass the Sushi,
makes 20 cookies
Ingredients:
1/2 Cup unsalted butter, room temp
1/4 cup light brown sugar, packed
1/2 package of instant vanilla pudding, the 6 (1/2) cup serving size package
2 Tablespoons vanilla greek yogurt
1 Cup + 2 Tablespoons flour
Beat butter and both sugars together until light and fluffy. Add in the pudding mix, egg and vanilla.
Add in yogurt and beat to incorporate.
In a separate small bowl, combine flour, salt and baking soda and then add to butter mixture. Mix only until incorporated - don't overmix.
Chill cookie dough in the refrigerator for 30 minutes. Preheat to 375 F.
Scoop 1 1/2 Tablespoons of dough onto a parchment lined cookie sheet. Bake in preheated oven for 7 - 10 minutes or until cookies begin to turn golden brown at the edges.