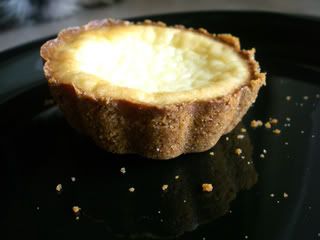 I did not choose this tart. It chose ME. As you know, I had a problem in the kitchen that prohibits me from throwing anything away. We had an almost full container of ricotta in the frig left over from dinner, so I felt obligated to use it before it went bad. Then, Daniel saw a picture of a lemon tart that he said looked good. And it just so happens that I bought a cute little copper tart pan in Italy that I had yet to use.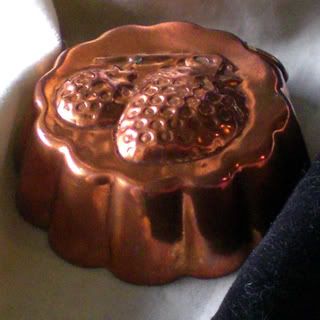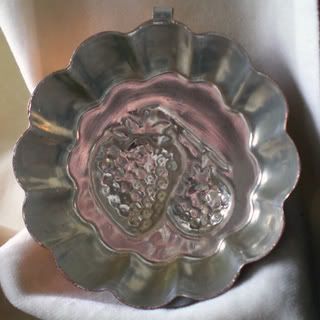 So it was a Done deal - I was to make a Lemon Ricotta Tart. I told you: it chose me.
I do not have a tart pan, and even if I did, that wouldn't quite fit into my desire to make small batches. I had my tiny little tart pan from Italy, and a 4 inch springform pan that I felt would do the job.
For my recipe, I based it off of
this one
from Recipezaar. My adjusted recipe went like this:
Lemon Ricotta Mini Tart
About .8 C Graham Cracker Crumbs
A little less than 3 tablespoons butter, melted
1 C Ricotta
1 Egg
1/6 C Sugar
Zest of one large lemon
1.5 Tablespoons freshly squeezed lemon juice
Preheat to 375. Add melted butter to graham crumbs and stir with a fork to combine. Press this mixture firmly into the bottom and up the sides of a 4" springform pan and a little itty bitty baby tart pan from Montepulciano :) Bake until lightly browned, about 10 minutes.
Remove and let cool.
In a food processor, combine egg, ricotta, lemon juice & zest, & sugar. Pour into crusts and bake about 55 minutes, or until surface is browned in spots, and the filling is set. Let cool in the pans, then remove.
The tart in the springform pan was... well...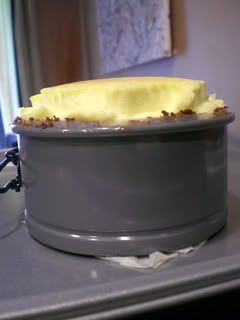 Chubby. When I changed it to a springform pan instead of a tart pan, I suppose I changed the filling to crust ratio, so the baking time went from the recommended 30-35 minutes to 55!! So it rose dangerously close to overflowing, and then when it cooled, it sank in the center: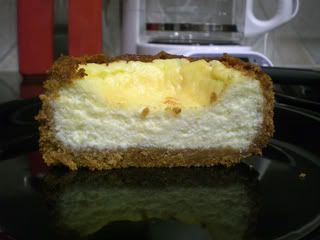 The little tart in the mini tart pan came out quite perfectly: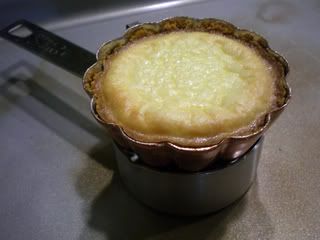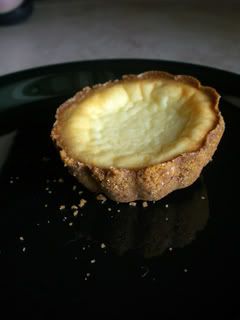 In the scaling down/manipulation of the recipe, things got a little altered. There was a lot of crust in these relatively small tarts. And if these were to bring to a party, I would have been a little disappointed in the appearance of the larger one because of the center sinkage. But the taste was quite good. Me and Daniel did agree though, that the lemon taste was too subtle. I would definitely try this recipe in its original measurements in a normal sized tart pan with a little more lemon zest. It was easy to make, and had a nice, light texture.