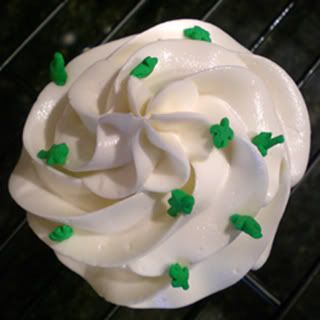 So, its hot here in Florida.
Hot.
No matter how air conditioned the house is, the minute I turn on the oven and start doing anything in the kitchen, I break a pretty serious sweat. This normally doesn't really slow me down much, because really, doing
anything
this time of year in this part of the country makes you break a sweat. Recently, however, I was in the mood to make something and too damn hot to turn the oven on. I reached into my long list of things to make in the near future and pulled out a recipe for making sherbert from jello. Didn't use the oven, just the stove top. Not too bad for you. Cool, icy result. Perfect! I had the recipe saved on my computer in a neat little program I have that stores recipes with pictures, where I put links to where I found them. Dan, unfortunately, deleted it accidentally when I asked him for a measurement while I was making it. I found it online at its original site
here
at Neverbashfulwithbutter's old blogspot. I used it that night to get my measurement that Daniel deleted, and then the next day, it seemed it had been pulled off the site. So, unfortunately, I am not able to post the recipe. I know it was from the Joys of Jello 1981 book, and that it involved 4 ounces of cool whip, a 3 oz box of jello, either 1/2 c of sugar or 3/4 c and water, but I don't remember the exact measurements. :( If anyone knows it, I'd appreciate it! Anyway, here are the results: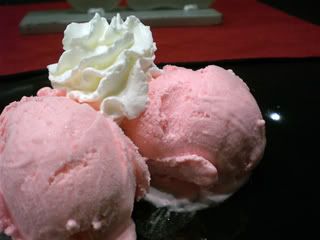 Sadie really enjoyed it, too.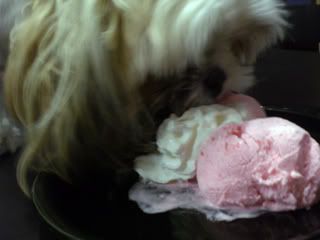 Really
enjoyed it.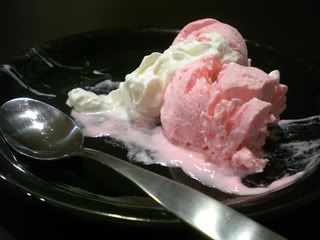 It was pretty good, but not as flavorful as it should have been. When I was making room in the freezer for the 8x8 pan, the pot of water/jello/sugar mixture boiled over and I lost a lot of my concoction. If anyone finds the recipe, and wants to make it, I recommend keeping an eye on your pot! It takes a while to boil, but when it does, it boils over quick!
On another note, I wanted to introduce you to my cool new kitchen gadget friend. In the move into our house, we had
tons
of boxes from new stuff we had bought. In the confusion of all of these boxes, my kitchenaid mixer box was thrown away... with my dough hook and paddle attachment in it!! Dan bought
THIS
. Its a paddle attachment for kitchenaid mixers with rubber spatulas on the side, so it scrapes the side of the bowl and pushes down the dough as it turns. Its great! I made a familiar recipe with it so I could see how good it really works.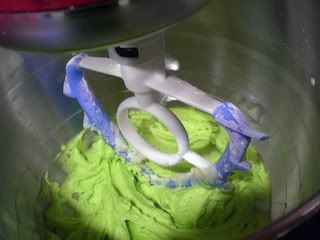 And it really does work. The website says to reduce speed and length of mixing time, so we adjusted accordingly. Worked like a charm. The result? These gorgeous Key Lime Cupcakes with Palm Tree Sprinkles, oh so Florida.