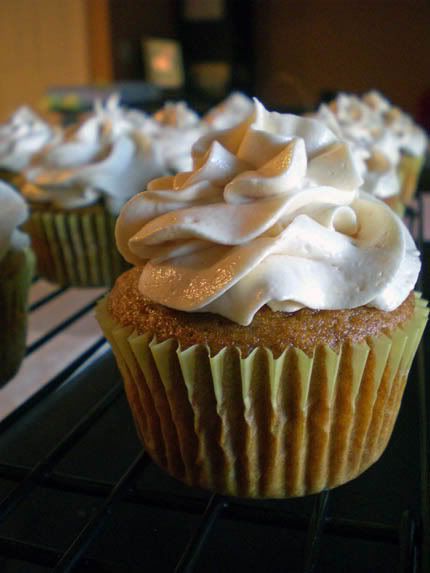 It's Fall! Though it doesn't feel like it so much here in Florida, judging from all the Thanksgiving (and Christmas) decorations that adorn the stores, it must be fall. Oh and plus, it's my birthday on Sunday, so its gotta be that time of year :) I am still enjoying the lull in my thesis work, so I had time to make a batch of Cupcake-of-the-Weeks. And this week.. mmboy. These are the best I've made in a while. Even Daniel was quite taken aback by these absolutely delicious fall-ish
Pumpkin Cupcakes with Honey-Caramel Frosting
. The pumpkin cupcakes were very moist, with subtle spices, and the frosting was abbbbsolutely gorgeous. Sweet, slightly caramelly & honey-y, with flecks of caramel streaked throughout. I know, you're jealous.
Pumpkin Cupcakes
adapted from
MarthaStewart.com
. Makes 12 cupcakes.
Ingredients
:
1 stick butter
1 cup Cake flour
1/2 tsp baking soda
1/2 tsp baking powder
1/2 tsp salt
1 tsp cinnamon
1/2 tsp ground gingers
Heaping pinch (if that even exists) of Nutmeg
2 eggs, room temperature
1/2 C light brown sugar
1/2 C granulated sugar
about 7 - 7.5 ounces canned Pure Pumpkin
1/2 tsp maple syrup
Preheat to 350. Put paper liners in 12 wells of a cupcake pan.
In a small pot, melt the butter over medium-low heat. Once it has all melted, slowly raise the temperature up to medium, stirring occasionally. Cook until it turns brown (for more instructions on that, see
this site
and
this site
). Make sure to keep an eye on it, because it takes a little bit of time... but it goes from yellowy to brown real quick! I followed that second instructional site on how to brown butter... and when it reached the desired color, I took my pot off the store and shoved it in to cold water to stop the cooking immediately: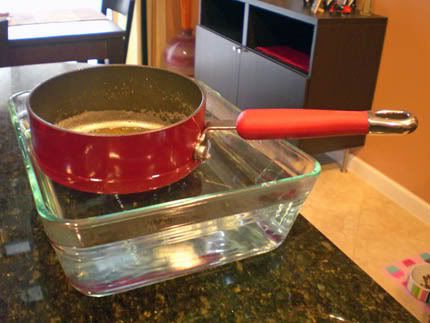 Set melted brown butter aside and let it cool.
In a small bowl, combine the flour, baking soda, baking powder, and spices together. Whisk to combine.
In another bowl, beat the eggs lightly. Whisk in the two sugars and the cooled butter. Add the dry ingredients and whisk/fold it in...Do not overmix! Whisk in pumpkin and maple syrup.
Bake about 20 minutes, when a toothpick inserted into the cakes should come out clean. Allow to cool for 5 minutes in pan on wire rack, then remove cakes and set directly on wire rack to cool.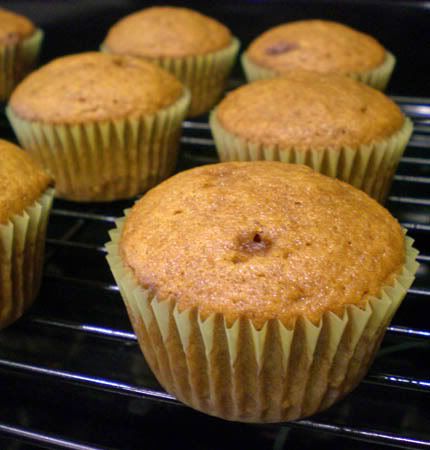 Honey-Caramel Buttercream Frosting
enough to frost 12 cupcakes nicely.
1 stick of unsalted butter, softened
2 Tblspn honey
2 Tblspn melted
Kraft Caramel bits
, or whatever caramel you have on hand
1 teaspoon clear vanilla extract
2 cups confectioners sugar
Combine all ingredients in a medium bowl. Beat with an electric mixer slowly at first to incorporate all ingredients. Then, increase speed to high to get light and fluffy. Beat for 3 - 5 minutes.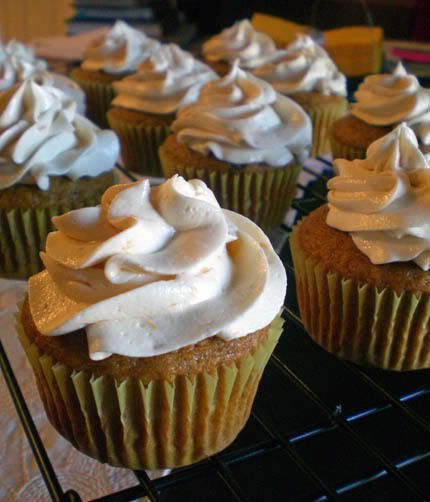 s