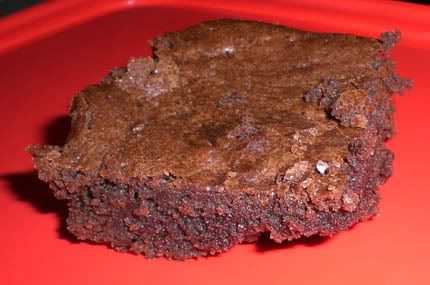 I BAKED! Its been a while, but I got back in the kitchen. At least once. The first complete draft of my thesis has been sent off to my committee professors. All I can do now is wait until they respond with suggestions for revisions, or until my defense on Nov. 17th - whichever happens first. ...and do the rest of my school work (an italian paper, italian articles, prepare my defense presentation...). But on Tuesday after a full day of school, interning, and voting, and having dinner at Dan's parents, Daniel requested I make a small batch of brownies to go with our peanut butter ice cream. A delicious dessert to enjoy while watching the states on the map fill in red and blue!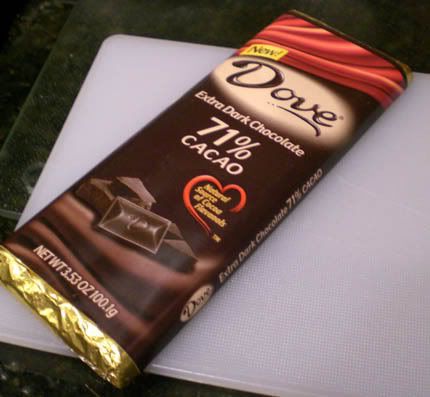 Ymmmmmm.
For the brownies, I went with a new recipe I've been wanting to try out. I saw
these brownies from Brooklyn's "Baked" Bakery
on a favorite blog, Cookie Madness and wanted to give them a go.
This page has the recipe in full
but I halved it and changed the chocolate proportion a teeny bit. Below is mine:
"Baked" Brownies
, modified from
Baked: New Frontiers in Baking
Ingredients
:
.625 C (1/2 C + 1/8 C) flour
1/2 tsp salt
1 tblspn cocoa powder
3.5 oz dark chocolate (I used Dove 71% cacao)
1.5 oz semi-sweet chocolate
1 stick buter
1/2 tsp espresso powder
3/4 C granulated sugar
1/4 C packed light brown sugar
2.5 eggs
1 tsp pure vanilla extract
Preheat to 350. Non-stick spray a glass pyrex dish approx 10 x 8 (it doesn't have the dimensions on it.. it is 10 x 8 if you measure the top, or 6.5 x 8 if you measure at the bottom of the dish... its about half the size of a 9 x 13)
Whisk flour, salt, and cocoa powder together in a small bowl and set aside.
Put the chocolates, butter and espresso powder in a dish set on top of a saucepan of simmering water. Stir occasionally until it is completely melted. Turn off the heat, but keep the dish over the water and add the sugars. Whisk until completely combined, then remove the bowl from the pan. Let the mixture cool a bit before going to the next step.
Add the eggs to the chocolate mixture, and whisk to combine, but to not overmix. Add vanilla and stir until incorporated.
Add the flour mixture to the chocolate mixture. Using a rubber spatula, gently fold the flour into the chocolate until it is mostly incorporated. Pour the batter into the prepared pan and smooth the top.
Bake in the center of the oven for 22 - 27 minutes or until a toothpick inserted into the center of the brownies comes out with a few moist crumbs sticking to it.
These came out
quite good
. Less sweet than my other brownies, but absolutely delicious. In between fudgy and cakey.
Would make again!
I hope these goodies last until my most-chaotic-stressful-semester-ever is over! 40 Days left until graduation (not that i'm counting).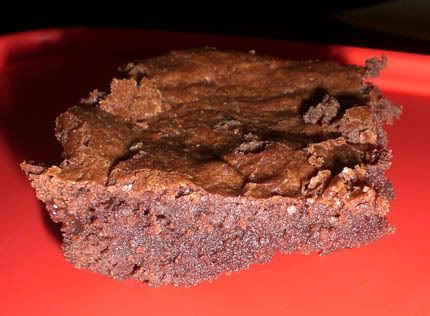 Isn't this the most dramatic picture of a brownie you've ever seen?