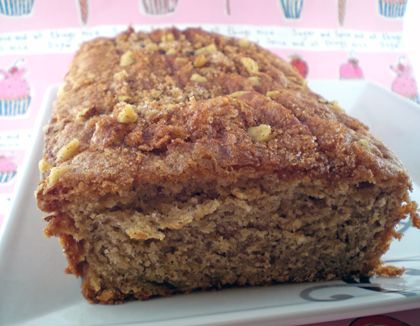 Before I begin blogging this week's tasty SMS recipe, I want to shout from the rooftops for a minute.... guess what?...
I'M ENGAGED!!!!!!!!
It happened Friday night, my Daniel proposed. I am the happiest girl on the planet right now. :) I'm sure I'll continue to be blabbing a lot about it in the future.
Whew! Sorry, I just had to brag for a minute. Ok, now to this week's recipe, chosen by sweet Joy
Hot Oven, Warm Heart
. She chose well, because this was delicious. I omitted the apples because I'm a bit of a banana bread purist. Unless it's peanut butter of cinnnamon, I don't like a ton of stuff going on in my banana bread. The only other change I made was to add a little sugary crunch topping:
Banana Bread Sugary Crunch Topping
:
2 T Granulated Sugar
2 1/2 T Brown Sugar
1 tsp cinnamon
~ 1 heaping T chopped walnuts
After preparing the banana bread according to the recipe, I sprinkled enough of the above topping to coat the top of the banana bread (I had some topping left over). The topping added a nice slightly crunchy topping to the otherwise soft banana bread.
I really enjoyed this week's recipe! I've never put nutmeg in a banana bread batter before, but in this recipe it was great. It was JUST the right amount. Enough to be noticeable, not enough to be overpowering. The only thing I have to say about this banana bread is that my regular recipe is much more moist. Not that this recipe is dry, it is not! But my go-to recipe produced a much moister product. But it was still Delicious, Thanks for this week's pick,
Joy
! Be sure to check out the
other SMS'ers
take on Sweet Melissa's Yummy Bread!!!!!