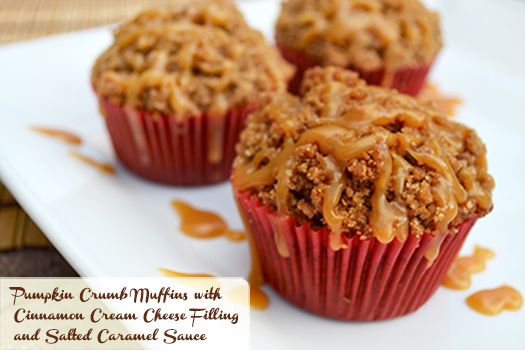 How many times have your grand baking plans ended in disaster? For me, it has been quite a few. This Thanksgiving was no exception, except thankfully this time I was able to turn it around into a total baking win - and I found a new favorite muffin recipe in the process.
I had very high hopes for Thanksgiving dessert. I was going to make crepes for the first time. We prepared all of the fixings (the filling, the sauce) ahead of time besides the crepe batter - we left that to the last minute so that the crepes would be fresh when it was time to eat… It turns out crepes are not as easy to make as all those Parisian crepe makers make it look. After many attempts, we finally got some that weren't so bad-looking, but they were hardly the perfect looking pastry I had envisioned. While it tasted pretty good, it just didn't live up to my expectations. I think I'll leave the crepe making up to the experts.
The morning after, I found myself awake early... with a muffin craving... and lots of extra ingredients left over from the failed crepe making experiment. Armed with a variety of premium flours from Hodgson Mill, I set to work. The end result was an absolutely perfect Morning-After-a-Holiday muffin (or any other day muffin, for that matter). These moist, Whole wheat Pumpkin Muffins have a brown sugar crumb on top, and a Cinnamon Cream Cheese filling. The Salted Caramel drizzle is an absolute MUST and takes these muffins to the next level of awesome. I enjoyed these so much, I think I'll be making them on the day after Christmas, too. You would never guess there are whole wheat! I really think the high quality flour used made a big difference here. The awesome people of Hodgson Mill are giving out $1 off coupons good on any 5 lb bag of Hodgson Mill flour or cornmeal, click here. Plus, they are doing a 25 Days of GRAIN holiday sweepstakes.

One winner will be selected to win every day for 25 days – winner's choice of $25 worth of gluten free products or an assortment of whole wheat baking mixes and flours.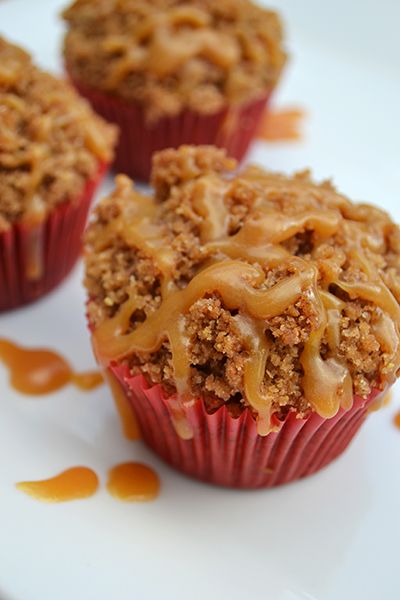 Pumpkin Crumb Muffins with Cinnamon Cream Cheese Filling and Salted Caramel Sauce,
Ingredients for the muffin:
1 1/2 cups White Whole Wheat Hodgson Mill flour
2 large eggs, room temperature
14 oz pure pumpkin (aka pureed pumpkin, canned pumpkin)
1/2 tsp pure vanilla extract
Ingredients for the Crumb topping:
1/2 cup White Whole Wheat Hodgson Mill flour
1/3 cup light brown sugar
3 tablespoons unsalted butter, melted and cooled
Ingredients for the Cinnamon Cream Cheese Filling:
4 ounces cream cheese, softened
1/4 tsp pure vanilla extract
Directions:
Preheat the oven to 350 F. Line a muffin tin with 12 liners and set aside.
Prepare the filling: Using a hand mixer, combine the softened cream cheese and the cinnamon and sugar. When they are fully incorporated, add in the vanilla. Mix to combine. Transfer the mixture to a piping bag and refrigerate.
Prepare the crumb topping: In a medium bowl, combine the flour, brown sugar, cinnamon, and melted butter with a fork or whisk. It should form small crumbs.
Prepare the muffin batter: In a large bowl, whisk to combine the flour, cinnamon, nutmeg, baking soda and salt. In a separate bowl, whisk together the sugar, pumpkin, eggs, oil, and vanilla. Add the wet ingredients to the dry ingredients. Fold in the wet ingredients until combined.
Fill the wells of the cupcake tin with the batter, about 2/3 full. Pipe a dollop of cinnamon cream cheese filling onto the top of the batter. Then, sprinkle each muffin with crumb topping.
Bake for about 18 - 22 minutes, or until a toothpick inserted into the batter (not the cream cheese) does out clean with only small crumbs. Allow to cool for 5 minutes in the pan before removing to a cooling rack.
Ingredients:
1/2 teaspoon fine sea salt + additional for topping
Directions:
In a saucepan over medium-low heat, melt the butter together with the heavy cream. Remove from the heat and set aside.
Spread sugar into a thin, even layer at the bottom of a large pot. Turn the heat to medium-low and allow the sugar heat up for 8 minutes, no stirring. Let the sugar continue to heat up for the next 8 minutes. Towards the end of this time, it should begin to liquify.
When it begins to appear light brown and clear in spots, begin to fold the melted sugar on top of the unmelted sugar with a spatula. Continue to fold until the entire thing has melted and it turns golden brown - This happens very quickly, so keep a close eye on it.
When it turns golden brown, remove it from the heat and quickly stir in half of the cream-butter mixture - Stirring continuously the entire time. Be careful to avoid bubbles and splashes from burning you. Don't be scared if it begins to harden and clump. If this happens, return the pot to medium-low heat and stir constantly until it has all melted. Be patient! If you want a thicker caramel, keep on the heat, stirring constantly for another 10 minutes. Keep in mind, it will thicken as it cools. As the last step, add in the sea salt and stir to incorporate.
Drizzle on top of the pumpkin muffins immediately before serving. The caramel sauce can be stored in the refrigerator, and heated in the microwave prior to drizzling. Serving suggestion: Sprinkle a small amount of sea salt on top of caramel drizzle before serving.