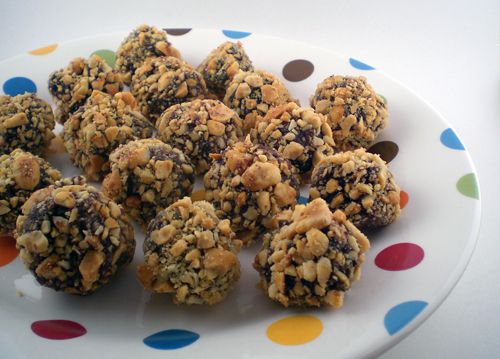 Our host for this week's Sweet Melissa Sundays was Mara of
Love Your Mother Earth
. Mara chose Peanut Butter Truffles as our recipe, which has the classic combination of Chocolate and Peanut Butter. If you ask ME, sweet is almost always made better by the addition of Salty, and these truffles do just that. The truffle base is made with heavy cream, chocolate, butter, and peanut butter, and it is rolled in a coating of chopped, salted nuts. Yu-um.
Based on everyone else's reactions in the SMS forum, this was
a.) light on the peanut butteriness
and
b.) a very messy procedure
. Knowing this ahead of time, I upped the amount of peanut butter in the recipe and decreased the butter a tiny bit. I made a half batch of these bad boys, and halved all of the ingredients. But instead of halving the Peanut Butter, I actually increased it from 1/4 C to 1/3 C. I'm glad I upped the PB because, even with my more than doubled ratio of PB to chocolate, the chocolate flavor was still more prominent (though you could taste the PB). I decreased the butter to 2 TBL, used high quality belgium dark chocolate (its 71% was the closest I could find at the grocery store to the 64-68% Melissa calls for in the recipe), and used sea salted, dry roasted, chopped peanuts. Also, from the kind warning of the other SMS-ers about how MESSY this was, I was prepared and took off my rings before starting. :) And just how messy did I get? Well...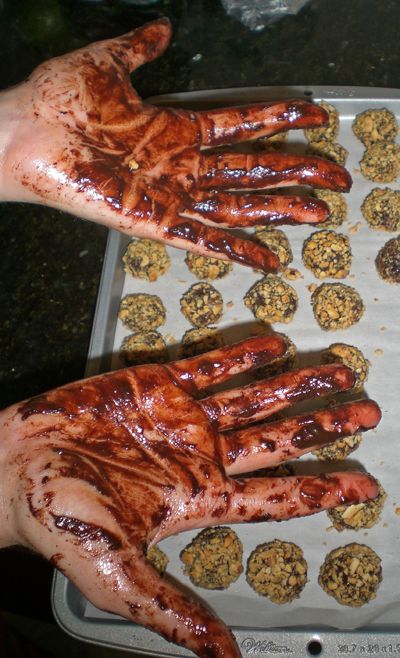 UUUHH, very.
Overall these were very good. Definitely needed to up the Peanut Butter in order to call these "Peanut Butter Truffles". I'm glad I read and learned from the other SMS'ers before preparing these, because the more-than-doubled amount of peanut butter was totally necessary.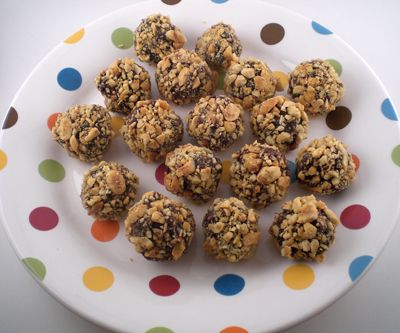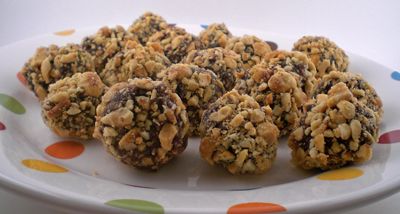 Thanks for hosting, Mara! For the recipe, visit Mara's blog,
Love Your Mother Earth
. How did this work out for all of the other members of Sweet Melissa Sundays? Visit the
SMS Blogroll
to see for yourself!