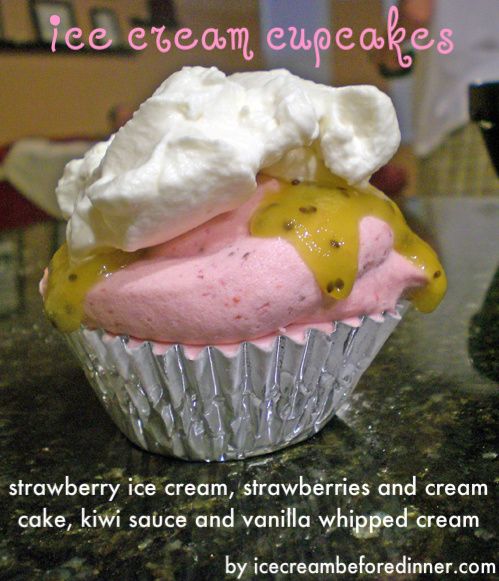 Summer is right around the corner. Actually, here in Florida is seems like it began a few weeks ago. So, Ice Cream Cupcakes are the perfect thing to cool you down on these hot days... while satisfying your sweet tooth, too! And what better way to welcome summer with a delicious fruity flavor combination. For my second attempt at making Ice Cream Cupcakes, me and the fiance came up with an AMAZINGLY fresh and fruity concoction:
Fresh Strawberry Ice Cream on top of Strawberries-and-Cream Cake, topped with Kiwi Sauce and Vanilla Whipped Cream
It tasted like the frozen ice creamy version of Strawberry Shortcake, with a little extra something from the homemade Kiwi Sauce. This recipe was a total winner. Absolutely FULL of flavor, refreshing, and decadent all at the same time. And this is my entry for CupcakeProject's 2010 Ice Cream Cupcake Roundup! Please see details for this contest
here at Cupcake Project
and
here at Scoopalicious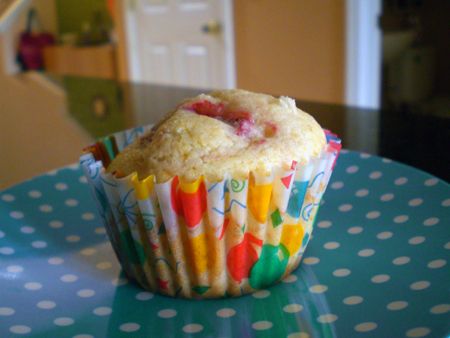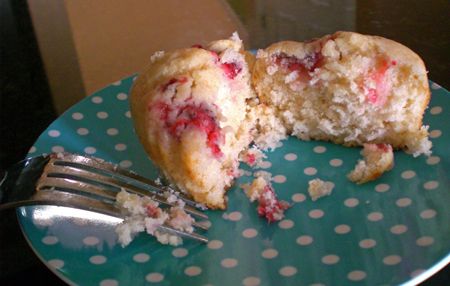 Strawberries and Cream Cake
, adapted from
The Hungry Mouse
Ingredients
:
3/8 cup sugar
2 Tbls butter, soft
1/2 an egg (whisk entire egg, discard half of it)
3/8 cup heavy cream
1 cups flour
1 tsp. baking powder
heaping 1/4 tsp. sea salt
1 cups strawberries, sliced
Put 12 - 16 foil cupcake liners (depending on how much cake you want per ice cream cupcake) on a cookie sheet. Preheat to 375. Beat the sugar, egg and butter together to combine. When slightly cream, pour in the cream and mix to combine.
In a separate small bowl, whisk the flour, baking powder, and salt together. Add to the wet mixture. Beat on low to combine and then turn it up to high for a short while to make the consistency thick and creamy - but do not overbeat.
Add in the strawberries and stir by hand with a spatula to incorporate. Divide between the liners and spread slightly with a spoon. Liners will only be about 1/2 as full as if you were making full sized cupcakes.
Bake for 16-22 minutes or until a toothpick inserted into the center comes out clean. Remove to a wire rack to cool. When completely cool, move to the freezer to freeze the cakes. Then, make your ice cream...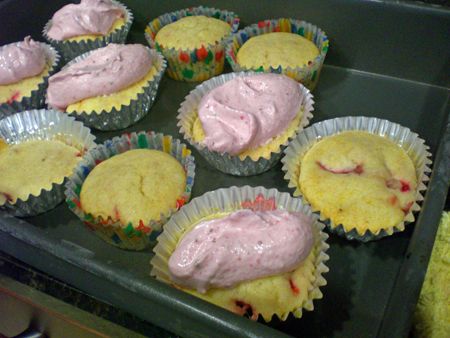 Fresh Strawberry Ice Cream
adapted from
epicurious.com
Ingredients
1 3/4 cups heavy cream
Strips of lemon zest, from about 1/2 a lemon
1/8 teaspoon sea salt
2 large eggs, room temperature
3/4 cup sugar
1 lb strawberries (by weight), hulled and halved
1 tablespoon fresh lemon juice
Combine heavy cream, zest, and sea salt in a heavy saucepan and bring to a boil. Remove from heat.
Whisk the eggs with 1/2 cup sugar in a bowl. Put a strainer on top of this bowl, and slowly pour the cream/zest mixture through the strainer/sieve. Discard the zest. Pour back into the saucepan and cook over moderately low heat, stirring constantly, until slightly thickened and an instant-read thermometer registers 170°F (do not let boil).
Immediately pour custard through a sieve into a metal bowl, then cool to room temperature by putting this metal bowl into a larger bowl full of ice water, stirring occasionally to quickly cool. Chill, covered, at least until cold, about 2 hours, and up to 1 day.
While custard is chilling, purée strawberries with remaining 1/4 cup sugar and lemon juice in a blender until smooth, then force through fine sieve (to remove seeds) into chilled custard. Stir purée into custard.
Freeze in ice-cream maker, then transfer to an airtight container and put in freezer a bit more, so it is soft enough to pipe through a piping bag. Pipe on to frozen cupcakes and freeze to harden.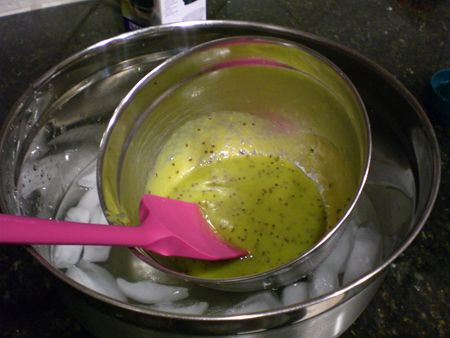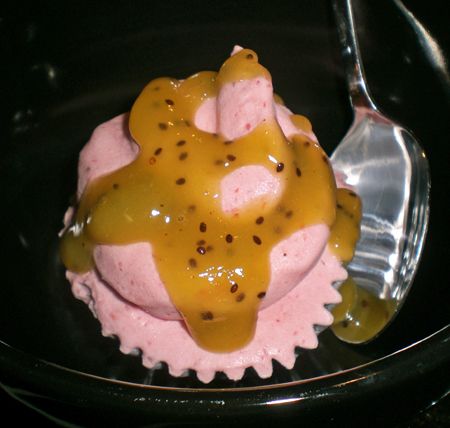 Kiwi Sauce
:
Ingredients
:
4 kiwis
1/8 C sugar + additional, if desired
Peel the brown skin off of the kiwis. Place kiwis in a food processor and blend until completely pureed. Add to a saucepan set on medium to high heat with 2 tablespoons of sugar. Stir over the heat until it thickens slightly. Remove to a small metal bowl and, set the small bowl within a larger one filled with ice water. Stir the kiwi sauce constantly to quickly cool the sauce. Add sugar until the sauce reaches your desired sweetness. Force through a strainer to remove (most of) the seeds. Serve, cold, on top of ice cream cupcakes.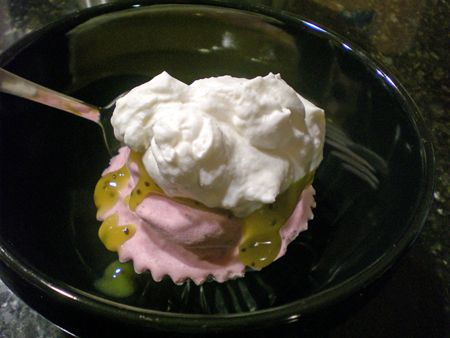 Vanilla Whipped Cream
:
Ingredients
:
1 cup cold heavy whipping cream
2 tsp mexican vanilla
1/8 C granulated sugar + additional, if desired
Beat all ingredients together, on high, until mixture reaches light and fluffy consistency. Add more sugar if desired to reach desired sweetness. Serve on top of ice cream cupcakes.