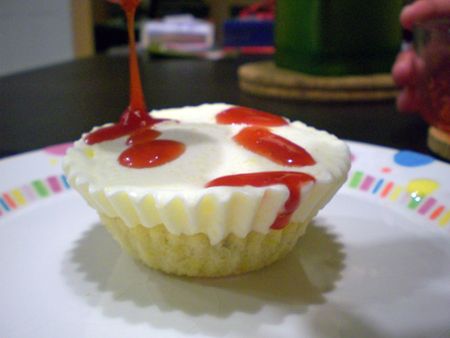 Ice Cream Cake is one of those simple treats that are an absolute favorite in this house. In all honesty, if Dan had his choice, our wedding cake would be a giant
Fudgie The Whale
cake from Carvel. I'm not gonna lie, I wouldn't be opposed to it either... And no, I'm not getting paid to promote Fudgie the Whale... though I would
gladly
accept a cake as payment.
If we love ice cream cake so much, and I so often make cake and ice cream, why oh why have I never tried to make my own ice cream cake before?? More importantly, why have I never tried to make my own ICE CREAM CUPCAKES before?? Ice Cream Cupcakes are just like Ice Cream cakes except better because they're tiny, adorable, and you get to eat the whole thing. When I saw that
Cupcake Project
is now doing her annual Ice Cream Cupcake Contest, I vowed to make a new ice cream cupcake every week for the month of May, to select the best one to use as my entry into the contest.
So, how does you make ice cream cupcakes? I took pictures of the process...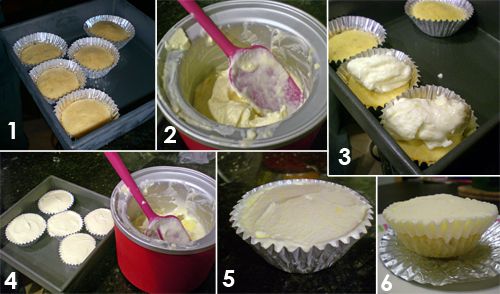 1.
Make cupcakes, but put half as much batter in as you normally would. You need room for ice cream! Bake, let cool completely, then throw in the freezer.
2.
Make homemade ice cream.
3.
After churning and before chilling said ice cream, so it is still a little soft, put a dollop on to the half-full, frozen cupcakes.
4.
Spread smooth with an offset spatula. Dip the spatula in warm water before smoothing if necessary.
5.
Freeze cupcakes until firm.
6.
Peel and enjoy your very own Ice Cream Cupcake!
For my first attempt at making Ice Cream Cupcakes, we came up with...
Banana Pound Cake with Mango-Lemon Ice Cream and Blood Orange-Orange Syrup
. Yu-u-um.
Banana Pound Cake Recipe
adapted from
The Dutch Baker's Daughter
Ingredients
:
1 stick unsalted butter, room temperature
3/4 cup sugar
2 eggs
1 C mashed ripe banana (around 1 - 1 1/2 medium bananas)
1 1/4 cups cake flour
3/4 teaspoons baking powder
1/8 teaspoon fine sea salt
1/4 teaspoon ground ginger
1 teaspoon vanilla
1/4 cup 2% milk
1 1/2 teaspoon freshly grated orange peel, lightly packed
Preheat oven to 350 degrees F. Line cupcake pan with 19-21 standard size cupcake liners, or if using foil liners, place on a cookie sheet.
Cream butter with an electric mixer. Gradually add sugar, beating on low, then increase speed to high and beat until light and fluffy.
Add the eggs one at a time, scraping down the bowl after each addition. Beat several minutes on high until the mixture is smooth. Mix in the bananas.
With a whisk, mix flour, baking powder, salt and ginger. In a separate bowl, combine milk and vanilla. Beating on low, add dry ingredients, alternating with milk-vanilla mixture. Stir in the orange peel.
Divide the batter between the cupcake liners, filling each liner up about half as full as you normally would to make regular cupcakes. Bake for 14 - 18 minutes. Let cool completely and then pop them in the freezer and begin making the ice cream.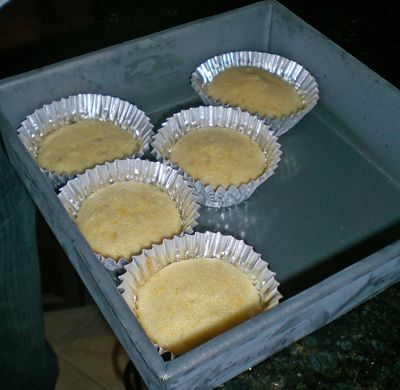 Mango-Lemon Ice Cream with Blood Orange-Orange Syrup
adapted from
Dianasaur Dishes
Ingredients
:
1-2 mangoes, depending on your desired mangoiness.
Most of the zest from one lemon (the rest from about 3/4 of a lemon)
1 cup heavy whipping cream, cold
4 egg whites
4 tablespoons sugar
Peel mango and cut into cubes (
click here for mango cutting 411
if you've never cut a mango before!). Using a food processor, blend the mango well to a smooth consistency. Add lemon zest and pulse until incorporated. While blade is running, pour in the cream and beat until mixed.
In a separate large bowl, beat the egg whites until frothy, and then add in the sugar gradually. Fold in the mango-cream mixture. Churn according to your ice cream maker's instructions.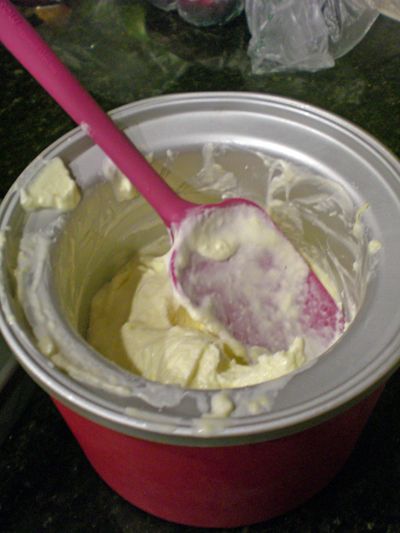 And just so you know...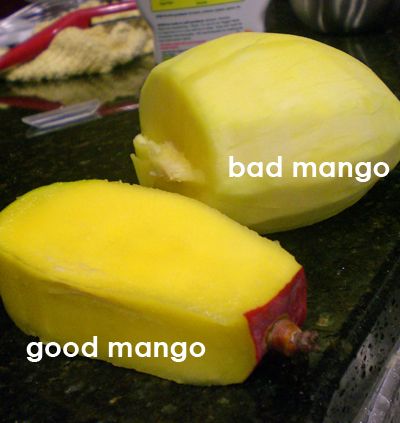 If you can BARELY get a knife into your mango because it is too hard, your mango isn't ready for use. Your mango should be darker in color, moist, and relatively easy to cut in to.
When your ice cream maker is done churning your ice cream, spread the still-soft ice cream on to the tops of your frozen cupcakes. Spread smooth with an offset spatula, dipping the spatula into warm water occasionally if necessary. Then, return the cupcakes to the freezer while you prepare your syrup.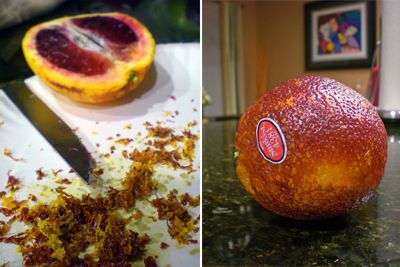 Blood Orange-Orange Syrup
also adapted from
Dianasaur Dishes
Ingredients
:
1 blood orange
1 naval orange
1 heaping tablespoon sugar
1/2 tsp blood orange zest, packed
Zest and juice the blood orange. Mine didn't yield much juice (maybe a half a tablespoon!) so I juiced a naval orange as well. Add juice from both oranges, sugar and zest to a small saucepan and bring to a boil. Reduce and let simmer for 4-8 minutes until thick, about the consistency of maple syrup. Refrigerate and serve over ice cream. This syrup is POTENT, and though the recipe didn't make so much, it was enough for all of the cupcakes. You really only need about 1 teaspoon at the most per cupcake.
This recipe was a total success. It was enjoyed by everyone who tried it! The banana pound cake and the mango-lemon ice cream was delicious and refreshing, and the syrup complimented all of the flavors, tying them all together nicely. I can't wait to try another Ice Cream Cupcake recipe!